Everything you need for your own pizza party: a great dough recipe and three tasty toppings.
By Christina Soong-Kroeger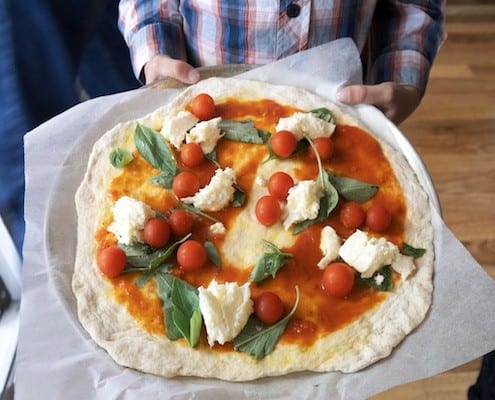 My brother likes buying things.
Like most males, he doesn't buy a lot of things but when he does shop, he buys big-ticket items. A windsurfer. A vintage electric keyboard or guitar. A top-of-the-range bicycle. A wood-fire pizza oven.
When he and his then flatmates went in for a $1200 wood-fire pizza oven six years ago my parents and I shook our heads. How often would they use it? It was one of those indulgent purchases you make when you are on a good salary and unburdened with the expense of kids or a mortgage.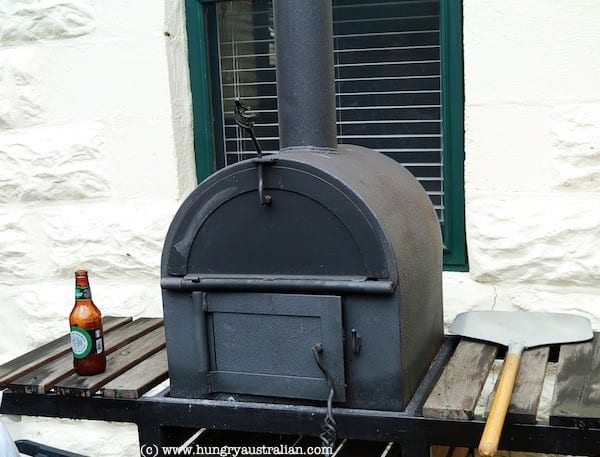 But then he invited us over for a pizza party and we saw the light.
Yes, the cost per usage ratio is high. Realistically, it only gets an outing a handful of times a year, making the pizzas the most expensive ones we've ever eaten.
But on those rare occasions when my brother fires up the wood oven, those invited experience pizza nirvana.
We were lucky enough to experience it a couple of weekends go, when my brother and his wife decided to throw a pre-Christmas pizza party for 60 friends and  family.
In the lead up, my heavily pregnant sister in law made 28 pizza bases and all the toppings from scratch. That's right – from scratch. The fact that she did so with her usual good humour, grace and lack of hysterics just shows you the type of amazing woman she is.
During the party, my brother and his friend Andrew took turns cooking the pizzas and garlic bread.
Here are the results. First up, a Garlic Bread appetizer: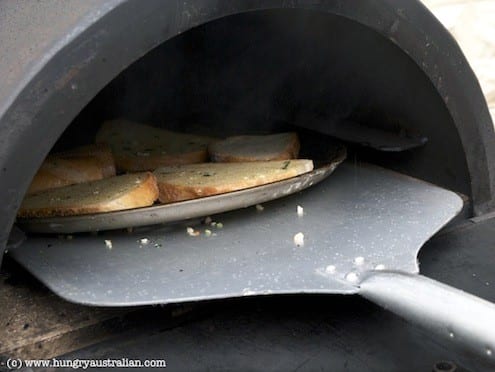 Then, Salami, Cherry Tomatoes, Buffalo Mozzarella and Fresh Basil Pizza:
See Also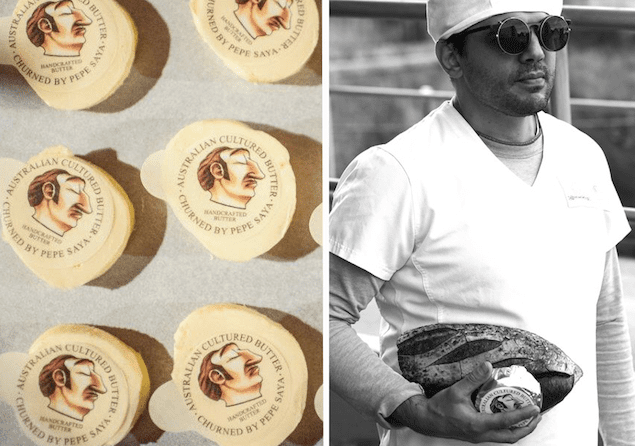 Followed by Mushrooms Two Ways, Taleggio and Fresh Basil Pizza:
Ham & Pineapple Pizza for the kids:
My favourite to finish: Marinated King Prawns, Spanish Onion, Lemon and Chilli: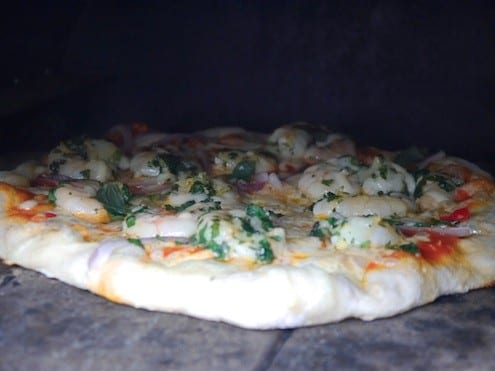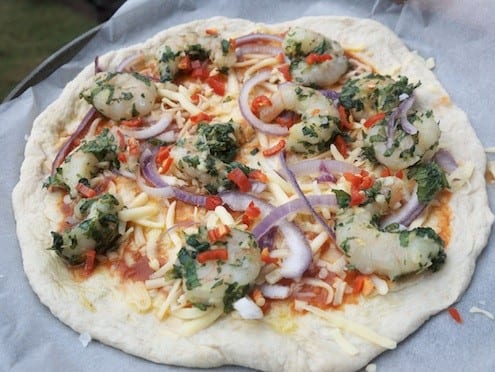 Have you every made pizza at home? What are your favourite pizza toppings?
Print
Backyard Wood Oven Pizza Party
---
Author:

Christina Soong-Kroeger / Dayle Hall

Total Time:

1 hour 45 minutes

Yield:

4

1

x
Description
Everything you need for your own pizza party: a great dough recipe and three tasty toppings! The dough recipe is based on various pizza recipes and techniques from Jeff Varasano, Russell's Wood-Fired Pizza Recipe on SBS Food and Pizza Modo Mio by John Lanzafame.
---
375 grams

(

12 ounces

) strong white bread flour (strong flour is over 11.5 percent protein – check the label)

125 grams

(

4 ounces

) wholemeal flour

375

ml (1.5 cups) room temperature or slightly warmer rain water or filtered water (too hot kills yeast, too cold inhibits yeast)

1

packet of dried yeast

2

level teaspoons salt

1

level teaspoon sugar
Margherita
Pizza sauce
Cherry tomatoes
Fresh buffalo mozzarella
Basil leaves
Mushroom
1

small onion

2

garlic cloves

220 grams

(

7 ounces

) mushrooms
Parley

155 grams

(

5 ounces

) Taleggio cheese
Prawn
220 grams

(

7 ounces

) peeled raw prawns
Olive oil
Rind of

one

lemon
Fresh basil leaves
Fresh mint leaves
Pizza sauce

125 grams

(

4 ounces

) grated mozzarella

1

red onion, finely sliced

2

fresh chillies, seeds removed and finely sliced

1 tablespoon

lemon juice
---
Instructions
Use a mixer with a dough hook if possible. (You can do the same thing buy hand but it's hard work.)
Combine the white, wholemeal flour and yeast in the mixer bowl.
Dissolve the sugar and salt in the warm water.
Put the mixer on the lowest speed and slowly add the water, sugar and salt. Continue to mix until a rough ball forms. This should only take a minute or two.
Remove the dough to a floured bench and gently knead into a ball. Don't overwork the dough.
Place in a high edged bowl to rise. Cover with oiled cling wrap and a tea towel and let rest for 20 minutes. At this point you can put the dough in the fridge to use the next day, or freeze it.
If you are using it immediately, leave until it has doubled in size (height increase of 50% or so) this usually takes maybe an hour all up.
If you have refrigerated your dough overnight, remove it an hour before use to a floured bench, divide and gently knead into 4 balls, place on a tray and cover with oiled plastic. Leave to rise for an hour and it is ready to use.
Margherita
Brush pizza base with oil, add a small amount of tomato pizza sauce, and spread with basil leaves.
Place a cherry tomato and piece of fresh buffalo mozzarella on each leaf, then season with salt and pepper.
Mushroom (adapted from Pizza Modo Mio by John Lanzafame).
Pan fry in olive oil one chopped small onion, 2 garlic cloves, 15 mushrooms, and chopped parsley until soft, then blend until smooth and add salt and pepper.
Thick slice field mushrooms and cook in a frying pan until golden.
Spread pizza base with mushroom puree, add some basil, grated mozzarella, fried mushrooms and top with slices of Taleggio cheese.
Prawn
Marinate prawns in olive oil, lemon rind, basil and mint overnight.
Brush pizza base with oil and some tomato pizza sauce, then add grated mozzarella, basil leaves, sliced red onion, cut chilli and prawns.
Spoon some lemon juice over each prawn and season with salt and pepper.
Notes
Stretch the dough into shape rather than rolling it so as not to squash the little air bubbles that make it puff up in the oven.
Brush oil on the base before putting the sauce on to stop the base going soggy.
Less is more with toppings, leave a few spaces to help the base cook.
Baking paper is your friend – as the dough is soft and a bit sticky, it is hard to handle.
Push the dough out onto a sheet of baking paper to make transfer to the oven easier. Put the whole lot in the oven (base on paper) and then after 1 minute or so you can easily slide the pizza off the paper and directly onto the stone to complete the cooking.
Prep Time:

1 hour 30 mins

Cook Time:

15 mins
Christina Soong-Kroeger
Christina publishes The Hungry Australian - a collection of recipes, reviews and stories about food - and is a regular contributor to Sumptuous. Her writing has appeared in the China Daily and That's Shanghai while her photography regularly appears on Foodgawker, Tasteologie and Photograzing. After eating her way around Shanghai, London, Hong Kong, Leeds and Melbourne, she now calls Adelaide, South Australia, home again.