Delights of Dijon — Stuffed Portobello Mushrooms with Mustard-Wine Sauce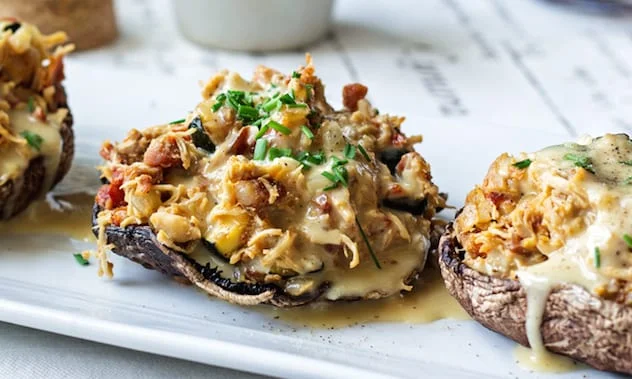 PARTNER POST — Discover the unique flavors of the Dijon region with Maille.
Mushrooms are filled with a flavorful chicken, zucchini, and sun-dried tomato mixture and are drizzled with a rich white wine mustard cream sauce for a delicious starter.
By Julie Kinch and Debbie Fraser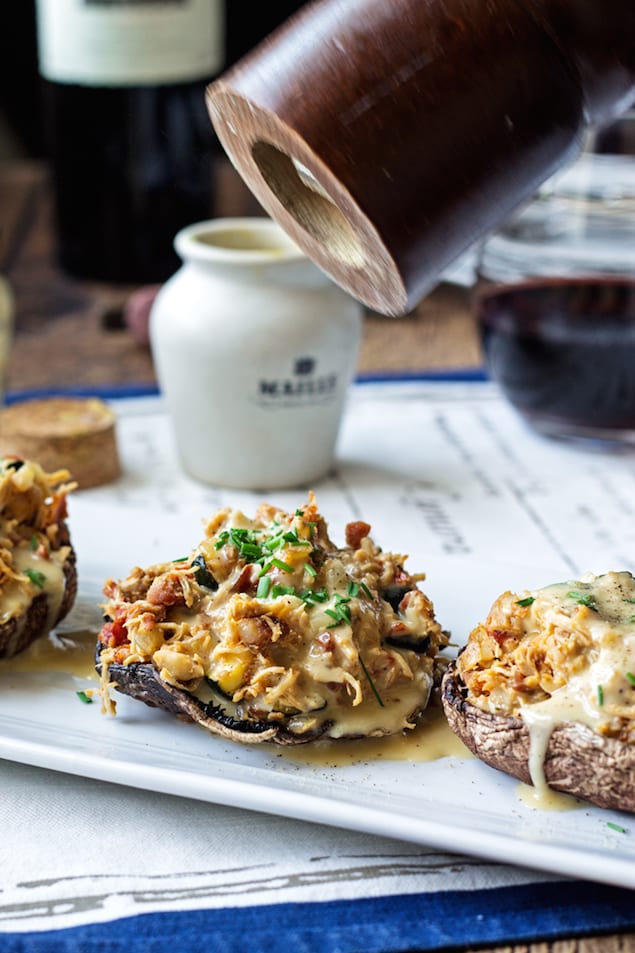 I have a history degree. Even though I never use it, I am always interested in old thing culture, people, artifacts… So when Maille asked us to sample their mustard and create a recipe, the 1747 on the label peaked my interest. Its easy to learn about Maille's history. They are proud of it and rightly so! The founder of the company, Antoine-Claude Maille, became the official supplier to the court of Louis XV in Paris in the same year he established this company, and later, Maille Mustard graced the table of French and English Kings and Queens throughout history.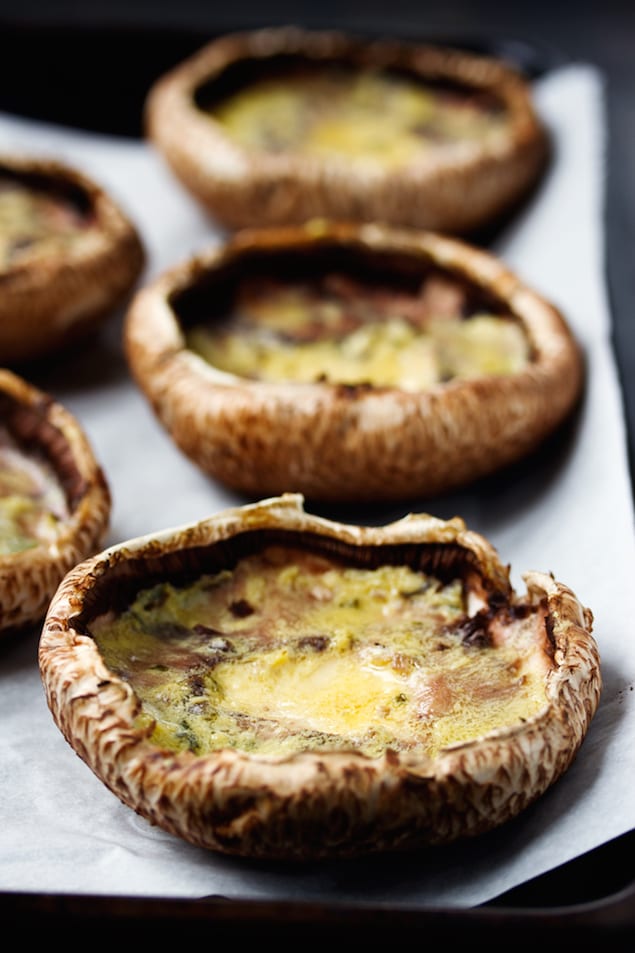 Maille sent us 5 different mustard's to try. White Wine mustard, Dijon Blackcurrant mustard (yup, you read that right), Lemon and Harrissa, Walnut flavored mustard, and Parmesan Cheese and Basil mustard. Right away, Debbie and I gravitated to the White Wine mustard and the Parmesan Cheese and Basil mustard. Of course we tried the others. We think the Lemon and Harrissa mustard would add an interesting and tasty twist in our Caeser salad.
Maille Mustard is very different from the yellow mustard that most of us are accustomed to. It is rich and strong with intense flavor.
[fve]https://vimeo.com/126301319[/fve]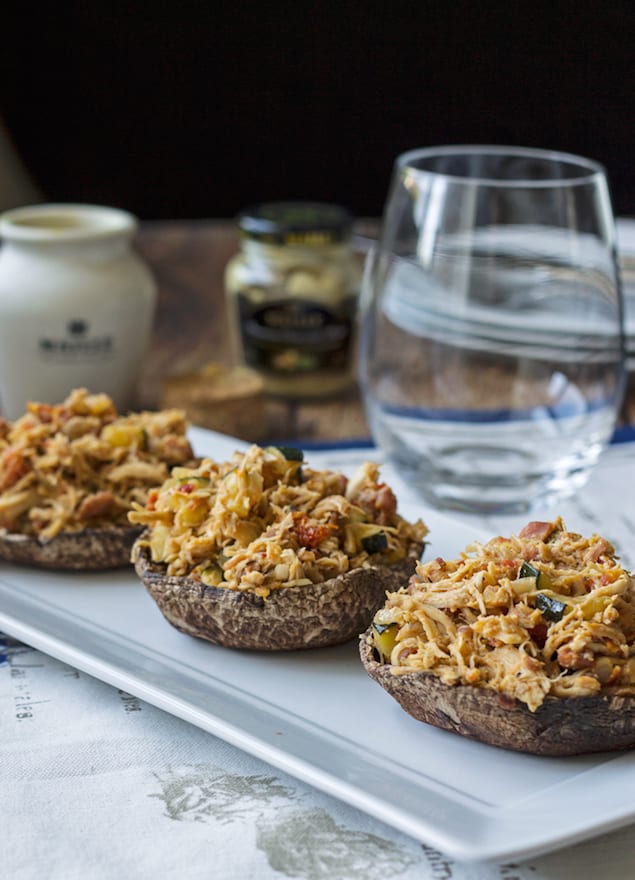 We decided to use our favorites of the Maille Mustard to make some stuffed portobellos. We used the mustard two ways in this dish. First we mixed the Parmesan and Basil mustard with a little bit of butter and painted the insides of the mushrooms. The mixture slides down in between the gills of the portobellos and fills them up with beautiful buttery mustard flavor.
We also made a white wine mustard cream sauce that we drizzled on top of the shredded chicken filling that is mixed with zucchini, sundried tomatoes, and bacon. That sauce is to die for! Creamy and savory with a distinct character of white wine and slight mustard bite.
The sauce is also amazing with pan fried scallops on a bed of pasta.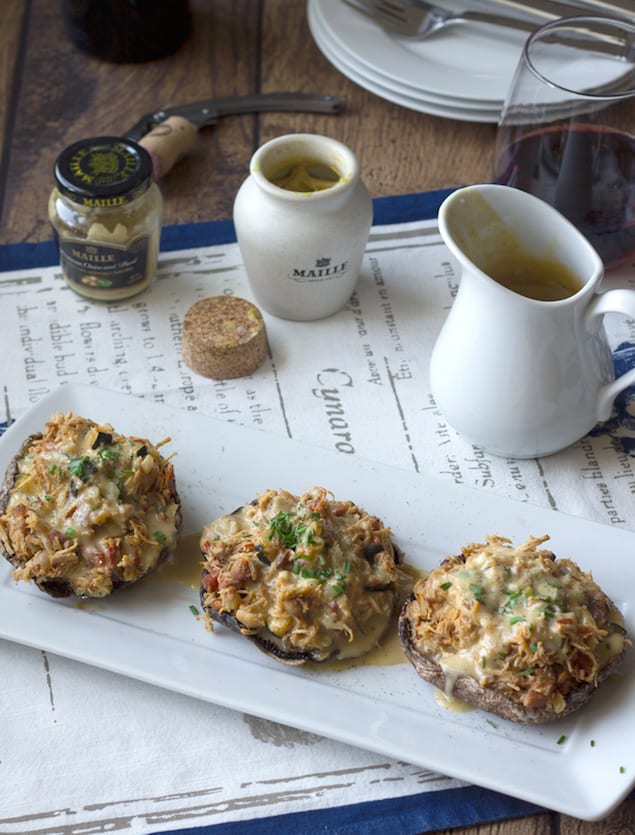 This meal is perfect for the warmer weather were having these days. It's light and perfect for an evening on the patio. Or lunch for that matter. I love a dish that doesn't sit heavy but still feels slightly decadent and totally satisfying.
If you were feeling a little cheesy, you could sprinkle some cheese on these when you bake them. Gruyere would be nice. Or Parmesan or Asiago.
Delights of Dijon — Stuffed Portobello Mushrooms with Mustard-Wine Sauce
Mushrooms filled with a flavorful chicken, zucchini, and sun-dried tomato mixture and drizzled with a white wine mustard sauce for a delicious starter.
Author:
Julie Kinch & Debbie Fraser
Ingredients
FOR THE SAUCE
3 tbsp butter
1 tbsp Maille White Wine Mustard
2 shallots (about ½ cup)
1 clove garlic, minced or finely grated
¾ cup white wine
1 tbsp flour or 1 tsp cornstarch
½ cup cashew or coconut milk (you can use regular milk too)
½ cup chicken broth
½ cup gruyere cheese
salt and pepper to taste
FOR THE MUSTARD BUTTER
¼ cup melted butter
2 tbsp Maille Parmesan Cheese and Basil Mustard
1 clove garlic, minced or grated
¼ tsp salt
FOR THE SHREDDED CHICKEN
2 chicken breasts
1 tbsp olive oil
1½ cup chicken broth
3 cloves garlic
poultry seasoning
salt and pepper
1 onion, diced
2 cloves garlic, minced or grated
½ zucchini, diced
½ cup sundried tomatoes, sliced
125 g prosciutto or bacon (about 3 or 4 slices)
TO MAKE THE STUFFED MUSHROOMS
4 portobello mushrooms
1 - 2 tbsp mustard butter sauce
¼ to ½ cup shredded chicken mixture for each mushroom
? to ¼ cup mustard and wine sauce
chives for garnish
Instructions
TO MAKE THE SAUCE
Put a skillet on medium heat and add 1 tbsp of the butter. When the butter is melted throw in the diced shallots and garlic. Sauté till tender.
Add the white wine and reduce it till there's about a ¼ of a cup of liquid in the pan, then add the rest of the butter. When its melted, add the flour and cook for a minute stirring with a whisk.
Add milk and chicken broth and cook till it thickens. Spoon in the mustard and stir to combine.
Sprinkle in the gruyere cheese.
Season with salt and pepper to taste.
FOR THE MUSTARD BUTTER
Melt the butter and place in a small bowl.
Add the rest of the ingredients and stir to combine.
FOR THE SHREDDED CHICKEN
Season the chicken with salt and pepper on both sides.
Heat a skillet on medium high heat. Once its hot, add the oil to the pan and brown the chicken on both sides.
Add the garlic and the broth and throw it in the oven at 300 degrees for 1 hour.
Once its done, shred the chicken with two forks, remove from the skillet and set aside for a moment.
On the stove, heat the skillet on medium heat and add the onion and prosciutto or bacon. Sauté till the onions and bacon are cooked.
Add the zucchini and garlic. Sauté for another min or so then add the chicken back to the pan. Stir to combine and remove from the heat.
TO MAKE THE STUFFED MUSHROOMS
Pre-heat the oven to 350 degrees and line a baking sheet with parchment paper.
Paint the inside of the portobello mushrooms with the Maille Parmesan and Bail Mustard sauce and place them on the baking sheet.
Bake them in the oven for about 5 mins. Take them out and stuff with the chicken mixture, and then bake again for anther 5 mins or until they are fully heated.
Remove them from the oven, plate them and then drizzle the sauce on top.
Sprinkle with chives and serve immediately.
Julie Kinch & Debbie Fraser
Were a mother daughter duo that love food and love to cook. We also enjoy a good cocktail, especially when we are cooking together. We believe health, nutrition and fitness are so important so we make healthy dishes made with real, whole food, but we also like to indulge a little here and there.