PARTNER POST — Discover the unique flavors of the Dijon region with Maille.
Roasted chicken thighs with crispy skin is served with a mustard sauce made of white truffle honey and Dijon mustard and a dash of cayenne pepper for some heat. Tangy and sweet, this sauce would taste delicious on just about anything.
By Tina Putzing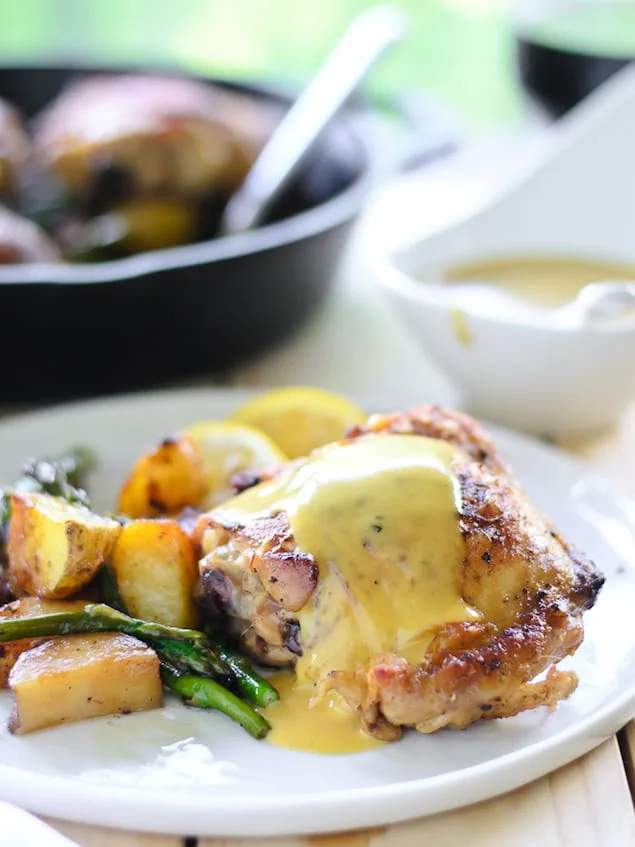 At any given point in time, if you come to our house you'll probably find at least two bottles of yellow mustard in the pantry, and between two and four jars of Dijon/grainy/honey mustard on the shelves. The yellow mustard is for when we have hot dogs or burgers; the Dijon is for grilled sausages and brats (with bell peppers and onions) and/or fancy sandwiches; the grainy stuff is for soft pretzels; and the honey mustard is for fancy sauces and dressings.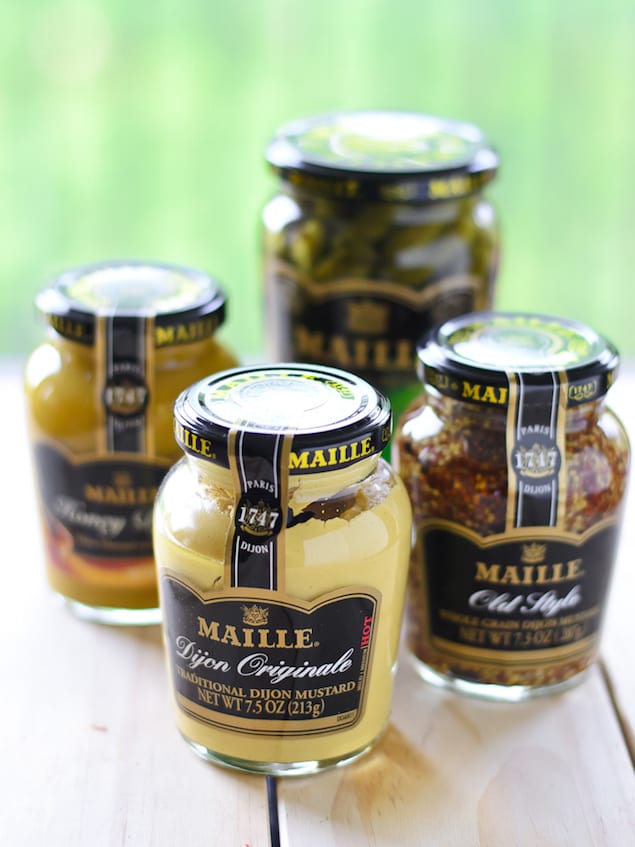 Fun fact: La Maison Maille has been in the fine food business for more than 267 years! In the US alone, the company has a product range of over 20 mustards, vinegars, olive oils, and cornichons.
[fve]https://vimeo.com/126301319[/fve]
In college, my roommate Nikki used to make this amazing mustard-baked salmon dish. It was shockingly simple (just season a large slab of raw salmon with salt/pepper to taste, cover the whole thing in yellow mustard and bake), but so so delicious.
The acid in the mustard "marinade" made the salmon extra tender, and once cooked the mustard itself turned into a hot, tangy sauce that perfectly cut through the richness of the oily fish. It was so good, we used to regularly try to trick Nikki into losing bets with us so that we could get her to make that dish for us.
This recipe is, of course, an homage to Nikki's dish. I used instead bone-in, skin-on chicken thighs, which are among my top 5 favorite meats to cook and eat. So, instead of staying true to Nikki's delicious salmon, I opted to go with a nice pan-roasted chicken thigh dish, with plenty of potatoes and asparagus, and a tongue tingling-ly delicious mustard sauce.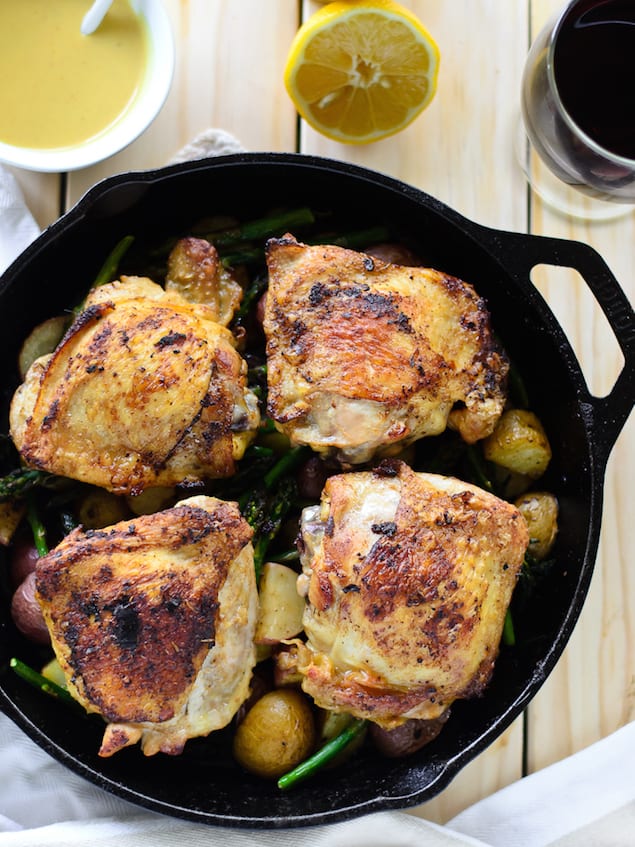 Roasted chicken thighs (mmm, dark meat) with crispy skin is delicious no matter how you eat it, but what really made this dish was that mustard sauce. I've been dying to cook with the jar of white truffle honey I bought a while back (SO good, you guys), and this was the perfect opportunity.
So I whisked a heaping spoonful of the honey with some of my Maille Dijon mustard, a teensy bit of mayonnaise, and a dash of cayenne pepper for some heat. Two minutes later, I had a bowl of the silkiest, most delicious honey mustard sauce on the planet.
Tangy, sweet, with just a hint of that *something* that makes truffles so amazingly addicting, this sauce would taste delicious with/on just about anything. It was certainly wonderful with the juicy roasted chicken and buttery potatoes/asparagus, which we drowned in the yummy sauce and devoured.
Delights of Dijon — Pan-Roasted Chicken, Potatoes and Asparagus with Truffle Honey Mustard Sauce
Roasted chicken with crispy skin is served with a sauce made of truffle honey, Dijon, and cayenne. Tangy-sweet, it is delicious on just about anything.
Ingredients
For the Pan Roasted Chicken, Potatoes & Asparagus:
2 tbsp olive oil
2 tbsp Maille dijon mustard
½ lemon, juiced
½ teaspoon dried thyme
1 tsp garlic powder
1 tsp onion powder
Salt and pepper, to taste
4 large bone-in, skin-on chicken thighs
2 tbsp unsalted butter
2 cups baby potatoes, halved
1 lb asparagus, trimmed
For the Truffle Honey Mustard Sauce:
¼ cup Maille dijon mustard
⅛ cup mayo
1-2 tbsp truffle honey (FYI, this would still be delicious if you use regular honey instead of the truffled stuff!)
Pinch of cayenne pepper
Instructions
To make your honey mustard sauce:
In a small bowl, combine your mustard, mayo, honey and a pinch of cayenne pepper.
Whisk vigorously until smooth.
Set aside until chicken is ready to serve.
To cook your chicken, etc.:
Preheat oven to 400 degrees F.
In a small bowl, combine olive oil, Dijon mustard, lemon juice, and thyme.
Season mixture with salt and pepper, to taste.
Brush the mixture onto both sides of each chicken thigh, making sure each piece is well-coated. Allow coated chicken to sit (in the fridge) for 15-20 minutes.
When ready to cook, melt butter in a large oven-proof pan/skillet over medium high heat.
Once your pan/skillet is sizzling hot, place chicken skin-side down in the pan/skillet, and sear both sides until golden brown, about 2-3 minutes per side. Lift browned chicken out of the pan onto a plate and set aside.
Add potatoes to the pan/skillet, and stir to coat each piece with the melted butter/chicken juice mixture in the pan/skillet.
Season with salt and pepper, to taste.
Place pan/skillet into oven and bake for 18-20 minutes, or until the potatoes are easily pierced with a fork.
Pull pan/skillet briefly out of the oven and add asparagus.
Stir mixture lightly so that the asparagus and potatoes are evenly distributed in the pan/skillet.
Place chicken in the pan/skillet on top of the asparagus and potatoes, then stick the whole thing back in the oven.
Roast until the chicken is completely cooked through, about 25-30 minutes.
Serve immediately, drizzled generously with your truffle honey mustard sauce.
Tina Putzing
I am an attorney, a lover of reality television (esp if food is involved), a stress-eater, a voracious reader, and a shameless sci-fi/fantasy nerd. I love to eat, I love to cook, and I love to make other people eat what I cook.