Succulent rounds of grilled eggplant are layered with tomato basil marinara and fresh mozzarella. It is way easier, and more seasonal, than the fried classic.
By Marcie Bidou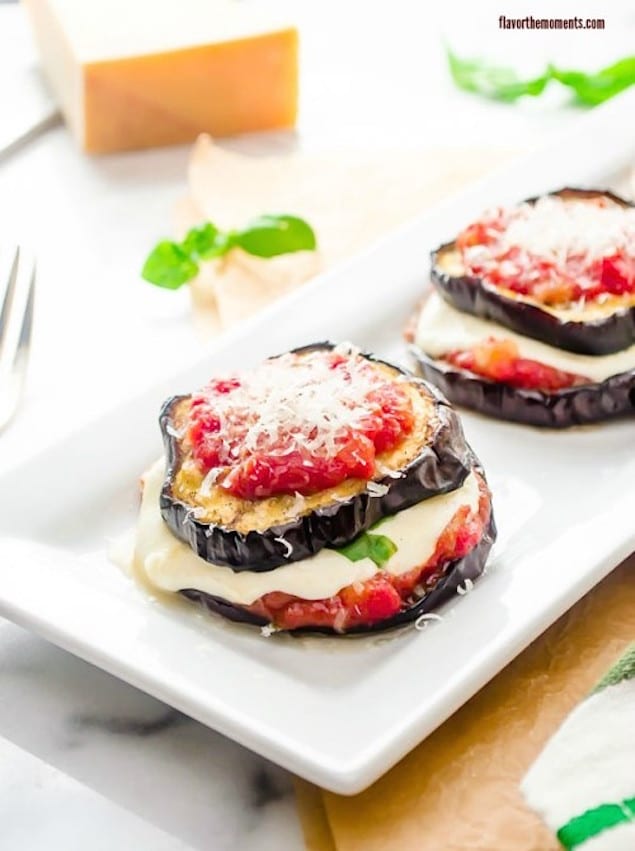 Let's just say the batch of Easy Tomato Basil Marinara Sauce that I made a few weeks ago has been getting a good workout lately. Whenever I need to throw a quick meal together, this sauce has my back.
I never knew I liked eggplant until several years ago, mainly because I'd never had it cooked properly. Since it's grilled in this recipe, it has a delicious, smoky flavor that gets me every time.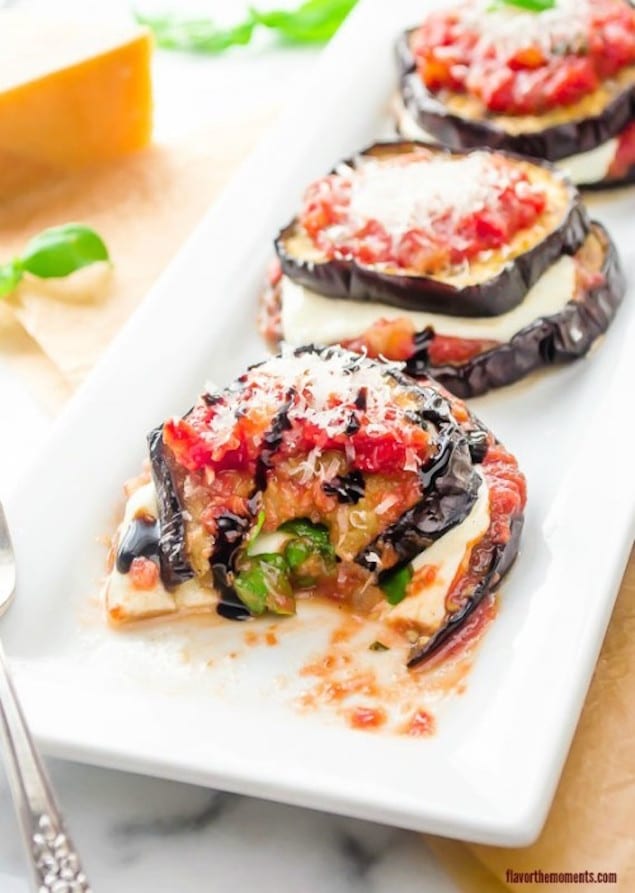 If you're already an eggplant fanatic like me, chances are you've had classic eggplant parmesan, or parmigiana, at least once.
My version of eggplant parmesan definitely isn't your grandmother's recipe — it's a lightened up, much quicker recipe. No frying eggplant here — just grilling it with a generous amount of olive oil. It gets nice and smoky, so if you're a fan of grilling, you're going to love this. If you don't grill, you can certainly bake the eggplant in the oven like I did for my Roasted Eggplant Sandwiches.
And don't be afraid to drizzle some balsamic glaze over these babies…
If you have the marinara sauce made already, you'll have this meal complete in less than 30 minutes. If you don't, it'll be 30 minutes and some change, which is still a really quick meal. My advice is to whip up your marinara on the weekend and portion it out and freeze it so it's always there when you need it. There's always store bought, yes, but this is easier to make than it is to run to the store, and it tastes so much more fresh too.
This may not be your grandmother's recipe, but it has all the elements to give you those warm, fuzzy feelings. Tender eggplant, plenty of cheese oozing about, fresh basil, and homemade marinara sauce. It's comfort food at it's finest, and you'll love it even more because you'll be able to enjoy it faster than ever. So heat up your grill and get your eggplant on!
Get the recipe for the homemade marinara sauce here.
Grilled Eggplant Stacks
Succulent, grilled eggplant are layered with tomato basil marinara and fresh mozzarella. It is way easier, and more seasonal, than the fried classic.
Cuisine:
Italian Inspired
Ingredients
Easy Tomato Basil Marinara Sauce -- see the link above for a homemade version.
¼ cup extra virgin olive oil
1 large eggplant, sliced into ½" rounds (about 10-12 slices)
salt and pepper, to taste
5-6 slices of fresh mozzarella cheese
5-6 large fresh basil leaves
⅓ cup freshly grated parmesan
balsamic glaze and chopped basil for serving, if desired
Instructions
Prepare the marinara sauce first, or make it in advance to make this meal in 30 minutes.
Preheat the grill to medium for the eggplant, and preheat the oven to 350 degrees to bake the eggplant stacks.
Brush the eggplant slices top and bottom generously with olive oil, and season with salt and pepper. Place on the grill and cook for 3-4 minutes, or until grill marks form. If the eggplant seems dry, brush with a little more olive oil -- be careful not to use too much as the oil could cause a flare up! Flip the eggplant, and repeat on the other side. Remove from heat and set aside.
Place half of the eggplant slices on a foil lined baking sheet and top with some marinara. Place a slice of fresh mozzarella over the marinara, then place a basil leaf over the cheese. Top with another slice of eggplant, followed by more marinara sauce, then sprinkle with parmesan cheese.
Bake for 15-20 minutes or until heated through. Remove from the oven and place on a serving platter, and garnish with freshly chopped basil, if desired. Serve and enjoy!
Notes
The marinara may be made in advance to make this a true 30 minute meal. The eggplant may also be grilled in advance and stored in the refrigerator until you're ready to assemble the stacks.
If you prefer to roast the eggplant in the oven, see my recipe for Roasted Eggplant Sandwiches.
Grated mozzarella may be substituted for the fresh mozzarella.