PARTNER POST — Discover the unique flavors of the Dijon region with Maille.
Tender chicken is made rich with fine whole grain mustard. It's an easy, elegant dish to prepare, with five-star flavor.
By Kristi Kaiser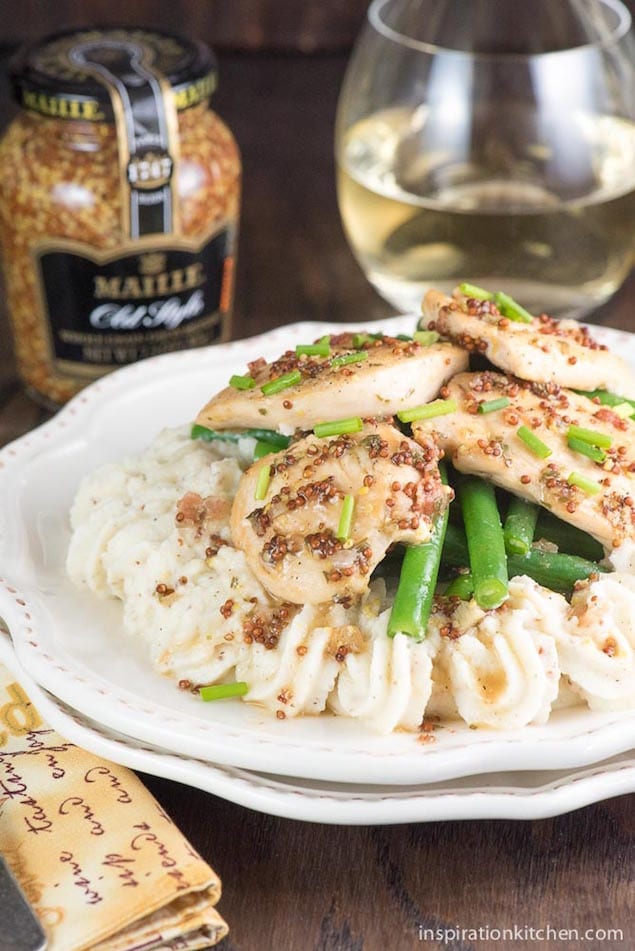 Seriously, this is one of the very best recipes I have ever made. I have re-made this recipe so many times this past month, I can't even tell you. I had to keep testing it over-and-over, you know – for quality control purposes? <wink, wink> Oh yeah…it's a keeper.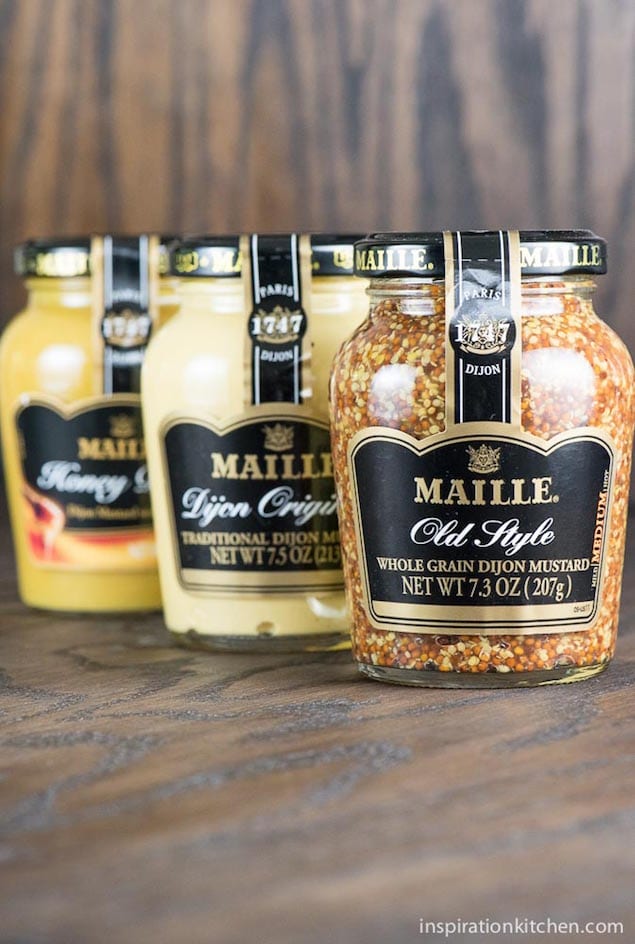 I've been a long-time fan of Maille and their line of fun mustards
Seriously – Maille has mustard on tap! Now, that's a tap system I'd love to have installed in my house. And, I'd want the cute country crock it goes into too. I am totally signing up for that!
I served this on top of Whole Grain Dijon Mustard Mashed Cauliflower, topped with freshly steamed green beans and surrounded it with this rich, savory Dijon Mustard White Wine Chicken. My mouth waters as I write this.
So many people see mustard as just a condiment. Trust me – it's so much more than that. Mustard adds a rich, slightly tangy, creamy flavor and texture that upscales any dish. I use it in sauces, dips, soups – even meatloaf – it's so versatile.
Print
Delights of Dijon — Mustard and White Wine Chicken
---
Description
Tender chicken is made rich with fine whole grain mustard. It's an easy, elegant dish to prepare, with five-star flavor.
---
1

and ½ pounds boneless, skinless chicken breasts, sliced into

1

" thick slices and pounded thin

1 tablespoon

extra-virgin olive oil

3

slices bacon, cooked and crumbled

1 cup

chicken broth

½ cup

white wine

1/3 cup

Maille whole grain mustard*

¼ cup

shallots

1 tablespoon

coarsely chopped garlic

2 teaspoons

dried tarragon

1 teaspoon

salt

½ teaspoon

ground black pepper
---
Instructions
Pre-heat oven to low (warm) heat.
Heat a non-stick skillet over high heat until hot. Turn down to medium to medium-high heat and add olive oil. Cook chicken for 1 and ½ minutes on each side to sear in juices. Remove from pan, and place in a warm oven to keep warm.
Add onion to the same skillet and cook 1 and ½ minutes, stirring frequently. Add garlic and cook an additional 30 seconds, scraping bits from the bottom of the pan.
Add chicken broth, white wine and mustard and stir until ingredients are well blended. Add bacon, tarragon, salt and pepper and turn down to medium-low to simmer. Reduce for 5-10 minutes. Add chicken back to skillet and cook an additional 5 minutes or until chicken is done throughout, turning ½ way through.
Remove from pan, place on serving plate and top with mustard sauce.
Notes
*Use a high quality Whole Grain Mustard. I used Maille Whole Grain Mustard.
Kristi Kaiser
Hi, I'm Kristi. The cook, author and photographer at Inspiration Kitchen. I am so passionate about food and I want to share that love! It is my goal to entertain.inspire.encourage home cooks everywhere that anyone can cook!