PARTNER POST — Discover the unique flavors of the Dijon region with Maille.
Chicken skewers on the barbecue receive a French makeover with leeks and potatoes lathered up in a Dijon Garlic Rosemary Sauce.
By Sylvia Fountaine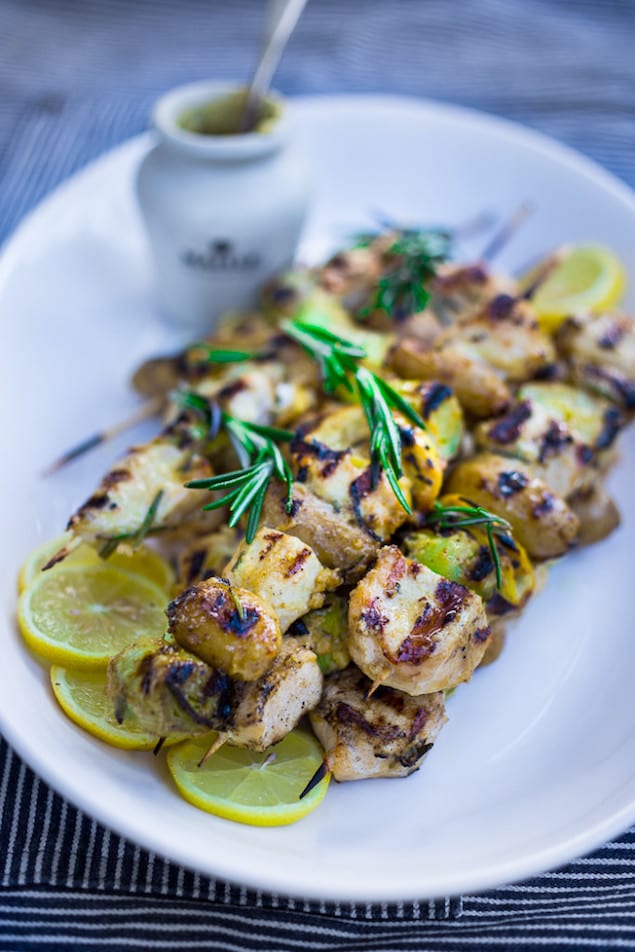 Chicken skewers get a little French makeover with grilled leeks (yum!) and grilled potatoes ( double yum!) all lathered up in a Dijon Garlic Rosemary Sauce. Serve this with a Caesar salad, and enjoy a healthy light and flavorful dinner!
This recipe was inspired Maille, a French gourmet mustard company who challenged me to come up with a new recipe using one of their products. Well, this was easy because I use their mustard all the time…. in dressings, marinades and sauces. It's my mustard of choice in this Mustard Crusted Salmon Recipe.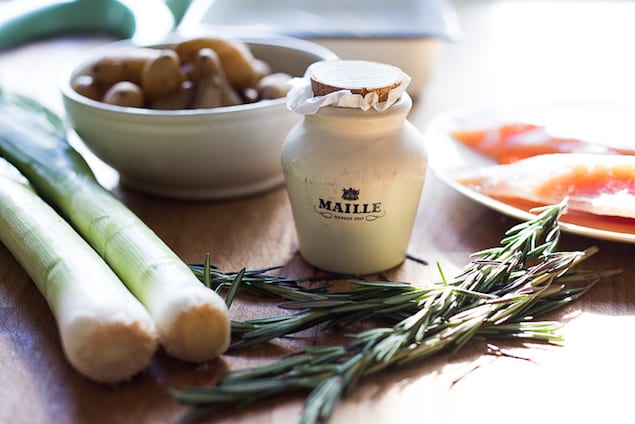 La Maison Maille has been producing French style mustards, vinegar, olive oil and cornichons for more than 250 years. Recently it opened its first boutique store in New York's Upper West Side and launched an online store that ships its gourmet products around the world.
[fve]https://vimeo.com/126301319[/fve]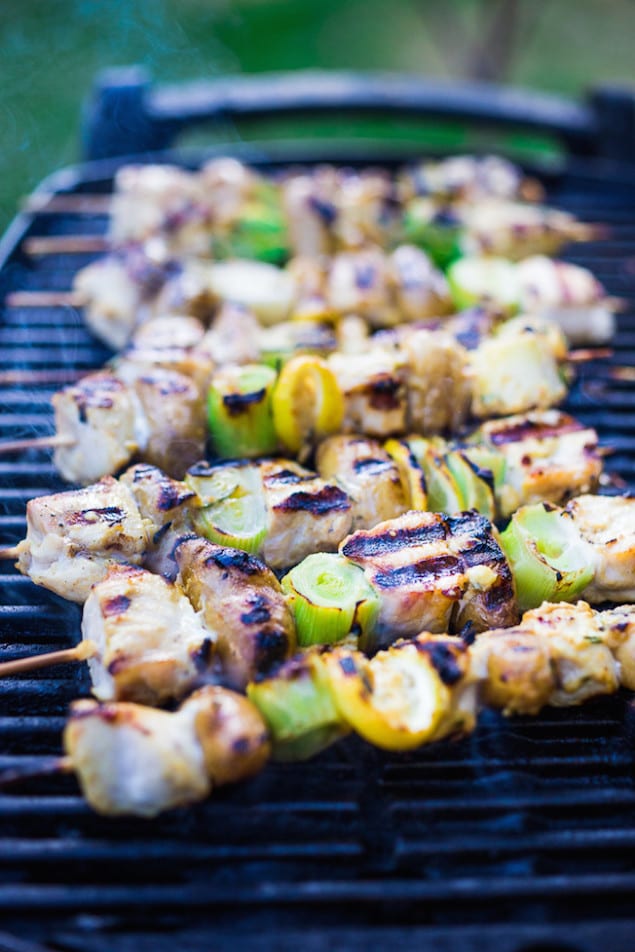 In this recipe, leeks are sliced and blanched for just a few moments. Potatoes are blanched until tender, about 15 minutes. If you've never tried grilled leeks, you are in for a treat. Brian actually got me hooked on these last summer. He would grill whole leeks, low and slow on the grill and serve as a side with crumbled goat cheese….so tasty!
So it was he who gave me the idea of putting them on the skewer. The first time I made these, I did not blanch them first. The leeks were underdone. The quick blanching makes them easier to skewer, gives them a bright green vibrancy, and allows them to grill to perfection. So be sure to blanch first!
Dijon mustard, olive oil, garlic, rosemary and salt and pepper are mixed up in a small bowl. The marinade will seem especially strong, so don't let it startle you. It mellows out perfectly once grilled.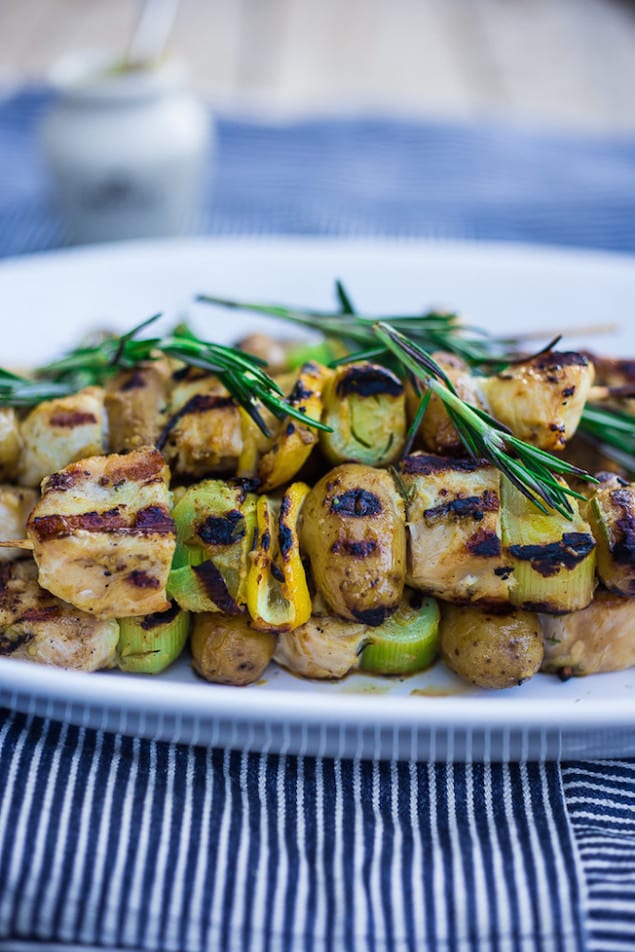 Delights of Dijon — Grilled Leek, Potato and Chicken Skewers with Mustard-Rosemary Sauce
Chicken skewers on the barbecue receive a French makeover with leeks and potatoes lathered up in a Dijon Garlic Rosemary Sauce.
Ingredients
8 oz small fingerling potatoes
2 small leeks ( 1 inch-1 ½ inch in diameter)
1 lb chicken boneless, skinless Chicken breast
Marinade
4 T Maille's dijon mustard
4 T olive oil
3 garlic cloves- grated or finely minced
1 T chopped fresh rosemary
½ teaspoon salt and pepper
To Serve
Instructions
Soak Skewers in hot water. ( or soak overnight)
Blanch potatoes in a pot of salted simmering water, until fork tender, for about 15 minutes ( depending on the size). Drain.
Cut leeks into disks about ¾ inch thick.
Set leeks in a saute pan with ½ inch of water( coming up half way up the sides of the leeks) bring to a boil, turn heat down and simmer on low for 5 minutes, until tender, and vibrant green. Drain, carefully, so they stay intact.
Cut chicken into 1 inch cubes.
Generously salt and pepper the chicken on all sides.
In a small bowl mix mustard, oil, minced garlic and rosemary, salt and pepper until incorporated.
Slice lemon.
Preheat grill to med high.
Assemble Skewers- place chicken, potato, leek ( through the side, not middle) a lemon slice folded in half, and repeat, chicken, potato, leek and finish with chicken on the end. Should have enough to make 8 skewers total.
Brush each sewer with the dijon marinade on all sides, using up all the marinade.
On medium high grill , grease with spray oil, and place skewers on the grill. Cover and let cook about 4 minutes, or until there are good grill marks. Turn over. Turn heat to medium, cover and cook 4 more minutes. Rotate and grill the other two sides of the chicken, for a few minutes. Turn heat off and let chicken rest on the grill, covered, allowing it to continue to cook through until its done, about 5 minutes. Place on a platter and scatter lemon slices and rosemary sprigs around. Serve with a Ceasar Salad.
Sylvia Fountaine
Caterer and chef of Feast Catering Co., my blog Feasting at Home is where I share wholesome, seasonal recipes we cook at home.