PARTNER POST — Discover the unique flavors of the Dijon region with Maille.
Chickpeas are paired with crunchy celery, fresh bell pepper, and chopped green onions in a spicy Dijon sauce made with Lemon Harissa mustard for a fresh spring lunch.
By Annie Holmes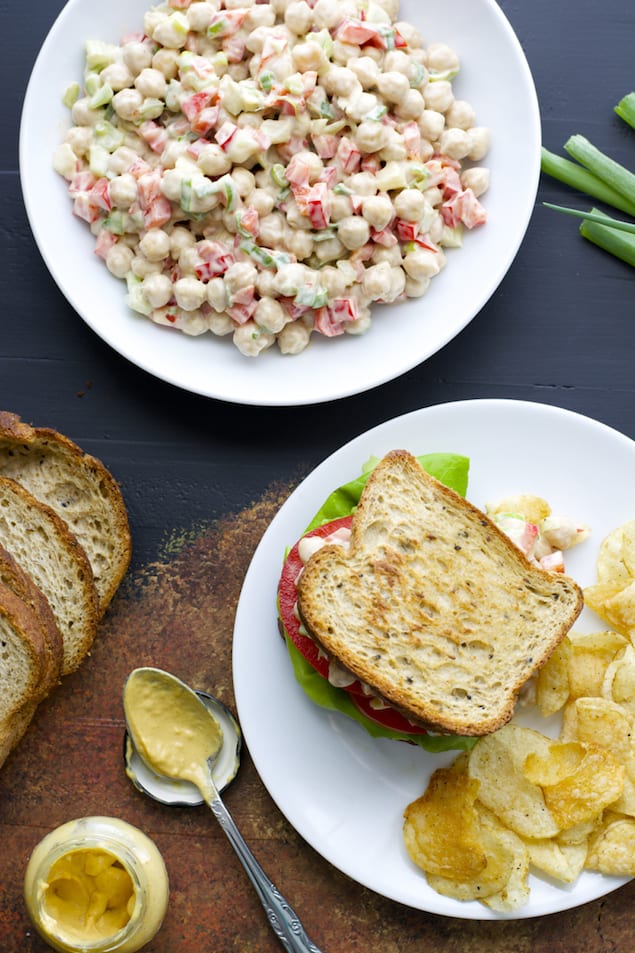 I was a vegetarian for almost ten years. It all started in Jr. High with a lamb named clue. Eventually, almost a decade later I did start eating meat again while I was in college. But sometimes, my inner vegetarian just cannot be contained. I love a good meatless meal.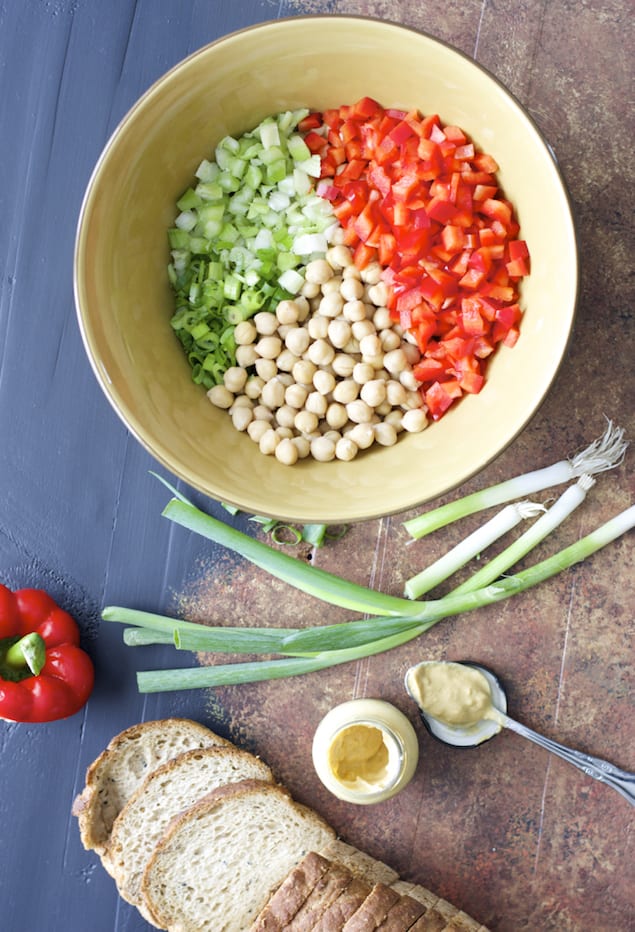 Lately, I have been craving something new and different. I scoured my cabinets for ingredients and decided to make a chickpea salad. This isn't just your regular old bland chick pea salad though, it is packed with tender chick peas, crunchy celery, fresh red bell pepper, chopped green onions and a spicy Dijon mustard sauce made with Maille. It is the perfect cool Summer salad.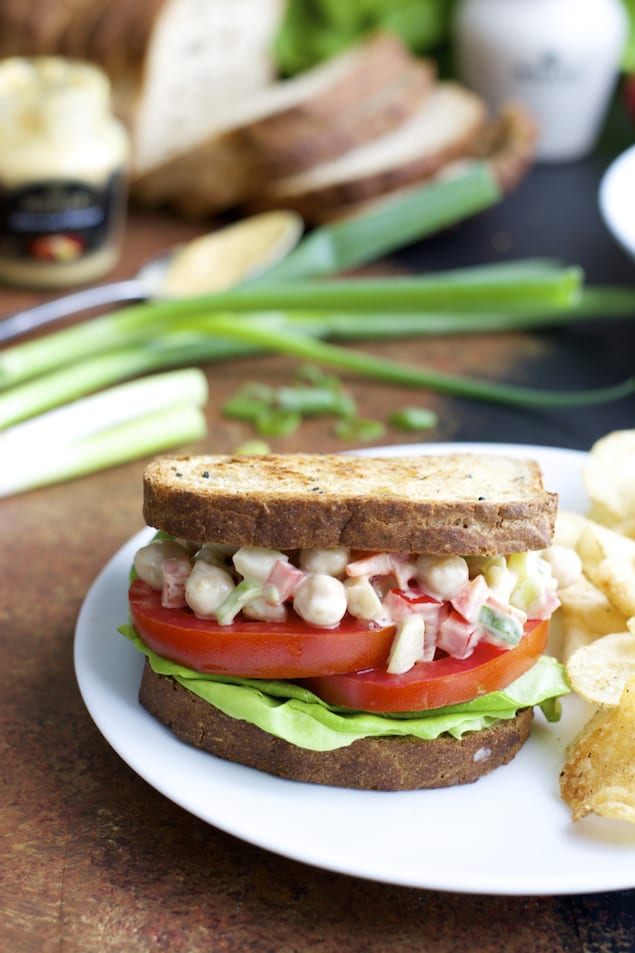 This salad comes together in a matter of minutes, just rinse your chickpeas really well and pat dry, combine with all of the chopped veggies in a big bowl. Add some garlic salt, pepper, mayonnaise, and a heaping scoop of Lemon Harissa Dijon Mustard from Maille. I love the spicy twist and hint of lemon with the Dijon, it is the perfect way to take a dish from ordinary to extraordinary!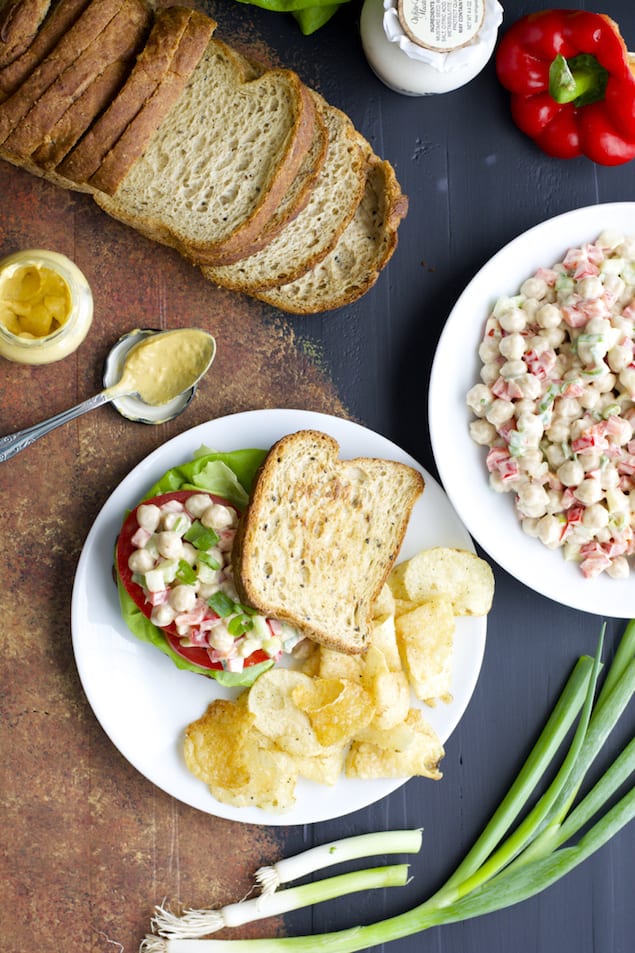 Give all of your ingredients a good stir. Do a little taste test. Depending on your flavor preferences you might want to add a bit more salt and pepper or a tad more mustard for an extra kick.
I ate this spread on lightly toasted gluten free bread with fresh lettuce and ripe tomato slices. But I think my favorite way to enjoy this was piled high on crackers, or by adding a big spoonful to a simple salad. There is just something about a spoonful of spicy chickpeas paired with fresh veggies that is super refreshing.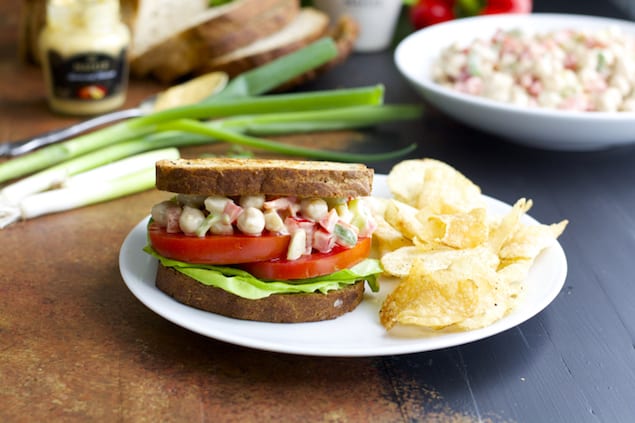 This is the perfect simple salad for a quick and easy lunch or a great addition to your Summer BBQ menu! Your vegetarian guests will thank you!
[fve]https://vimeo.com/126301319[/fve]
Delights of Dijon — Chickpea Salad with Spring Onions
Chickpeas are paired with crunchy celery, bell pepper, and green onions in a spicy Dijon sauce made with Lemon Harissa mustard for a fresh spring lunch.
Ingredients
2 (15 ounce) cans chickpeas, drained and rinsed
1 red bell pepper, seeded and chopped
½ cup chopped celery
½ cup chopped green onion
½ cup mayonnaise
1 tablespoon plus 1 teaspoon Maille Lemon Harissa Mustard
⅛ teaspoon garlic salt
⅛ teaspoon black pepper
Instructions
Combine all ingredients in a large mixing bowl and stir well.
Serve on bread or crackers.
Store in the refrigerator in an air tight container.
a Rafflecopter giveaway
Annie Holmes
Annie is the gluten-free blogger behind Maebells that has a passion for revamping classic Southern comfort food into lighter, healthier, gluten-free meals. For more from Annie, head on over to her blog and connect with her on Twitter, Facebook, and Pinterest.