PARTNER POST — Discover the unique flavors of the Dijon region with Maille.
Give a meatless dish loaded with chickpeas, vibrant beets, and topped with avocado a bold flavor from whole grain Dijon mustard.
By Vicky Cohen and Ruth Fox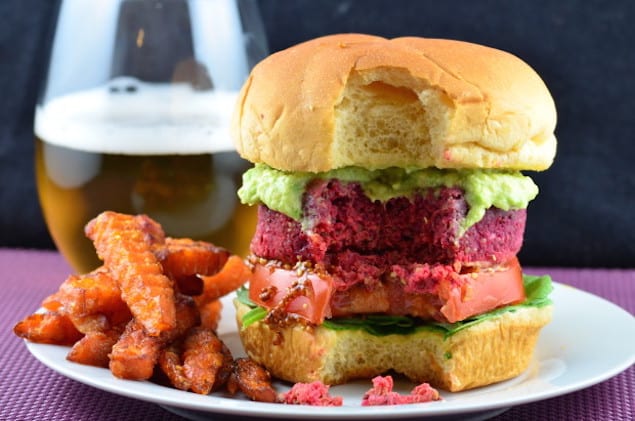 Ever since I was little, I've had this sort of "obsession" with mustard. I'm talking about the standing-in-front-of the-fridge-eating-mustard-out-of-the-jar kind of obsession. Sounds weird, I know, but what can I say?!
I remember back home in Spain, my parents would buy this amazing grain mustard, that came in a big, fat ceramic jar with a cork as a lid. Authentic, imported directly from France (our neighbor). Man, was that good. I used to eat it right out of the jar back then too, but my mom also made the most amazing dishes with it: from mustard crusted rack of lamb, to simple, yet incredibly flavorful salad dressing. Luckily for me, here in the US I can still enjoy the same high quality, authentic mustard, thanks to Maille.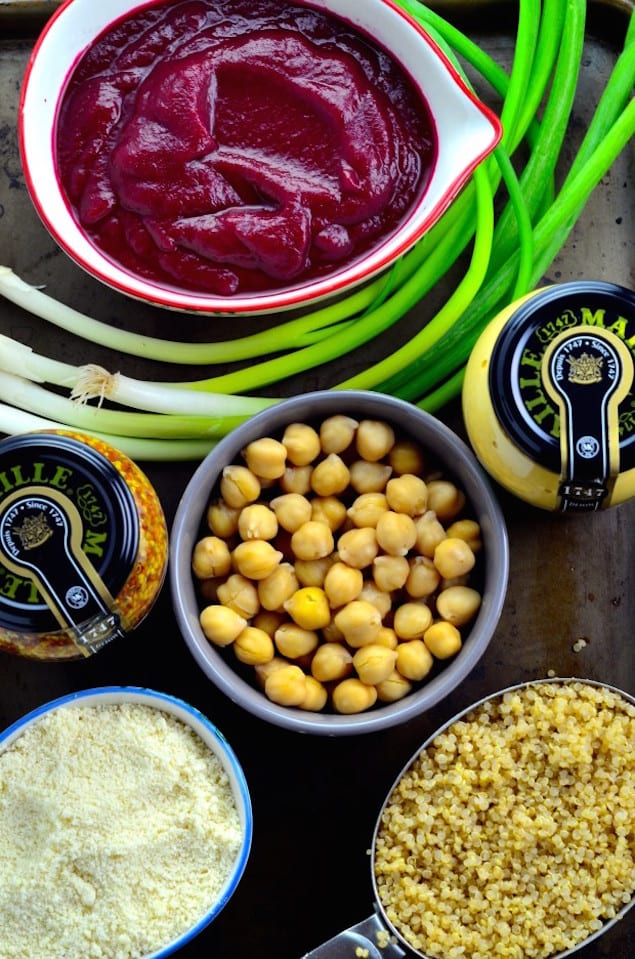 As I grew older and became a vegetarian, that mustard obsession grew even stronger. Which makes sense if you think about it: mustard is a great way to infuse flavor into your favorite recipes, and with so many varieties to choose from, you can always keep it fun and exciting. So if you think it's just a condiment, think again!
The recipe we're sharing today is the perfect example.
See Also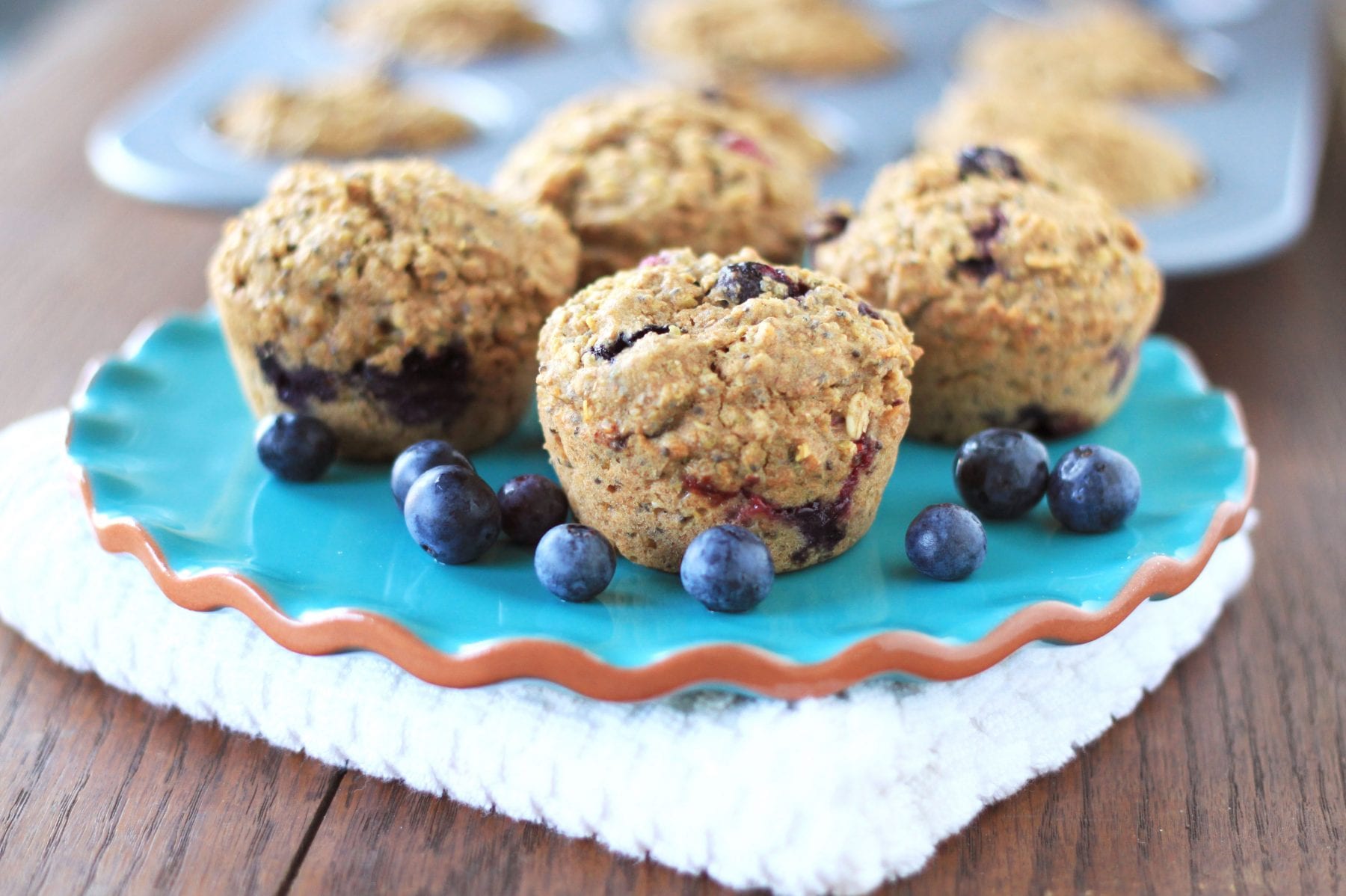 This veggie burger is satisfying, super nutritious and packed with flavor. Made with two different kinds of authentic Maille Dijon mustard, loaded with chickpeas, beets and quinoa. Topped with creamy avocado, and, of course, a little extra mustard for good measure
Now, if you don't really get this whole mustard obsession thing, maybe a trip to the Burgundy region of France might help. A Mustard Sommelier at the Maille boutique in Dijon will teach you everything you need to know… And you'll even enjoy amazing French cuisine at some of the best restaurants in the area.
[fve]https://vimeo.com/126301319[/fve]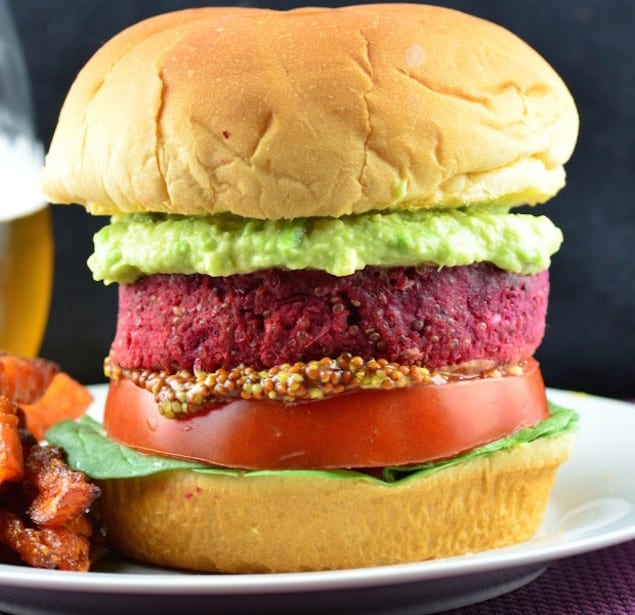 Delights of Dijon — Beet Veggie Burger with Quinoa and Chickpeas
Give a meatless dish loaded with chickpeas, vibrant beets, and topped with avocado a bold flavor from whole grain Dijon mustard.
Author:
Vicky Cohen and Ruth Fox
Ingredients
1 medium size beet
1-15oz can chickpeas
1 cup cooked quinoa (for instructions on how to cook quinoa, click here)
1 cup almond meal
3 scallions, sliced thin (white and light green tops)
4 tbsp red wine vinegar
3 tbsp Maille Whole Grain Dijon Mustard
2 tbsp Maille Traditional Dijon Mustard
1 tsp lemon juice
½ tsp salt
½ tsp ground cumin
¼ tsp ground black pepper
6 hamburger buns
Toppings
2 large tomatoes, sliced
Baby spinach leaves
Guacamole
Maille Whole Grain Dijon Mustard to taste
Instructions
Preheat oven to 400F. Wrap the the beet in tin foil and bake at 400F for one hour (or until tender). Set aside to cool
Peel beet and place in the food processor and pulse until pureed. Set aside. Repeat the process with the canned chickpeas
In a large bowl,combine pureed beet and chickpeas, cooked quinoa, almond meal, scallions, vinegar, Maille mustards. lemon juice, salt, cumin and black pepper. Mix until all the ingredients are well incorporated and refrigerate for 20 minutes
Preheat oven to 350F. Line a large baking sheet with parchment paper
Working with approximately ½ cup of mixture, form 6 round patties. Bake at 350F for 30 minutes
Vicky Cohen and Ruth Fox
We are two sisters born and raised in Barcelona, Spain, with Sephardic and Middle Eastern roots. We grew up eating the best, most flavorful, comforting home-cooked meals prepared by our mom, who taught us everything we know about cooking. When we moved here to the U.S. we felt it was really important to keep our traditions and background alive, and we've done so by sharing it with everyone we've met throughout the years. After all, what better way to make new friends and share our love and culture than through food, right? Our friends have come to enjoy our food and gatherings so much that are always asking us for our recipes. That inspired us to start a cooking blog called "May I have that recipe" where we share recipes we've created inspired by our multicultural background.