The quintessential holiday pie is guaranteed to lift anyone's December spirit to new heights.
By Dawn Myers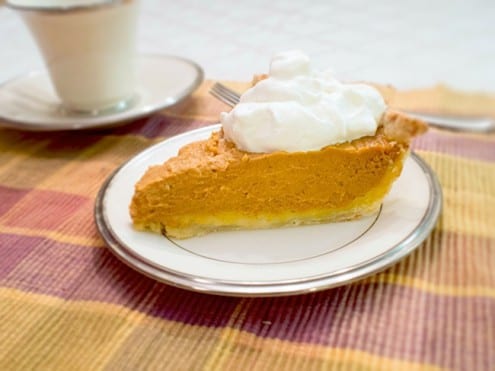 Delicious Pumpkin Cream Pie
The quintessential holiday pie is guaranteed to lift anyone's December spirit to new heights.
Ingredients
Pie Crust (homemade or store bought)
3 cups canned pumpkin
¾ cup sugar
½ teaspoon salt
½ teaspoon grated nutmeg
1 teaspoon cinnamon
½ teaspoon powdered ginger (or 1 teaspoon fresh grated ginger)
3 large eggs, lightly beaten
1 cup heavy cream
Instructions
Preheat oven to 425 degrees Fahrenheit.
If using a homemade crust, roll out crust and place into pie dish. Prick holes in the crust all around with a fork to prevent bubbles. Add pie weights. Blind bake (bake with no batter) the crust for 10 minutes at 450. Remove the weights and reduce heat to 375 and bake for another 10 minutes. Remove from oven and set aside.
Preheat oven to 425 degrees Fahrenheit.
Combine remaining ingredients in a mixing bowl. Blend well over medium speed. Pour the mixture into the prepared pie shell and place in the oven.
Bake for 15 minutes. Reduce heat to 325 degrees Fahrenheit. Check crust for signs of browning, if brown, cover. Bake for 45-55 minutes more, or until the center is just slightly jiggles when the pie is slightly jostled. You may want to check often after the 40 minute mark, as oven temperatures vary. Cool and serve.
Dawn Myers
Wife, mother of 2 lovely children, MBA, lawyer, bureaucrat. I adore reading old cookbooks and am endlessly inspired by their simplicity, economy, and true connection with the food being prepared. My blog explores "historic" recipes and more modern recipes that embody the same ideals.