Debra Smith serves up an absolutely gorgeous hummingbird cake with a decadent, lemon flavored mascarpone frosting.
By Debra Smith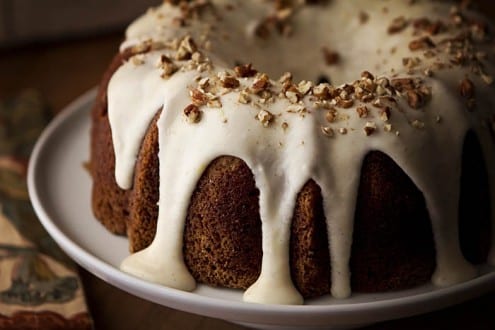 Hummingbird Cake with Lemon Mascarpone Frosting
Debra Smith serves up an absolutely gorgeous hummingbird cake with a decadent, lemon flavored mascarpone frosting.
Ingredients
84 grams brown rice flour
84 grams sorghum flour
126 grams sweet rice flour
126 grams potato starch
1-3/4 cups granulated sugar
2-1/2 teaspoons baking soda
1 teaspoon kosher salt
¾ teaspoon cardamom
3 eggs, slightly beaten
1-3/4 cups mashed bananas (approximately 4 small)
1 8-ounce can crushed pineapple, including juice
¾ cups grape seed oil
1-1/2 teaspoons vanilla paste (can sub pure vanilla extract)
1-1/2 cups toasted pecans, chopped
For the glaze:
½ cup Mascarpone cheese, softened
2 cups powdered sugar
1 teaspoon vanilla paste (can sub pure vanilla extract)
2 to 3 Tablespoons whole milk
1 teaspoon freshly grated lemon zest
Instructions
Preheat oven to 350°
Bake pecans in a single layer on a sheet pan for 5-7 minutes or until toasted and fragrant, stirring halfway through; set aside to cool
Place flours, sugar, baking soda, salt and cardamom in a large bowl; whisk until ingredients are blended
Add eggs, banana, crushed pineapple, grape seed oil and vanilla paste, stirring just until dry ingredients are moistened; add 1 cup of the toasted pecans and stir until just combined
Pour batter into a buttered and floured 10-cup Bundt pan
Bake at 350° for 45 minutes to 1 hour or until a long wooden pick inserted in center comes out clean – start checking at the 45-minute mark as some pans bake faster than others
Cool cake in pan on a wire rack for 10 minutes; remove from pan on to a wire rack and cool completely
If possible, lightly cover with plastic wrap or a kitchen towel and let sit overnight on the counter before frosting
For the glaze:
Place powdered sugar, mascarpone cheese, vanilla paste, lemon zest and 2 Tablespoons milk in the bowl of a stand mixer fitted with paddle and blend until smooth and creamy, adding more milk if necessary, 1 teaspoon at a time; the frosting should be thick yet thin enough to slightly drizzle down the side of the cake
Immediately pour glaze over cooled cake; top with remaining chopped pecans if desired
Debra Smith
Debra and 'The Professor', Midwest-based husband and wife freelance videographers, photographers, writers, storytellers, and publishers of the Smith Bites. Using images, words, music and video, they connect the stories about food, friends and family to the world around them.