PARTNER POST: Let Pomì's premium quality, Italian tomatoes bring the fresh and healthful taste of Italy to your cooking, no matter the cuisine.
Revamp your tomato soup with the addition of curry and cumin roasted shrimp to make it a main dish and quite possibly the best tomato soup you've ever had.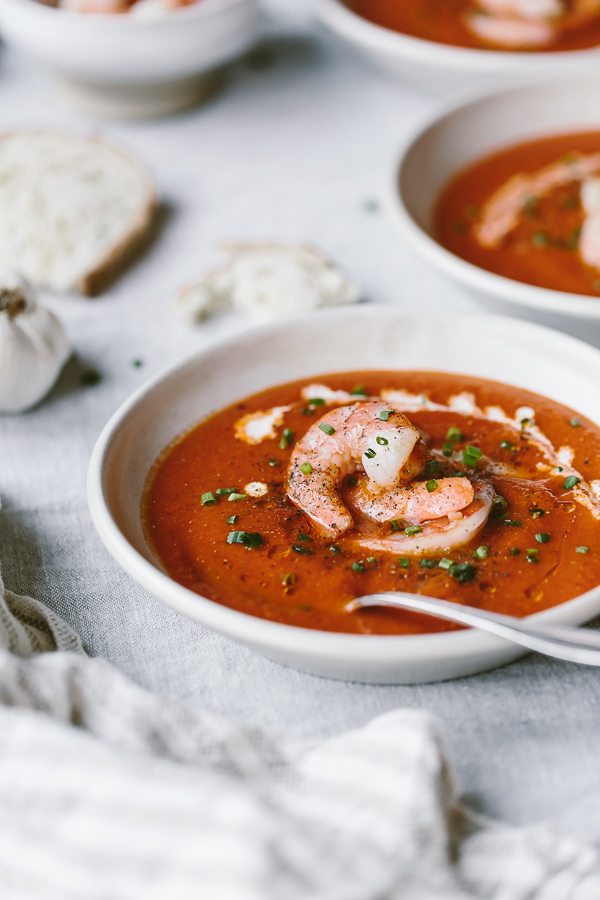 Today I come to you with a homemade and gluten-free curry tomato soup recipe. It is made with my favorite tomato brand Pomi's chopped tomatoes. Though you can serve this all by itself, I turned it into a meal by topping it off with cumin roasted shrimp. The whole thing comes together in less than 40 minutes and it is worth the time. So why not ditch the boxed tomato soup, give this recipe a try, and knock your family's socks off?!
In the next few weeks, as we are preparing for the Christmas holiday, I plan on warming your heart with soups, stews, cookies, and cakes. So let's get started with this Curry Tomato Soup with Cumin Roasted Shrimp, or as I would like to call it, 'Tomato Soup on Steroids'.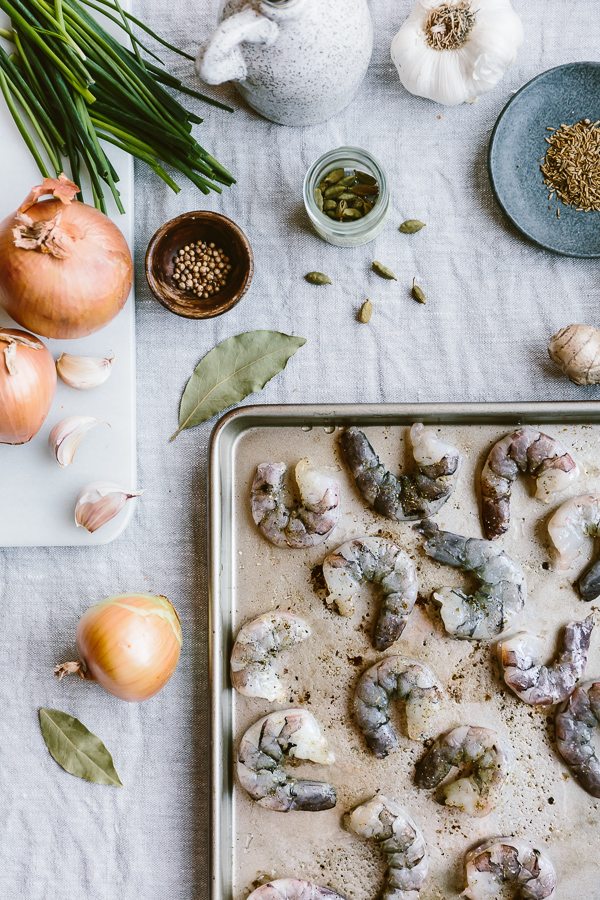 The process of making this soup is pretty simple. First you prep for the homemade curry. I usually make a curry paste, but for this recipe (to save on time), I opted for putting it all together in the pot. As in most homemade curry recipes, this one has a long list of spices. Though not to worry, because they are all widely available in supermarkets. In the recipe below, the spices are listed as ground, but if you have a spice grinder, I recommend using whole spices and grinding them all together at the same time. It is imperative to take the time to cook the spice mixture, as they are oil soluble. In other words, in order for them to release all their flavors they need to be cooked in oil. For optimum flavor, I recommend not to skip the few minutes of cooking the spices, ginger, garlic and Thai Chili sauce in the order listed in the recipe.
HOW TO MAKE CREAMLESS CREAMY TOMATO SOUP:
Growing up my mother made tomato soup with butter and heavy cream. As in all recipes made with butter and cream, it was delicious. However, let's face it, it wasn't the healthiest. For this recipe, to make it healthier without compromising the creaminess, I used a technique I learned from America's Test Kitchen. In their version of tomato soup, instead of adding cream (or milk), they add a few slices of white sandwich bread to the soup. As the tomatoes cook, the bread melts in the soup, and after it is blended it creates "the creamy effect" that we all love.
Since I wanted to make this recipe gluten-free, I used gluten-free sandwich bread. However, if you are not gluten-sensitive, you can use regular sandwich bread as well.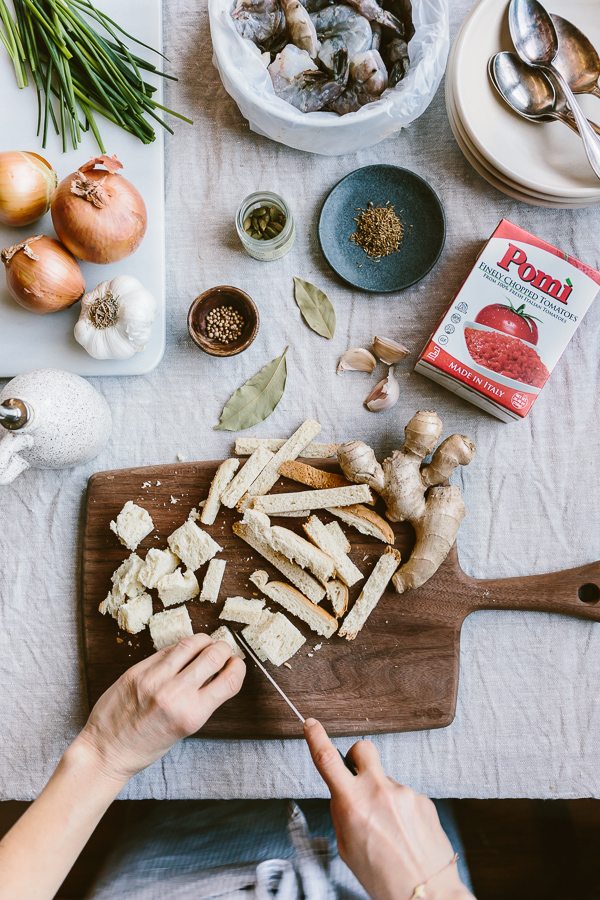 BEST TOMATOES FOR THE BEST TOMATO SOUP:
It is no secret that a delicious tomato soup starts with delicious tomatoes. For this recipe, I choose the Pomì finely chopped tomatoes. I use them all the time and love the fact that, unlike most tomatoes sold in a can, their ingredient list consists of only one thing and that is tomatoes. They are 100% natural, with no artificial ingredients, gluten and GMO free. Not to mention, they taste so good. In addition to the finely chopped tomatoes I used here, they offer pizza sauce, marinara sauce and tomato sauce in their product line.
Plus, currently they are offering a free Pomì Healthy cookbook on their website. Made up of 10 creative recipes, the e-cookbook not only offers ways to use Pomì tomato products, but also gives you tips on having a balanced diet in general.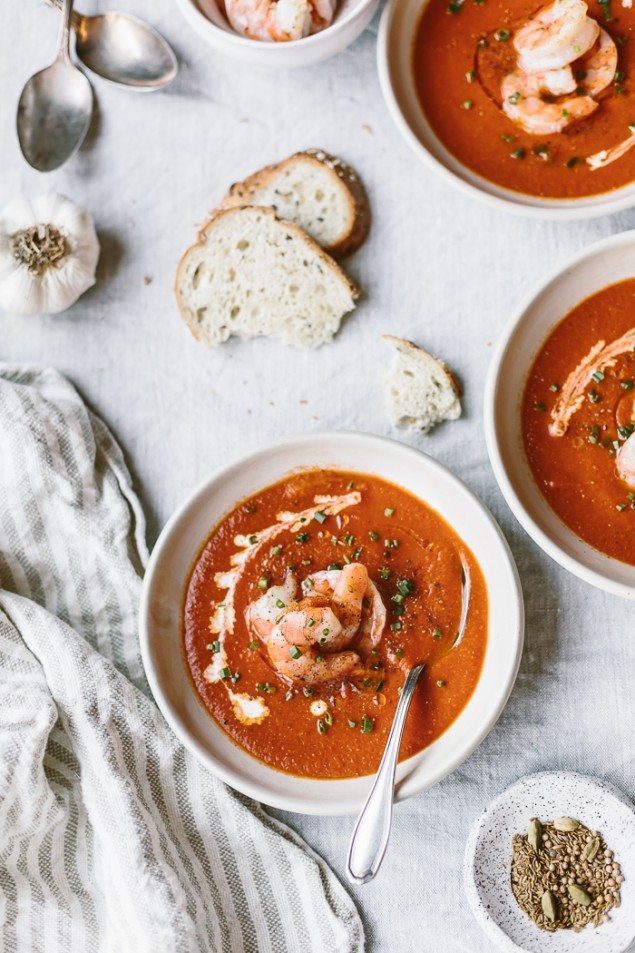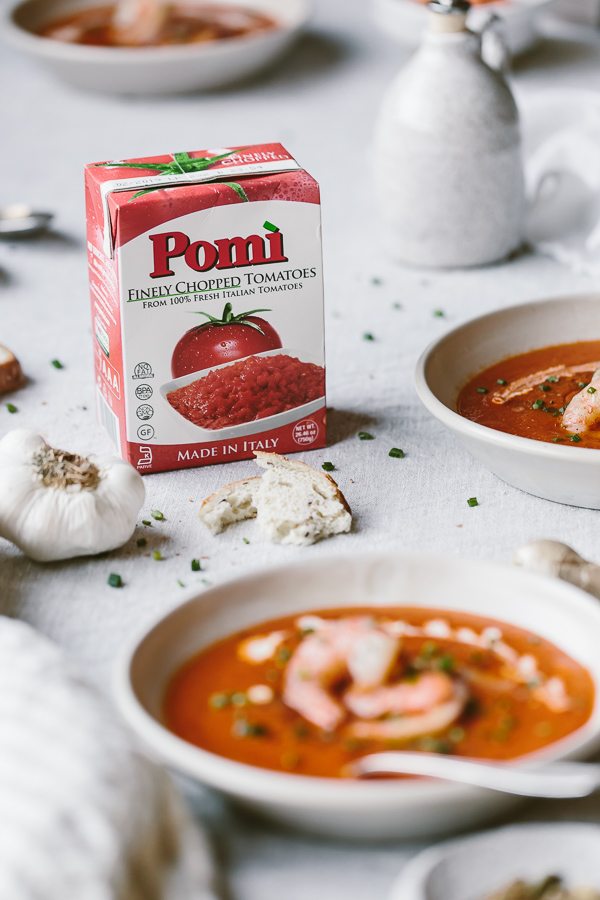 See Also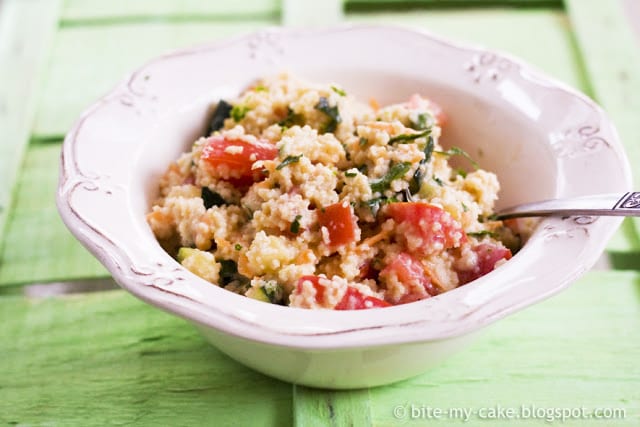 Even though, you can serve this curry tomato soup just by itself, I decided to turn into a meal by topping it off with a few roasted shrimp. To continue with the flavors of the soup, I mixed the shrimp with a little bit of olive oil and seasoned it with cumin, salt and pepper.
To roast the shrimp, I use Ina Garten's method: roast them in a very hot oven (in this case 400 F degrees) for a short amount of time. Here, it is important to keep a close eye on it as shrimp roasts very fast. You do not want to end up rubbery and curled up shrimp.
As you will see in the recipe below, I roasted the shrimp 4-5 minutes making sure to flip them halfway through the roasting process. It is a little shorter than I would normally roast, because (1) I prefer my shrimp a little underdone and (2) it continues to cook when it is plated in a hot soup with the help of the residual heat. Still, if you want yours fully cooked feel free to keep them in the oven for a few minutes longer.
With all that being said, if you are not a seafood fan, feel free to top it off with grilled cheese croutons or simply serve it just by itself. Either way, I am sure that this curry tomato soup will be a great addition to your winter soup collection and will not disappoint.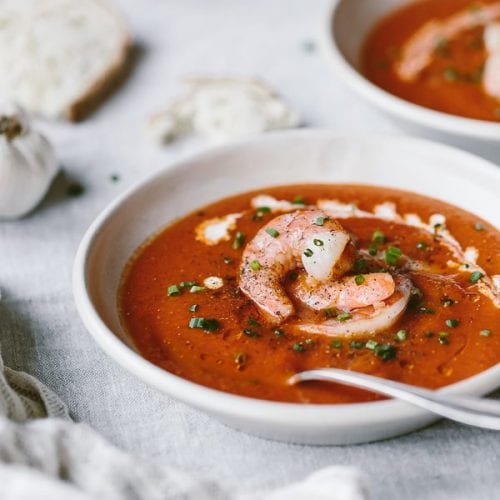 Aysegul Sanford
Ingredients
1

teaspoon

ground cumin

½

teaspoon

ground coriander

¼

teaspoon

turmeric

¼

teaspoon

cinnamon

½

teaspoon

ground cardamom

½

teaspoon

black pepper

2

tablespoons

olive oil

divided – plus more for drizzling at the end

1

large onion

chopped

2

tablespoons

fresh ginger

peeled and minced

1

tablespoon

Thai Chili Sauce

like Sriracha or Sambal Oelek

4

cloves

of garlic

peeled and minced

2

boxes

26.46 oz of Pomi Finely Chopped Tomatoes

1

teaspoon

kosher salt

3

slices

of gluten-free sandwich bread

crust removed and cut into smaller pieces

1

bay leaf

1

tablespoon

coconut sugar

or brown sugar

2

cups

chicken or vegetable stock

preferably homemade

1

tablespoon

brandy

or white wine vinegar

2

tablespoons

fresh chive

chopped

3-4

tablespoons

of heavy cream or half and half

optional

To make the cumin roasted shrimp:

2

pounds

large shrimp

10-15 per pound, peeled and deveined

2

tablespoons

olive oil

1

teaspoon

ground cumin

½

teaspoon

kosher salt

¼

teaspoon

black pepper
Instructions
Combine all spices in a bowl and set aside.

Heat 2 tablespoons of oil in medium-heat in a large saucepan. Add in the onion and cook for 3-4 minutes or until translucent. Stir in the spices. Stirring constantly cook for a 1-2 minutes. Add in the minced ginger. Cook for 2-3 minutes while stirring constantly.

Stir in the Thai chili sauce and garlic. Cook until fragrant, 1 minute or so.

Add in the tomatoes, salt, sandwich bread and bay leaf. Let it come to a boil. Turn down the heat to medium-low and let it simmer for 3-4 minutes.

Fish out the bay leaf and discard.

Working in small batches, puree the soup in a blender. Alternatively, you can use a hand blender to puree the soup in the pot.

Stir in the sugar and chicken stock. Bring it to a boil and then let it simmer for 5 minutes or so. Right before serving, stir in the brandy. Taste for seasoning and add more if necessary.

While the soup is cooking roast the shrimp. Pre-heat the oven to 400 degrees. Spread the shrimp on a baking sheet. Drizzle it with olive oil and sprinkle it with cumin, salt and pepper.

Roast in the oven for 5-6 minutes making sure to rotate the shrimp halfway through the roasting process.

When ready to serve, ladle soup in a bowl. Place 3 pieces of shrimp in the middle of the bowl. Sprinkle it with fresh chives. Drizzle it with a glug of oil and heavy cream, if using.

Serve immediately with a few slices of crusty bread.
Notes
* If you have a spice grinder, I would recommend using whole spices and grinding them all together.
Aysegul Sanford
Aysegul is the cook, writer, and photographer behind foolproofliving.com. She spends her days creating recipes from seasonal ingredients on a small island in the Caribbean. Other than cooking and baking, her biggest passion in life is photography. She also is a firm believer that if you know how to read, you know how to cook.