My course through Curaçao's cuisine began with funchi nearby a hotel that once served Dutch royalty. Then it made its way to hearty stews served within the iconic city of Willemstad.
Along the way, I stumbled into a barrio of Lionfish delicacies and took a turn to bake a traditional bread and dunked it into a bowl of fish stew. Bon Bini, to my colorful culinary adventure in Curaçao.
Before diving into my edible experiences on the colorful island, I asked myself an open-ended question with no correct answer. What is the best way to describe Curaçao cuisine after a four-day trip to the island? While it was brief, I grasped the cuisine is rooted in the island's history, geography and diverse community.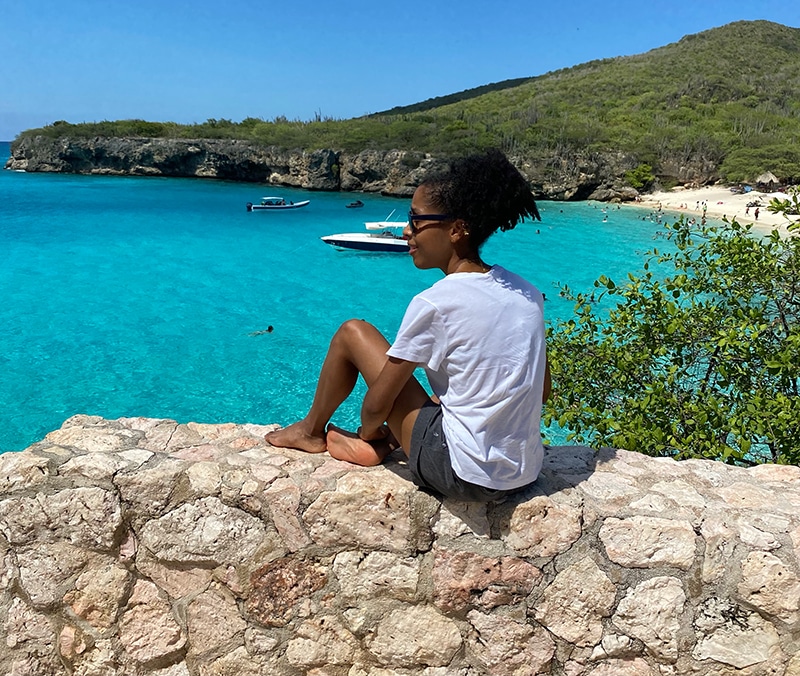 Echoing the cultural beginnings of most Caribbean islands, Curaçao is a melting pot. No one person or culture is responsible for the island's cuisine. For example the Jewish community helped create the island's infamous Blue Curaçao liqueur. While the Afro Caribbean community (byways of the slave trade) introduced funchi, beef stew, and other incredible dishes to the island. Nonetheless, it's the blended cultures that make the island what it is today and the learnings and adaptations of food and cooking that each generation adopted.
Here are some fun facts about the Dushi island of Curacao.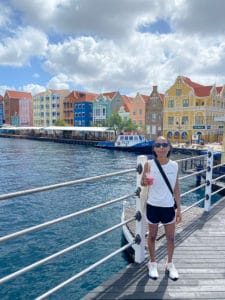 First there's Curaçao 's capital, Willemstad. The island is a UNESCO World Heritage Site. The mark means it is forbidden to alter the pastel-colored houses lining the city's waterfront or any historic sites for that matter. Second, the Queens Emma Bridge or the "Swinging Old Lady" connects the unique sides of Willemstad, Punda, and Otrabanda.
In the city, eyes may fall into a deep admiration of the local artworks. On the other hand, stomachs may gravitate to the alluring scents of fried black-eyed pea balls, funchi, or even piping hot okra stews.
Third, to match the island's glistening turquoise waters, the island is also home to a genuine blue liqueur, the Blue Curaçao.  Although the answer to why the liqueur is blue remains a mystery, what is known is its fun liqueur that captures the island's carefree spirit.
Mosa/

Caña

Kitchen Bar
On my first night in Curaçao, I visited Mosa/Caña Kitchen Bar–the eatery where I lost my funchi virginity. Funchi in the Dutch Caribbean diet is much like plantains in a Latin Caribbean diet. The cornmeal paste is a requirement, and locals may question the authenticity of a dish if Funchi is missing. Unlike the traditional paste similar to polenta's consistency, Mosa served Funchi as fries and paired them with parsley aioli. It's the kind of appetizer you'd want to have as a full course meal. Another item worth trying at Mosa is the tuna tartar. The dish hits all the right flavor notes–it's subtly sweet, slightly spicy, and has a bold citrus flavor.
The following day, I encountered a smoothie stand "Anders Shakes" byways of Clarita's walking tour. It appeared to be the spot where locals and revisiting tourists get their daily smoothie fix. The ordering process is simple, arrive at the counter, says Bon Bini, and address the following prompts: flavor, milk, sweetened. In a matter of ten minutes, a blended cocktail sans the alcohol-filled a quaint plastic cup. If you prefer super-sweet tastes, go for the whole package–milk, sugar, blended with the fruit. If not, I'd recommend choosing the fruit only.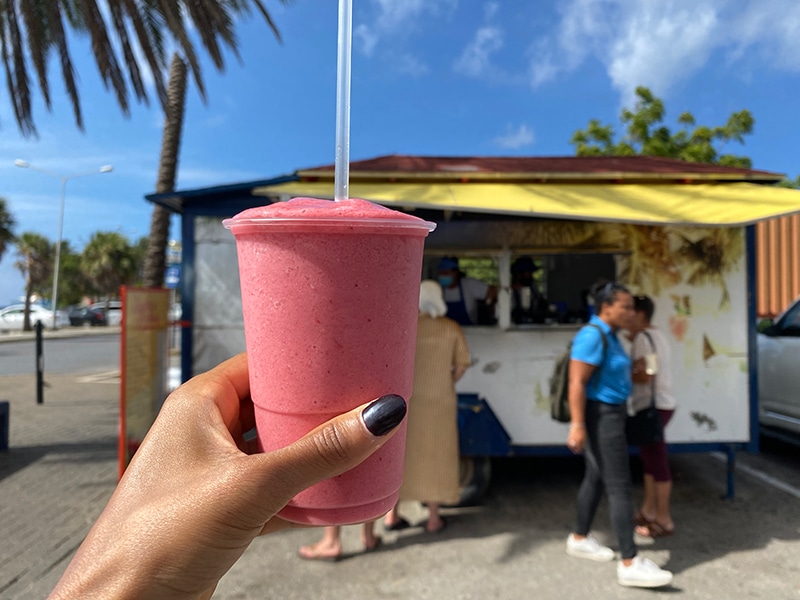 Before I walked across the "Swinging Old Lady" bridge, Clarita offered me one of the island's street snack's called Kala. Like the West Indian snack pholourie, Kala is made purely from deep-frying legumes. A couple of repeated patterns occur in my culinary adventure; one includes eating various Afro-Caribbean and street foods. The Kala is considered street food, influenced by its African decedents. Think of Kala like Curaçao's 
A Taste of Krioyo (Creole Food) Cooking
From funchi fries to Kala, my next stop–Plasa Bieu– hearty stews awaited my stomach's arrival. Plasa Bieu is situated in the heart of Punda, in Willemstad where vendors cook and sell fried fish, stews ( goat chicken, beef, seafood) served with peas and rice potatoes, funchi or tutu (when funchi is mixed with beans and sugar.)  In steaming temperatures, eating hot stews and soups may not seem ideal. According to Clarita, this is the norm for locals on the island.
Vegetables also play a secondary role in traditional Curaçao cuisine. Typically stews and soups include local vegetables like green papaya, tiny cucumbers (konkomber) and/ cabbage. Clarita mentioned locals gravitate towards stews and soups for in order to get their daily intake of vegetables. She also mentioned "salads are goat food." Additionally, there are okra and cactus  soups. While the consistency of these soups are off putting, it's said to have a delightful flavor.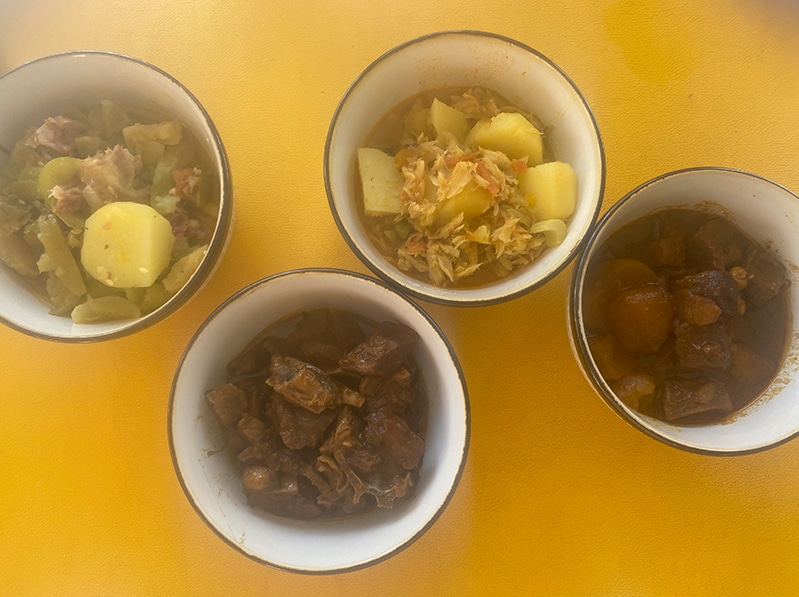 There are several vendors in Plasa Bieu to choose from. But according to the unofficial mayor soon to be mayor of Curaçao Tirzah, along with Clarita, the last vendor upon entering the Plasa has the best offerings. At the stroke of noon, stews upon stews, grilled fish, and an okra soup decorated my table. Spoon in hand; I scooped a heaping of hearty beef, followed by oxtail and repeated spoons of conch stew. In my second or third round, I layered the stews on my designated portion of funchi. Then I poured the savory stew over the corn paste; it just seemed like a natural proceeding step. As the brown liquid seeped into the yellow staple, I whispered, what a beauty. 
The Sustainable Movement and a Nod to Ripping Apart Mangoes' Flesh at Vittle Art's Cooking Workshop. 
At Vittle Art's Cooking Workshop, owners Saskia and Kris guided me through their excellent cooking class. The course opened my eyes to the island's sustainable movement–where the workshop takes the lead and shows both locals & visitors how resourceful and versatile Curaçao's ingredients are.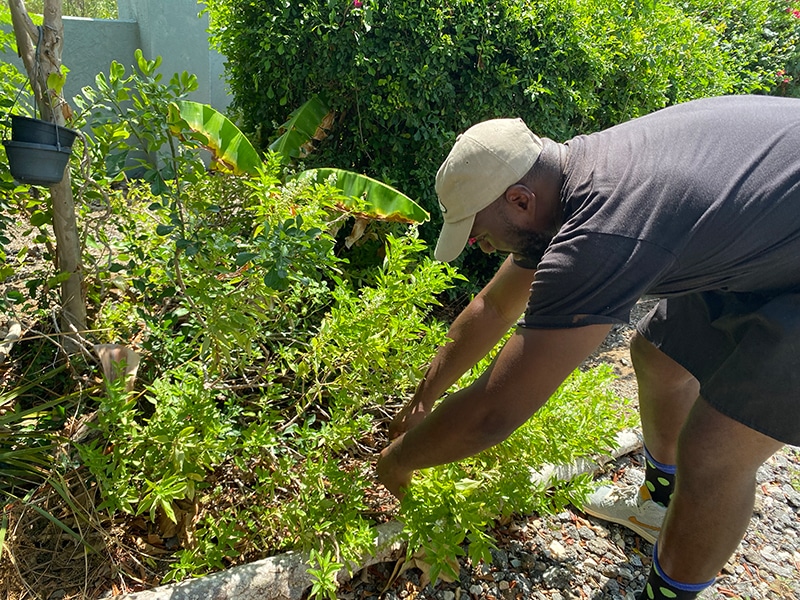 Take, for example, the coconut; it has many unknown powers. Not only does it contain hydrating water, but the husk (usually tossed) can enrich the flavors of a meal. After I helped skin a chicken, cut it into chunks and stick the pieces onto basil sticks, Kris did the honors of cooking the meat on his outdoor grill. On the open fire, the scent of the coconut's husk and chicken chunks nestled in a pool of duck confit filled the open air.
For any vegetarians, I'd recommend using coconut to elevate plain white rice. Cook the rice in coconut milk and grate in coconut flakes for a creamy, slightly sweet, tropical fish. Who knew just how resourceful people were in times when blenders, air fryers, and canned coconut milk did not exist? The class also allowed attendees to reconnect with fond childhood memories. For example, one attendee and my new friend Dani enjoyed ripping into the enriching fibers surrounding a mango's seed. As she smiled and the bright orange juice dripped from her chin on her face, she says "I feel like a happy kid again back home in Cuba."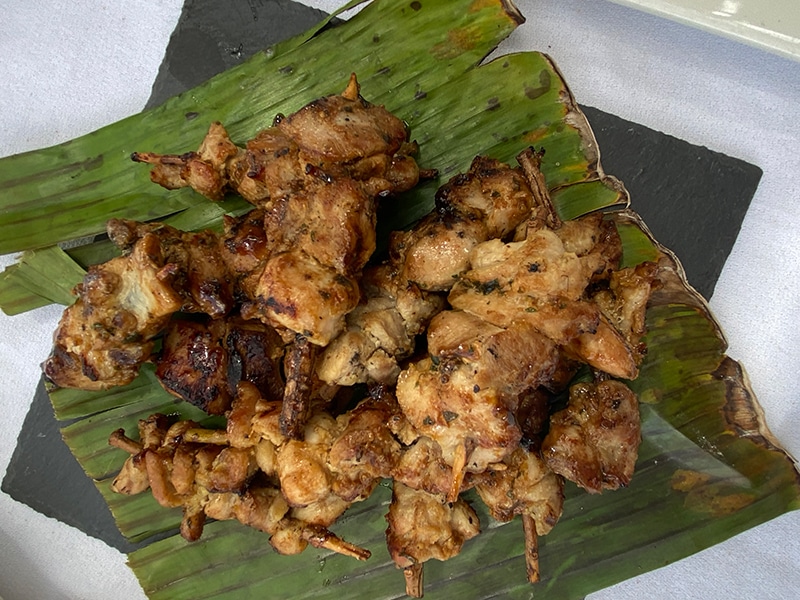 Overall, the class fully embodied its mission to help people "see and experience the simplicity and peculiarity of life…to improve quality of life in a physical, emotional, social and material perspective." I now find myself lusting to recreate the magical experience in my tiny kitchen apartment in Queens. I think I will start simple and recreate the dish of pigeon peas soaked in coconut milk.
Netto Bar's Shots, Shots, Shots.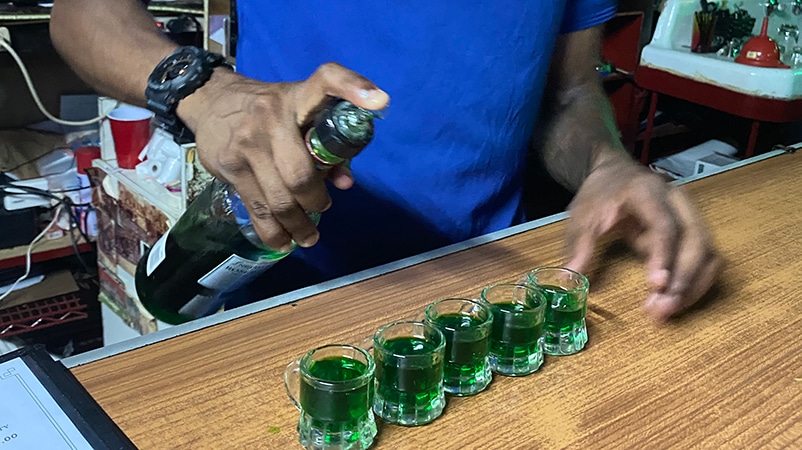 To help relax some unwanted nerves before trying specialties from the Lionfish huntress Lisette Keus, I urge anyone to alleviate some nerves with a greet shot at Netto's. This bar is the oldest in Curaçao and is home to the world-famous green rum. Here's the truth, Netto's has all the elements of a traditional Caribbean bar. It has blinding green neon lights, cramped corners, and disco tunes are on heavy rotation. If I did not visit Netto's, I think my culinary escapade throughout the island would be incomplete. In 1954 the bar was established and remained the go-to destination for locals to gather and get their dose of the unique green rum. Like the Blue Curaçao liqueur, the bar and its unique rum are equally crucial to the island's tradition and culture. 
Lionfish Quesadilla at Bario Urban Street Food.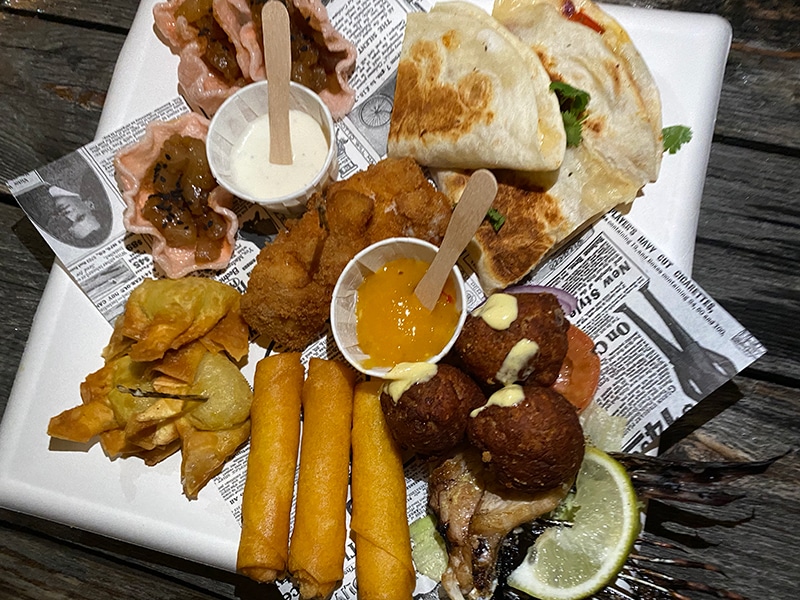 Not only does street food fulfill the role of providing cheap and flavorful food for locals and tourists alike, but it provides culture and history to a country, Curaçao included. At Bario Urban Street Food, local vendors take center stage and help shatter people's barriers around unfamiliar food. In my case, it helped to break down my wall against trying the Lionfish. For those unaware, Lionfish are an invasive species found mainly in the Gulf of Mexico, Atlantic and Caribbean waters.
The species is venomous, has no known predators, and endangers the health of the coral reef ecosystem. Due to the fish's dangerous nature for foreigners and even locals, there can be a hesitation to try the dish. Luckily one of Bario's vendors specializes in hunting and cooking lionfish-san the venom. She is nicknamed the lionfish huntress and serves the species in dishes instead of "traditional" fish, like snapper. When I bit into a warm flour tortilla filled with a fillet of lionfish and gooey Dutch cheese, my body shimmied. The dish sits somewhere between a chicken quesadilla and a perfect grilled cheese. My barrier quickly disappeared, and I now dream endlessly of the delicious lionfish. 
Homemade Pan Sera with Fish Broth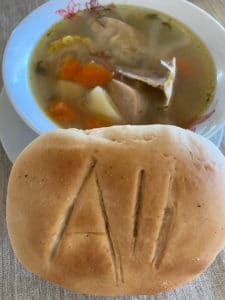 Pan será is a traditional bread from Curaçao consisting of flour, yeast, sugar, margarine, and water. In this class, I learned about the bread's history and how to make it with some much-needed guidance. As stated by the class's teacher Mildred, one helpful tip when making the bread is to "feel for yourself." She means there is no right way or answer to determine when to stop mixing the ingredients and kneading the dough.
Also, Mildred recommends not purchasing a pan sera from the store; it should be handmade. Once the pan sera develop a golden brown and are placed into a bowl to cool down, the fun part begins. The bread can be eaten on its own but can also be paired with a hot soup (I enjoyed a homemade fish broth) or, as most locals do–layer some cheese, a pinch of salt and a small cup of coffee.
Like the cooking workshop, the pan sera class proved to be another emotional experience for its attendees. While Tirzah kneaded the bread, putting all her muscle strength into the process, she started to tear up. She mentioned when she was little; she would make bread with her grandmother. It was their unique tradition.
Sushi Galore at the Curaçao Marriott Beach Resort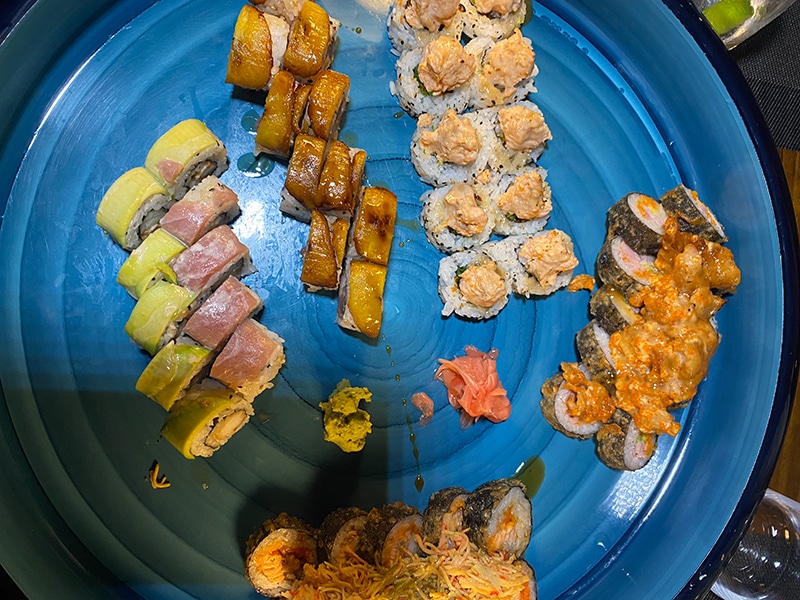 This was an unexpected choice to finish my tour of the island's food but one I thoroughly enjoyed. Usually, the food at resorts is either a safe choice or does not get as much love because it's usually linked to appealing to tourists' palates. There is a bit of truth in the former statement, but we forget that the chefs, sous chefs, and culinary staff are either from the island or inspired by the island's cuisine. It's only fair that I include resort food into my culinary adventure.
I discovered the menu heavily influenced by Asian cuisine but has sure the Caribbean takes to it. The sushi encrusted with sweet plantain is a great example that exemplifies how the culinary team at the Marriot fuses Asian and Caribbean ingredients. This dish also strengthens my point I noted earlier; the people and the learned experiences help create the cuisine that defines a country.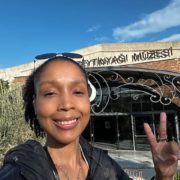 Alyssa Holder
Alyssa Holder is a writer specializing in food and travel topics since 2015.