At the forefront of nutritious healthy cuisine, culinary director Matthew Aita shares his beat on the Little Beet Table.
How many years have you been with Little Beet Table?
I've been with LBT for just under a year. It's been an exciting couple of months as we opened our third location, in Greenwich, CT, and are working toward opening our fourth this year in Chevy Chase, MD.
How would you describe the diverse menu at Little Beet Table?
We pride ourselves in having something on the menu for everyone. We can accommodate pretty much every dietary preference or restriction, so a vegan, who might be dining with a guest who loves steak and potatoes, can both enjoy a delicious meal.  We lean toward vegetable-forward plates, veggie and fruit centric cocktails, and high-quality proteins with seasonal vegetables. I love experimenting with unique parts of produce to maximize flavors and textures in our menus. We also seek out gluten-free products, like pita bread and burger buns, that don't taste all that different from their gluten-full counterparts. We want our guests to enjoy the highest quality gluten-free pancakes, banana bread, etc.
What is the process for sourcing the ingredients for the plates?
We source locally and sustainably, whenever it is possible. We're dedicated to working with local farmers and purveyors at our different locations (NYC, Chicago, Greenwich, and soon, Chevy Chase). Since we're 100% gluten-free, we use some of our everyday ingredients (like flour) across the board. We love Cup4Cup flour, which was developed by Chef Thomas Keller. We use it at all of our locations, and it creates really nice textures and flavor for dishes like our banana bread, which we make in house and pair with a homemade hazelnut butter spread – it's a guest favorite!
Is there a quote or mantra that you share with your team to inspire them in the kitchen?
As far as a favorite quote or mantra I use to inspire my team, I have a few:
"We are what we repeatedly do. Excellence, then, is not an act, but a habit" – Aristotle
"Let's not be afraid to speak the common sense truth: you can't have high standards without good discipline" – William Hague
"I hated every minute of training, but I said, don't quit. Suffer now and live the rest of your life as a champion" – Muhammad Ali
What has been the biggest challenge working at LBT?
Continuing to convince people that gluten-free food is delicious! People are hesitant to try a 100% gluten-free restaurant, so we create a diverse and inviting menu that is approachable whether someone has gluten in their diet or not. This makes menu development challenging, but very rewarding.
How would you describe the following dishes?
Sunflower Hummus – This dish is one of our most popular shareable items. We packed nutrient-dense sunflower seeds into our version of a classic hummus recipe, and they add a nutty flavor and a really nice texture that is perfect for our gluten-free pita (which we serve warm) or seasonal crudité
Whipped Ricotta – The Whipped Ricotta was new to our spring menu. We topped it with seasonal rhubarb jam and mustard greens for a tart, nicely sweet, and slightly bitter complement to the creamy cheese. We serve this with grilled bread, and present the dish as a light shareable dip that is a great way to kick off a meal.
Heritage Pork Chop – This dish was also new to our spring menu. We love the idea of highlighting a high quality, deceivingly lean protein with seasonal veggies and herbs to keep things light and flavorful. We pair the pork chop with a house made rhubarb-green garlic mustard, and braised greens. The veggies complement the healthy fat for a hearty entree.
Roasted Chicken – I love roasted chicken with roasted carrots! This dish has some Mediterranean influence with green olives and basil, making it very vegetal, earthy, bright, and flavorful. This is definitely a guest favorite for both lunch and dinner!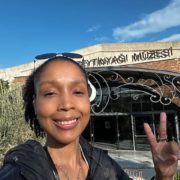 Alyssa Holder
Alyssa Holder is a writer specializing in food and travel topics since 2015.