The texture of this unique cake is light, moist and soft, as most steamed cakes have. Serve the cucumber cake plain or accompanied with some ghee or milk.
By Dassana Amit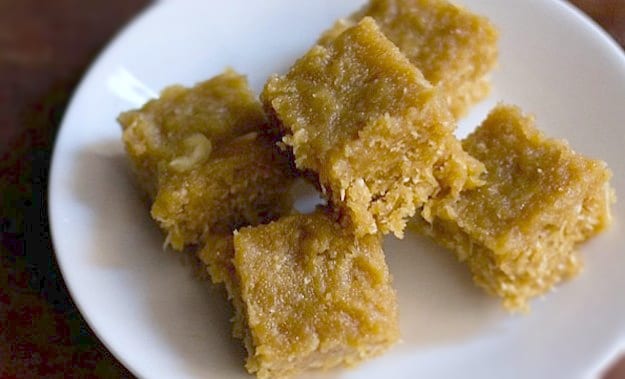 This recipe is a traditional recipe from the Goan belt and is called tavsali. In this recipe the cake is steamed instead of baking it. Generally it is uses yellow cucumber, but the recipe can be even made with regular cucumber or the long dark green cucumbers. Apart from cucumber, sooji/rava (semolina), jaggery and coconut is added. The cake has a dominant taste of cucumber which sort of overpowers everything, even the jaggery and coconut. It's not overtly sweet but has a light sweetness, though you can adjust the quantity of jaggery. Makes for a light, healthy dessert for kids as well as adults. You can also refrigerate and just warm them in the microwave before serving.
very easy to make steamed cucumber cake and only grating the cucumber takes some time. after the cucumber is grated, you just need to mix everything.

Indian Cucumber Cake
Ingredients
1.5 cups semolina/rava/sooji
1.5 cups organic powdered jaggery
4-5 green cardamoms
¾ cup grated fresh coconut
2 cups grated cucumber, tightly packed – regular or yellow cucumber – approx 1 large yellow cucumber
¼ tsp cumin powder
2 to 3 tbsp cashews, chopped (optional)
½ tsp coconut oil for greasing the pan
Instructions
roast the rava/sooji/semolina till fragrant. keep aside.
take the cardamoms in a mortar-pestle and powder them.
discard the peels and keep the cardamom powder aside
rinse and peel the yellow cucumber. slice the cucumber and remove the seeds. if using regular cucumber, then no need to remove the seeds.
grate the cucumber and keep aside.
a lot of the cucumber juice will be collected in the bowl or in the plate. just add this juice to the batter.
in a mixing bowl, take the roasted semolina.
mix in the grated cucumber along with its juice, grated coconut, chopped cashews and add the powdered jaggery.
add the cardamom powder and cumin powder.
mix the batter very well without any lumps.
the batter has a medium consistency and is neither too thick nor thin.
depending on the consistency of the batter you can add a few tbsp of milk or coconut milk.
i did not need to add any milk as the batter had a medium consistency.
heat about 3 to 3.5 cups water in a steamer or electric cooker or pressure cooker.
grease the pan with coconut oil.
pour the batter in the pan.
place the pan in the steamer, electric cooker or pressure cooker.
cover the steamer or electric cooker with its lid. if using pressure cooker, then remove the vent weight (whistle) from the lid and then tightly cover the cooker with its lid.
steam for 30 to 40 minutes until a knife inserted comes out clean.
when the cucumber cake become warm or is cooled completely, then slice and serve them.