Set your sights on cozy comfort foods like this ultra creamy and Baked Mac and Cheese topped with panko for a crispy bite.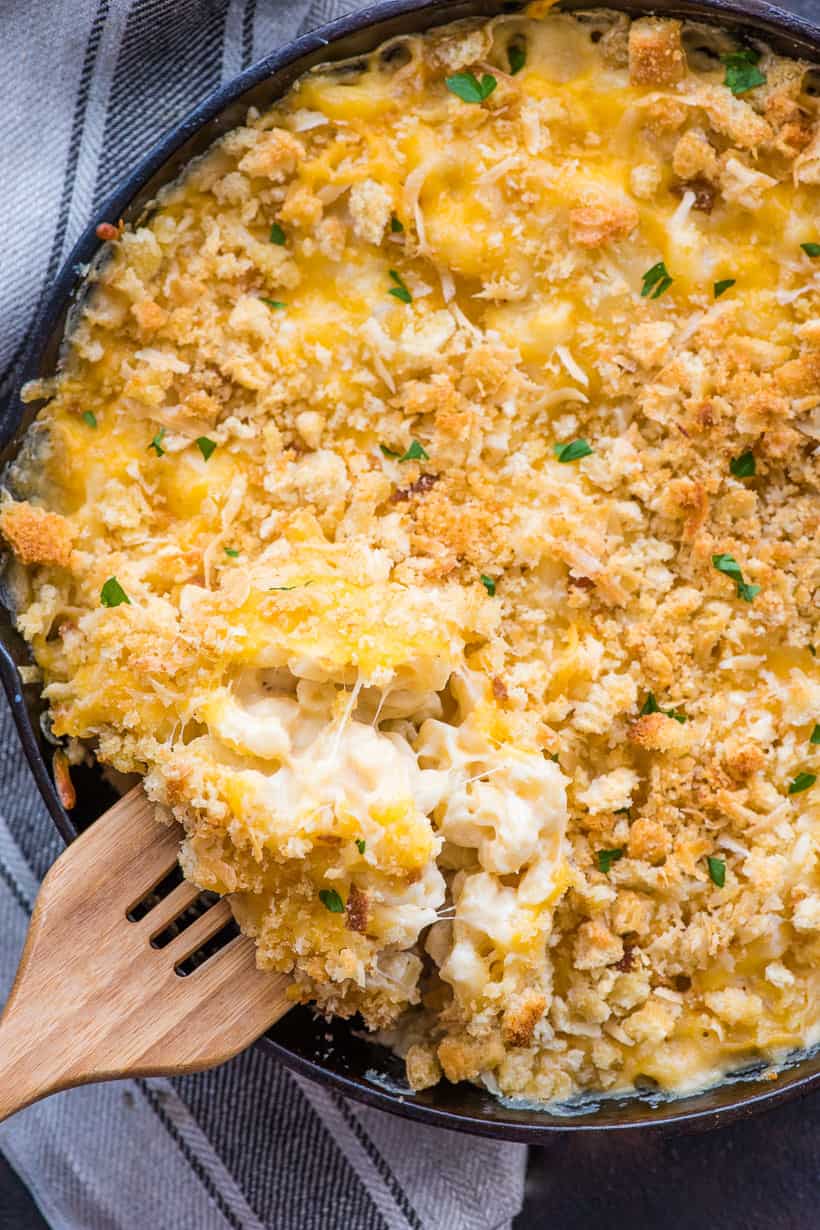 I'm craving all the cozy. I currently want chili–Chipotle Sweet Potato Turkey Chili to be exact. And who cares if I still need to squeeze into a swim suit for a few more weeks? I want Pumpkin Spice Crumb Cake, Amish Apple Fry Pies, and alllll the Creamy Baked Mac and Cheese.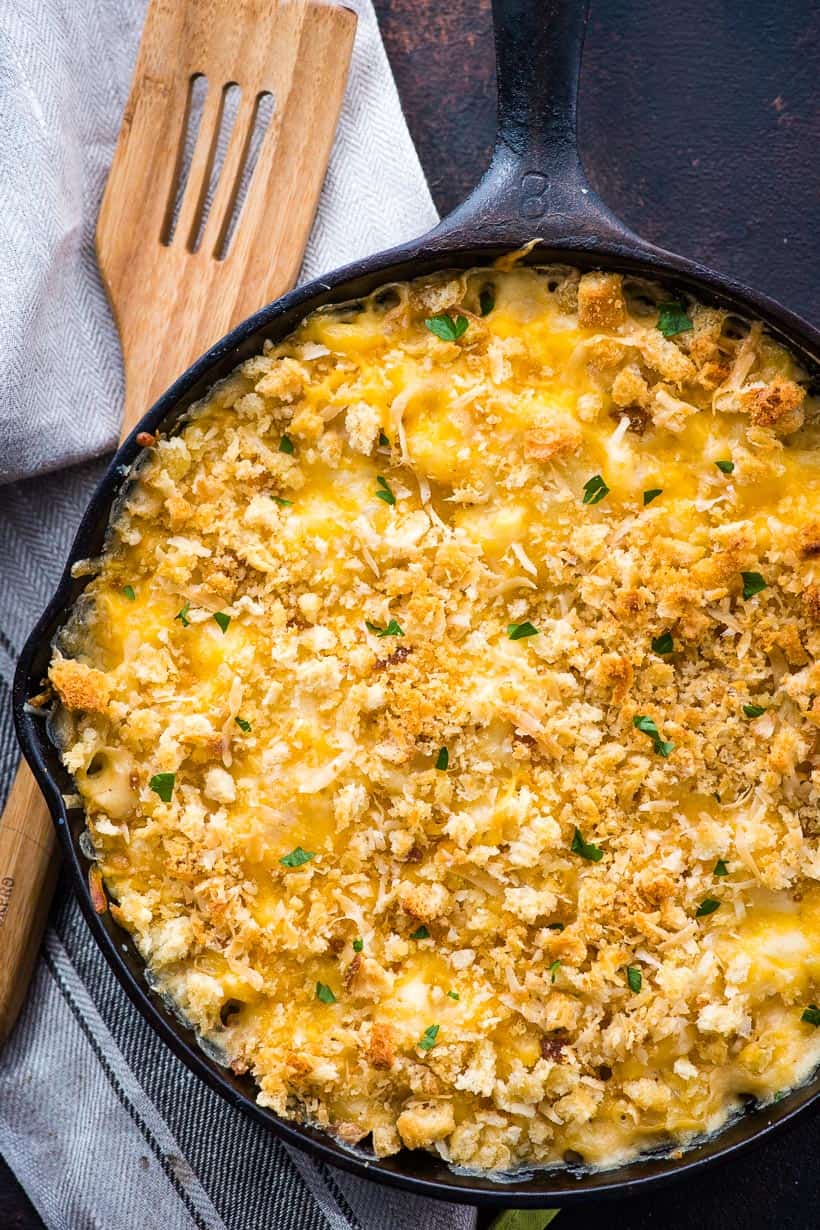 Guys, I have been testing Baked Mac and Cheese recipes for weeks (have I mentioned how hard my job is before?), and I can finally say I've found our family's new gold standard.
I've always had a love/hate relationship with baked mac. I've had a few good ones in my day, but I've also had my fair share of mushy, bland, and dry mac and cheese. It's not a good look.
The goal during my testing was to come up with a recipe that combines the ultra rich, gooey quality of my favorite stovetop creamy mac and cheese with the crispy, crunchy, golden brown topping that makes baked mac and cheese so special.
We tried all sorts of things to get what we wanted–Different cheese combos. Cream in the sauce. Just milk in the sauce. Breadcrumb toppings. Panko toppings. Just cheese toppings.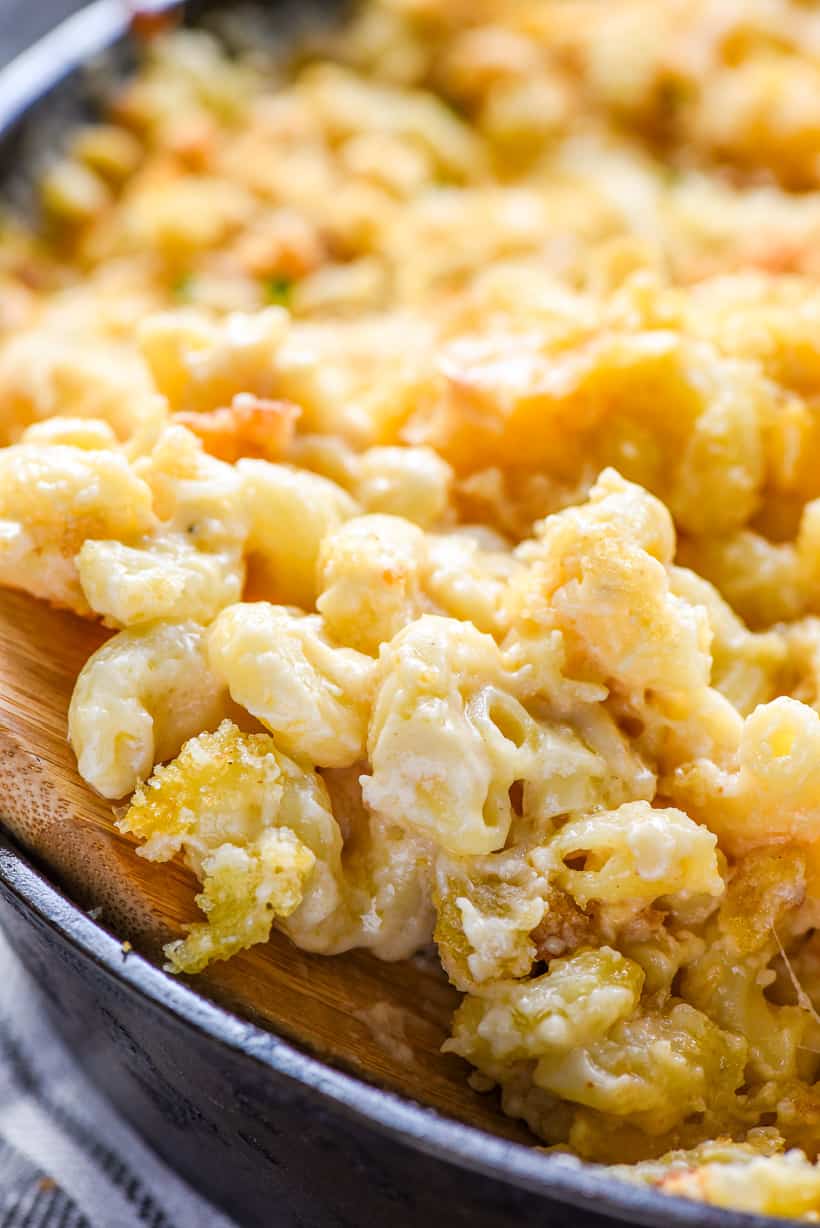 In the end, I think we found the ultimate baked mac and cheese, and I'm here to share all the tricks for making it yourself!
Keys to Making Creamy Baked Mac and Cheese
Slightly undercook the noodles–I like to take the noodles out 1-2 minutes before they hit al dente. This allows them to soften more during the baking time without becoming a soggy, floppy mess.
Make extra sauce- I found adding extra liquid to my usual stovetop mac and cheese sauce helped prevent the noodles from becoming dry during baking.
Add cream to the sauce. This ins't 100% necessary, but we saw a noticeable difference in richness and creaminess when we used a combination of milk and cream instead of just milk.
Add extra cheese to the top- Not surprisingly, more cheese is never a bad thing.
Add a panko bread crumb topping- Panko bread crumbs plus a hint of garlic powder and Pecorino Romano cheese form the golden crusty topping for this baked mac and cheese. Bread crumbs will work in a pinch, but in my opinion they're just a little too…well…bready. Panko crumbs gives this mac and cheese that great crispy topping without feeling super heavy or carb-on-carby.
WHAT CHEESES SHOULD I USE FOR MACARONI AND CHEESE?
I always recommend starting with a base of sharp cheddar. It melts well and has fantastic flavor–classic, with a hint of tang. I recommend using at least 1 cup of cheddar.
From there, it's really personal preference, but our favorite combination ended up being cheddar, American, and Pecorino Romano. This combo was very creamy and had a nostalgic, classic flavor that appeals to both kids and adults. That said, there are plenty of other great options depending on your mood or personal tastes.
Try gruyere for a subtle nutty, sweet flavor.
If you're looking to add some heat, try Hatch Chile, Chipotle, or Pepper Jack cheese.
Monterey Jack has a very mild flavor, but is a great melting cheese. Try it if you're looking for an ultra smooth, buttery flavor.
Mozzarella is a great choice for topping a baked macaroni and cheese, as it browns beautifully and creates those strings of melty cheese we all dream of.
One final tip: If possible, avoid pre-shredded cheeses. Many of them have a coating on them that inhibits melting and can prevent your sauce from becoming the wonderfully dreamy and smooth sauce we know it can be!
When I was testing, I found the recipe was at its very best when assembled, baked, and eaten right away. That said, the sauce held up really well to reheating in the microwave or oven without becoming ultra dry or curdling. It likely won't be as good made ahead, but if needed you can assemble the dish, refrigerate without the crumb topping, and then bake the next day and still have a pretty darn amazing baked mac and cheese.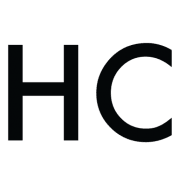 Courtney Rowland
Courtney is the author, photographer, and flour dusted girl behind the blog NeighborFood. She believes in using real butter, in season produce, and mismatched plates. She loves gathering people at the table and sharing stories, spills, and the occasional corny jokes.