Fried cauliflower is dusted in ras el hanout spice and is served with bright lemon juice and a creamy hummus dip whipped with yogurt and feta. A perfect game day snack.
By Hein van Tonder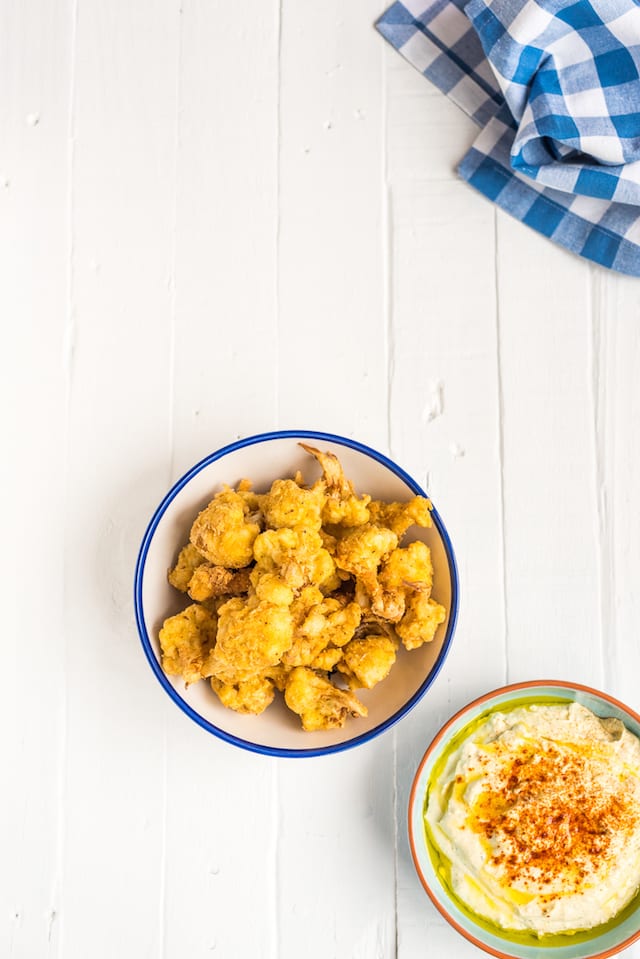 I was inspired to make this fried cauliflower after seeing something similar on Pinterest.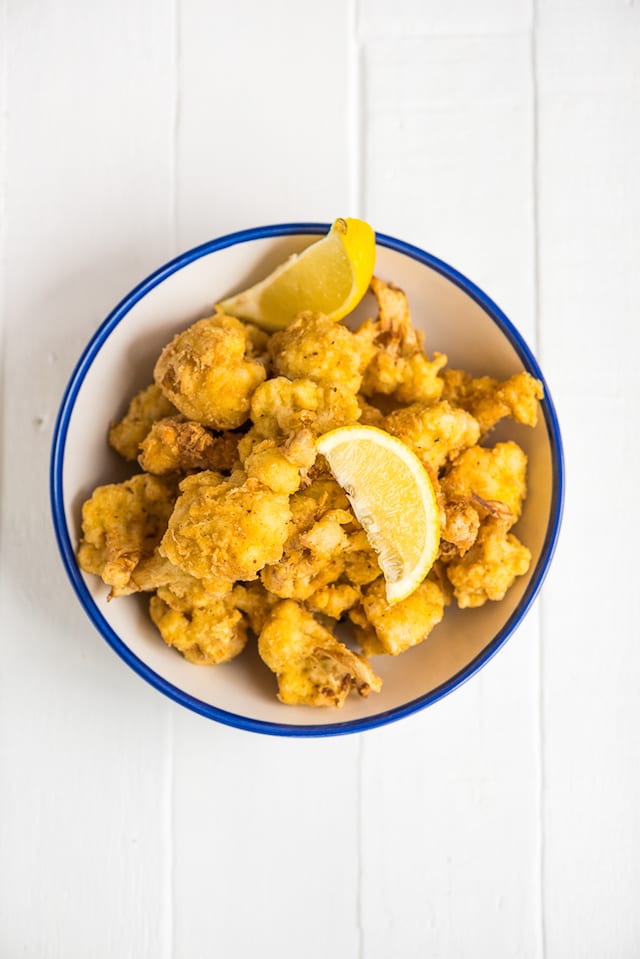 I tweaked the recipe a bit and did not cook the cauliflower before frying. I was worried that it could become a mush and would not have minded at all if the vegetable had a bit of crunch when eating. I also added one my favourite spice mixes to the batter, Ras El Hanout, a spicy blend from Morocco.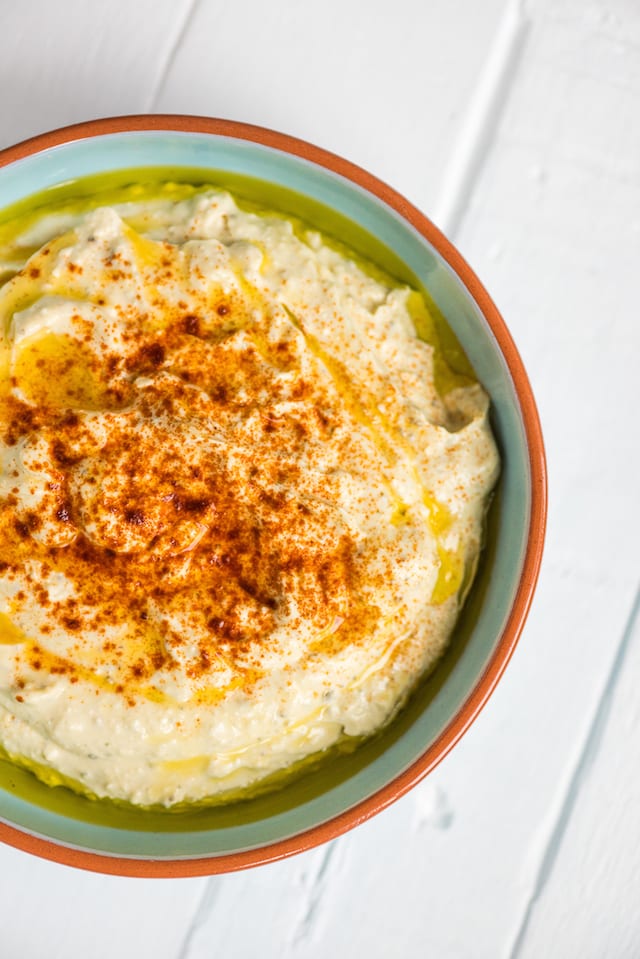 These really are moreish snacks and a great play on salty and sweet. The cauliflower goes sweet when cooked, the batter has a warmth coming from the paprika and Ras El Hanout, and the dip packs a salty punch from the feta. Serve with loads of lemon wedges for acidity.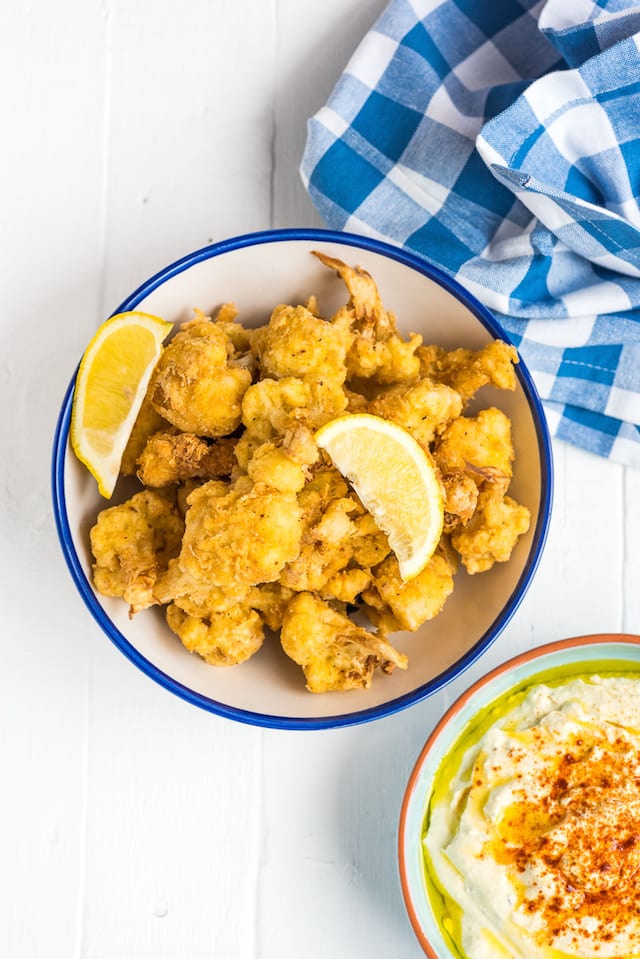 The humble cauliflower has undergone quite the revival. It has always been a favourite veggie of mine and I love all the interesting recipes these days. I have made a fair amount of interesting recipes with cauliflower and these are worth checking out as well: Aloo Gobi, Roasted Cauliflower Salad, Garlic Buttered Cauliflower Mash, Cauliflower Couscous and these lovely Vegetable Pies.
Find the recipe for the creamy hummus dip complete with yogurt, feta, and cream cheese here.

Crispy Fried Cauliflower and Creamy Hummus Dip
Fried cauliflower is dusted in ras el hanout spice and is served with bright lemon juice and a creamy hummus dip whipped with yogurt and feta. A perfect game day snack. adapted from www.thecandidappetite.com
Recipe Type:
Side, Appetizer
Ingredients
Cauliflower
1 large head of cauliflower, cut or broken into florets
3 eggs
2 tbsp milk
1 ½ cups flour
½ cup grated Parmesan cheese
1 tsp salt
1 ½ tsp smoked paprika
1 ½ tsp Ras el Hanout spice blend
oil for frying
Whipped Hummus Dip (find the recipe in the link above)
Instructions
Place all the dip ingredients in a food processor until smooth, spoon into a serving bowl and keep chilled
Pour enough oil in a medium sized pot for deep frying and heat the oil to 180 degrees C
Beat the eggs with the milk until smooth in a shallow dish
In a separate shallow dish mix the flour with the Parmesan cheese, salt, paprika and Ras el Hanout spice blend
Scoop about third of the flour mix in a large freezer bag and gently place the cauliflower inside
Shake the bag to coat the cauliflower
Dip each floret into the egg mixture and then in the rest of the flour mixture
Place on a wire rack while dredging the rest of the cauliflower
Fry the cauliflower in batches until golden brown and crispy
Drain on a plate lined with paper towels and keep warm until all the cauliflower has been fried
Drizzle the dip with some olive oil, dust with some paprika and serve the cauliflower immediately with extra lemon wedges