Crispy Cauliflower Manchurian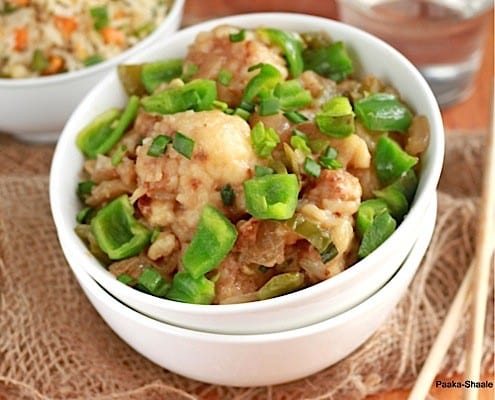 In this dish, cauliflower florets have a crispy coating and are tossed in a mouth watering Manchurian sauce.
By Nandita Nataraj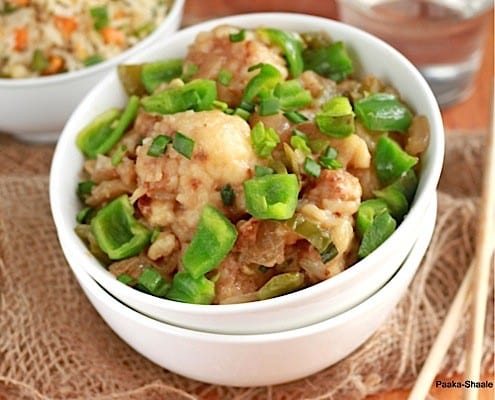 We Indians have had a long lived love affair with Chinese food. As a matter of fact, we knew about the Manchurian and noodles even before we knew pizzas and pastas. But then the the Chinese food we know is quite different from the authentic Chinese. It has been greatly adapted and tweaked to suit the Indian tastes. Even though I would like to indulge in the fusion Chinese food once in while, I really heart the Chinese food cooked in the authentic way. Unlike Indian cuisine, the Chinese use very little spices are used to flavour their dishes. Sauces like soya sauce and green chilli sauce and spices like pepper are used to spice their dishes. Who knew that a few tea spoons of the sauces and a pinch of spice can make the dish so delicious.
My favourite in the chinse cuisine has always been the Manchurian varieties. Manchurian dishes can be made either with cauliflower, mushrooms, Cottage cheese or chicken. In this variety of Manchurian, the cauliflower florets have a crispy coating and they are tossed in a mouth watering Manchurian sauce. The Manchurian is really easy to make at home and they are always a big hit with the guests. Serve them as appetizers or pair it with fried rice and serve as a side dish. I assure you it will taste just as wonderful.
Cauliflower Manchurian- Cauliflower florets in soya sauce gravy
Recipe Type:
Appetiser and side dish
Ingredients
Cauliflower- 1large, separated into florets
Green bell pepper- 1large, chopped into cubes
Shallots- 3, chopped
Spring onions- 2, chopped
Corn starch- 3 tbsp+ 2 tbsp
All purpose flour or maida- 3 tbsp
Green chilli- 1 chopped fine
Vegetable stock- 1-1/2 cup
Ginger-garlic paste- 1tsp
Vinegar- 1 tsp
Soya sauce- 2tbsp
White pepper powder- ¼ tsp
Sugar- ¼tsp
Salt to taste
Oil- 2tbsp+ to deep fry
Instructions
Wash the cauliflower florets and drain well.
Make a batter by mixing the All purpose flour, 3 tbsp of corn starch, chopped green chilli, spring onion and a little salt to taste.
Mix the remaining corn starch with 3tbsp of water and keep aside.
Heat oil in wok. Dip each cauliflower floret in the batter and deep fry till golden brown. Remove from oil and drain well.
To make the gravy, heat 2tbsp of oil in a pan and add the ginger-garlic paste and fry for a min.
Add the chopped capsicum and shallots and fry for a min.
Stir in the soya sauce, vegetable stock and bring the mixture to a boil.
Lower the heat and add the vinegar, white pepper powder, sugar, salt to taste.
Stir in the dissolved corn starch and cook stirring continuously till the mixture thickens.
Add the fried cauliflower florets and mix well. Allow the mixture to cook for two minutes and turn off the heat.
Garnish with spring onion greens and serve hot as is or with fried rice
Notes
If you want to increase the quantity of the gravy, then just increase the quantity of the veg stock by ½ a cup
Nandita Nataraj
Nandita was born, bred and spread in India, but right now lives in Tanzania where her quest for simple and exotic pleasures of food led to the creation of the blog Paaka-Shaale. She believes that food is not just a means to feed a body. But it is also meant to appeal the mind and satiate the soul.