Warm and comforting oats meet dark and intense chocolate, sweetened by creamy banana and deepened by rich coconut. Enjoy this bowl any morning you would like a nourishing, dessert-for-breakfast kind of meal.
By Maike Holland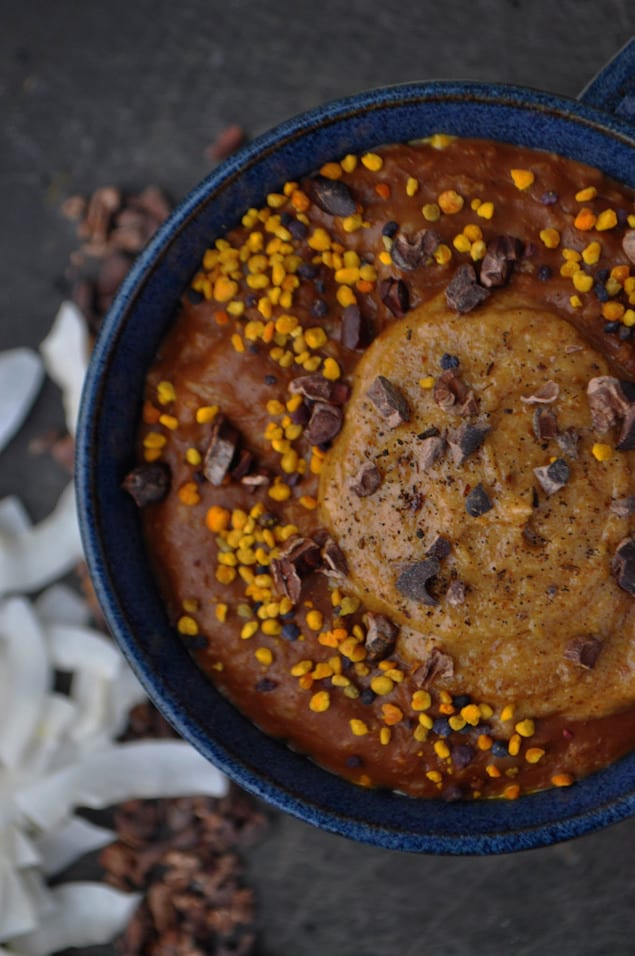 I know, an oatmeal recipe? Come on. There must be thousands of recipes for chocolate oatmeal, yet alone standard oatmeal out there and everybody likes their oats a little different. But this particular Chocolate Oatmeal is so rich, so satisfying and so crazy delicious that I just had to share another oatmeal recipe with you all.
Well, I don't know about you, but I seem to crave chocolate on the cold and gray mornings of autumn (Well, actually I crave oatmeal all the time but chocolate seems to be my phase right now :D). There's something about a huge bowl of creamy, chocolate-y goodness that just hits the spot for me. But most of the times, chocolate oatmeal always lacks that richness that usual chocolate delivers. That deep chocolate flavour enhanced by the mellow taste of cocoa butter. But how could you incorporate this filling richness without actually melting a chocolate bar into your oats and keeping your breakfast perfectly healthy?
Meet my best friend for all things decandent and still incredibly healthy: COCONUT.
With the help of coconut milk and coconut oil, this oatmeal is taken to another level. Somewhere to a creamy, dreamy, pillowy, melt-in-your-mouth, rich and dark yet perfectly sweet quality. This is truly a dessert-for-breakfast kind of meal. But you do not need to worry. It's very nourishing, but let's keep that a secret and just enjoy the recipe… 'Cause that comforting warm hug is what oatmeal is made for.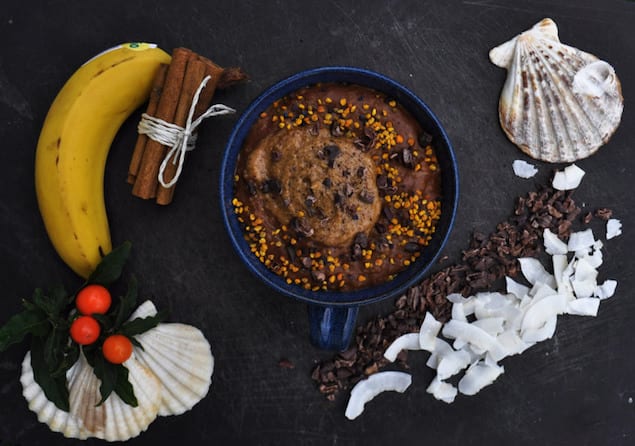 Oats are a perfect way to encorporate complex-carbohydrates to your breakfast (or any other meal of the day) as they release their energy slowly into your bloodstream, preventing blood-sugar spikes and making them very filling and lasting for hours and hours! They are a true power breakfast. That is because they contain a lot of water-soluable fibre, actually more than any other grain! The special fibre is called beta-glucan and it can actually help reducing LDL – cholesterol (the "unhealthy" cholesterol), especially with help from the good amounts of magnesium found in oats.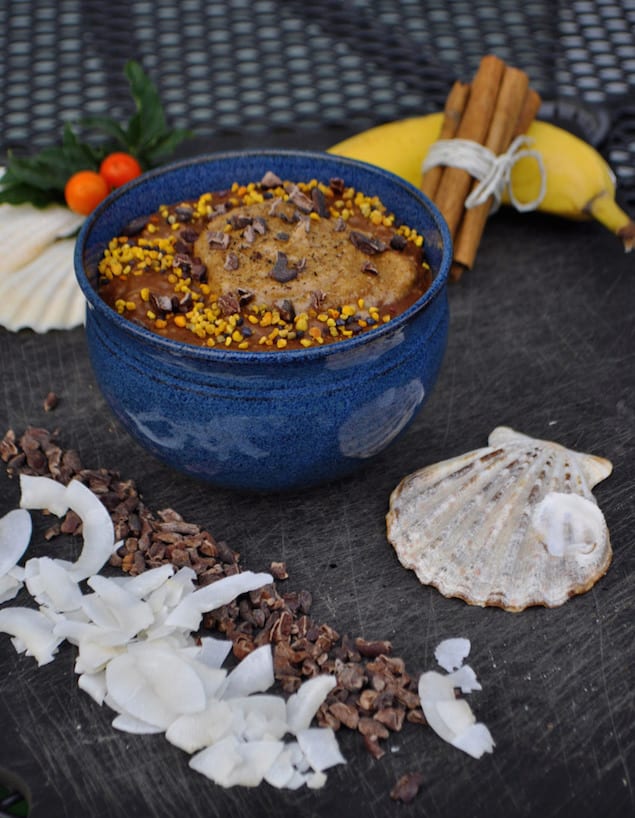 Print

Creamy Chocolate Oatmeal with Coconut
---
Author:

Maike Holland

Yield:

2

1

x
Description
Warm oats meet dark chocolate, sweetened by banana and deepened by coconut. Enjoy this bowl any morning for a dessert-for-breakfast kind of meal.
---
1 cup

of quick-cooking oats (these are rolled oats that have been cut to dissolve quicker, you can use regular oats instead)

2/3 cup

of plant-based milk

2 cups

of water

2

ripe bananas, quartered

2 TBSP

raw cacao or cocoa powder
generous pinch of cinnamon (optional)

4 TBSP

of coconut milk

1 TBSP

of coconut oil

1 TBSP

of maple syrup or honey (optional)
Toppings:
almond or other nut butter, coconut flakes, bee pollen, granola, berries, banana, fresh fruit, cacao nibs, goji berries, …
---
Instructions
Start by putting the oats with the liquid (except the coconut milk), banana, cinnamon and cocoa powder in a pot and bringing it to a boil on high heat. Once the oats are cooking, reduce heat to low and let simmer for 3-6 minutes, until the oats are very soft and the banana starts to dissovle (this will help sweeten your oatmeal).
Now stirr in the coconut milk and coconut oil and mix until the oil has melted and everything is warmed through.
Taste to see if its sweet enough for your taste and add maple syrup or desired sweetener if you like.
Put into bowls and serve the oatmeal with your favourite toppings. I like some nut butter, bee pollen and some extra cacao nibs but feel free to go wild!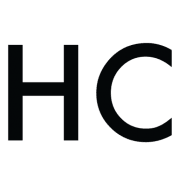 Maike Holland
Maike is a health food blogger, breakfast enthusiast, yoga lover and trying to inspire and help you create beautiful, plant-based food! Her recipes are focusing on nourishing and unprocessed ingredients that are simple to prepare, easy to cook and result in delicous meals. She is from Germany and constantly trying to gain more knowledge about nutrition and food fotography. Follow her on instagram for daily inspiration: instagram.com/elderflowerkitchen/