Roasting vegetables takes time, but creates amazing flavor for recipes that cannot be otherwise obtained. Take a moment to create this warm and zesty soup, it is worth the wait.
By Swathi Iyer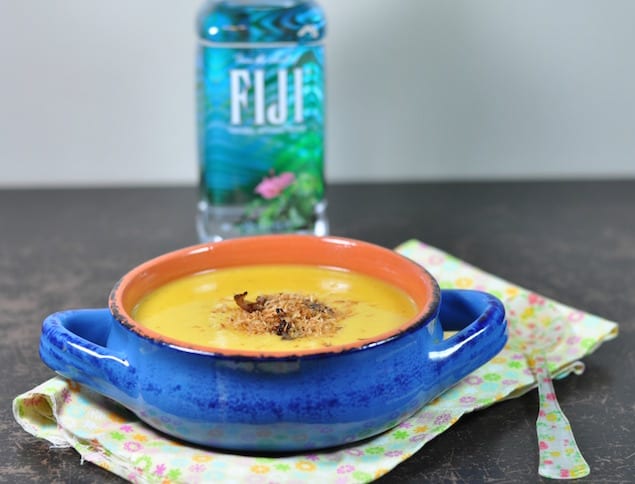 Fall is here, and that means abundance of pumpkin, apple, cranberries, pears, sweet potatoes, Brussels sprouts, and more. I love to make traditional fall dishes with them.
When it comes to soup with pumpkin and other squash I love to roast the veggies and fruit. The slow roasting results in caramelization of natural sugars in squash and apples. In order to get a perfect and delicious soup you need to take little effort as well as time. Just like FIJI Water trickles down through the layers of volcanic rock over time and gathers minerals and electrolytes along the way that create FIJI's soft smooth taste – slow cooking and baking often brings out the most amazing flavors and scents of almost any ingredient. Yes perfection takes time. It is always the slow and steady that wins the race.
Coconut milk is gift given by nature and make this soup rich and creamier. Fiji water is also a natural product that comes from an underground chamber consisting of layers of permeable volcanic rock. Just like the coconut milk enhances the taste of this soup and brings it to another level, the process FIJI water goes through enhances its flavor to create a delicious bottle of water. Finally, serve with some toasted coconut and shallots. Crunchy toasted coconut gives you a bite and also caramelized shallots add extra sweetness.
Give it a try it won't disappoint. You can welcome cold winter nights with bowl of comforting soup. Get this and many other Perfection Takes Time Recipes here or visit FIJI Water's homepage.
This post is part of "Perfection Takes Time", a partnership between Honest Cooking and FIJI Water