Comforting Chicken and Mushroom Pot Pies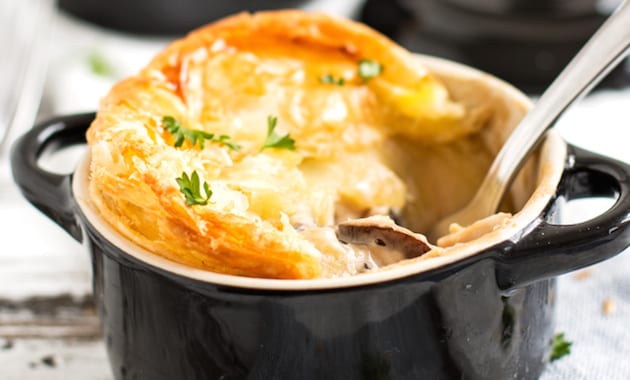 These chicken and mushroom pot pies come together in a cinch for a quick and comforting dinner. Chicken pieces and mushrooms are coated in a wonderfully creamy sauce, then topped with ready-made puff pastry for a deliciously flaky golden topping.
By Nora Rušev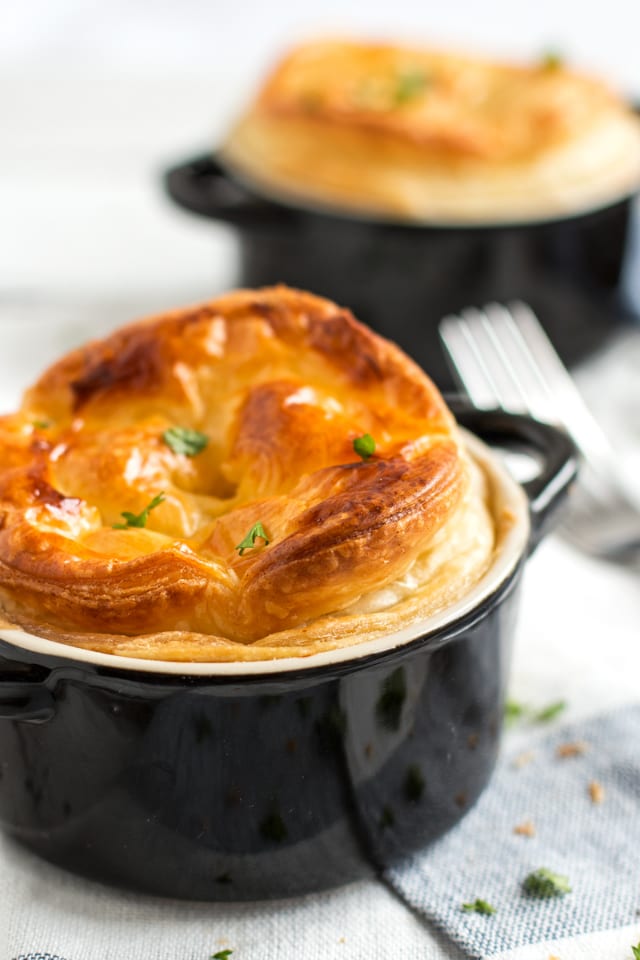 Chicken pieces and mushrooms are coated in a wonderfully creamy sauce, then topped with ready-made puff pastry for a deliciously flaky golden topping. A delicious and easy pot pie recipe that comes together in no time! You can even make the filling in advance and refrigerate it up to two days before assembling and baking.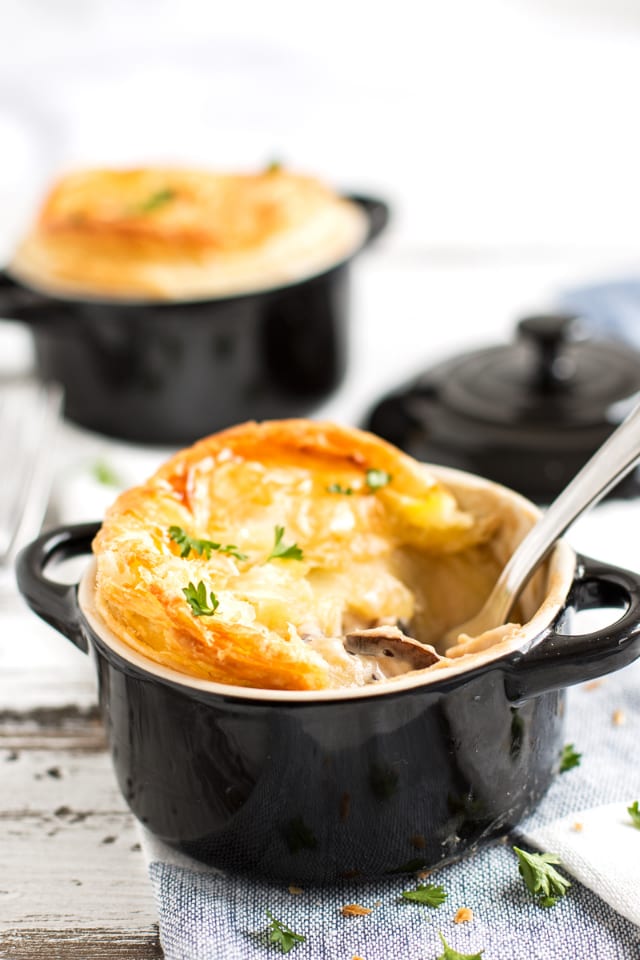 Chicken and Mushroom Pot Pies
These chicken and mushroom pot pies come together in a cinch for a quick and comforting dinner!
Ingredients
3 tablespoons oil, divided
1 pound (450g) chicken breast meat, chopped
1 shallot
2 garlic cloves, crushed
1 pound (450g) mushrooms, sliced
Salt & pepper, to taste
1 ounce (30ml) white wine
¼ cup (30g) flour
2 cups (475ml) milk
2 tablespoons butter
2 sheets puff pastry
1 egg, beaten
Instructions
Heat 1 tablespoon oil in a large frying pan over medium high heat. Brown the chicken until golden, about 4-5 minutes. Remove from the pan and set aside.
Heat the remaining two tablespoons of oil in the pan. Add the shallot and garlic and cook for 1-2 minutes. Add the mushrooms and cook until softened, about 8-10 minutes. Season with salt and pepper and deglaze with the white wine.
Whisk the flour into the milk to make a slurry. Pour over the mushrooms and cook until thickened. Stir in the butter and the chicken.
When Ready to Bake
Preheat the oven to 390°F. Divide the filling between four ramekins or small baking dishes. Cut 8 circles slightly bigger than the dishes and top each pie with two pastry circles. Lightly brush with egg.
Bake for 20 minutes or until the pastry is puffed up and golden.
Nora Rušev
I'm Nora and I have a bit of a thing or food. I live, love and argue together with my husband Branimir and our new baby daughter. When I'm not playing with your girl or studying towards my degree in secondary education I can be found testing new recipes in my kitchen.