Fresh corn is the primary ingredient in this pureed corn soup garnished with a lively raw salad of tomato and sugar snap peas.
By Patty Price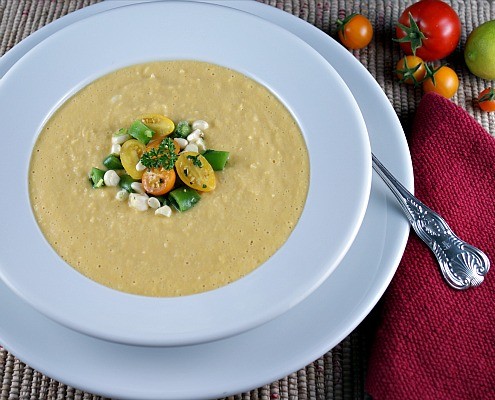 Could there ever be too much corn? Sometimes at the end of Summer it feels that way when the corn is piled high in the market or overflowing in a large bin at a farm stand. There are a lot of things out there to make with fresh corn but one of my favorites is a pureed corn soup with a crunchy raw salad on top. Snip a few fresh herbs from the garden to season your soup and gather up the last few stragglers from your tomato plants to add to the salad. Sugar snap peas add some crunch and along with jalapeno peppers, cherry tomatoes, raw corn kernels, minced scallions and fresh herbs your simple fresh corn soup becomes quite a satisfying meal all by itself. This recipe has been adapted from Around My French Table by Dorie Greenspan.
Corn Soup with Tomato and Sugar Snap Pea Salad
In Northern California farm fresh corn is ripe and plentiful this time of year. Fresh corn is the primary ingredient in a pureed corn soup garnished with a lively raw salad of tomato and sugar snap peas. This recipe for corn soup was adapted from Around My French Table by Dorie Greenspan.
Ingredients
For The Soup
4 Ears corn, I used white corn
3 Cups(740 grams) chicken stock
1 Tablespoon(14 grams) unsalted butter
1 Medium yellow onion, finely chopped
1 Carrot, peeled and sliced thin
1 Garlic clove, finely chopped
1 Sprig fresh rosemary
1 Bay leaf
Sea salt and freshly ground black pepper
For The Tomato and Sugar Snap Pea Salad Garnish
Raw kernels from ½ ear of corn(about ½ cup)
1 Scallion, white and light green parts, finely minced
½ Jalapeno pepper, finely minced
12 Cherry tomatoes, cut in half
12 Sugar snap peas, sliced in small pieces
1 Tablespoon tarragon and parsley, chopped fine
1 Teaspoon smoked olive oil
1 Teaspoon fresh lime juice
Sea salt and freshly ground black pepper
Instructions
To Make The Soup
Cut the corn kernels off the cob using a heavy duty chef's knife- this is best done placing the corn cobs standing up in a bowl placed on a folded towel. Set the kernels aside, taking out about ½ cup for the raw salad garnish.
Place the corn cobs in a heavy dutch oven and cover with the chicken stock.
Bring the chicken stock to a boil, turn off the heat and cover the pan while making the rest of the recipe.
Melt the butter in a large skillet.
Add the onion with a pinch of sea salt and cook over a low heat, don't allow to brown.
Stir in the carrot, garlic, corn kernels and a pinch of salt.
Cook and stir until vegetables are soft, about 10 minutes.
Add the vegetables to the dutch oven with the corn cobs in the chicken stock.
Add the rosemary, bay leaf and a large pinch of sea salt.
Bring to a boil and turn the heat down to low, partially cover the pan and cook for 20 minutes.
To make the salad garnish while the soup is cooking
Mix all the salad ingredients together in a small bowl and set aside.
Taste the soup for seasoning, add sea salt and pepper to taste.
Remove the corn cobs, bay leaf and rosemary from soup pot.
Carefully puree the soup in a blender, in batches- so the blender doesn't get too full.
Check seasoning for sea salt and pepper before serving.
Serve this soup hot with the salad garnish on top.
Patty Price
Patty Price is a former assistant pastry chef at Bizou (currently CoCo500) who was previously recognized for her signature dessert by The New York Times. She also spent time learning classic French cooking techniques at a three-star Michelin restaurant in France which she incorporates into her personal food blog, Patty's Food. Inspired by the diversity of seasonal vegetables, fruits and herbs available locally in the San Francisco Bay Area, Patty hopes to inspire her readers to cook seasonally and try new recipes.