Cloudberries are enchanting wild berries from the North. And to Kalle Bergman, they're a fond childhood memory.
By Kalle Bergman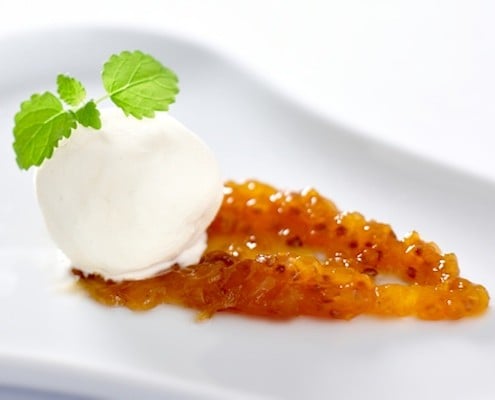 When I was a kid, THE main event of the year was the annual ski trip. It was the one I looked forward to the rest of the year, and my family's favorite place for skiing was (and still is) Åre, a picturesque little mountain village situated in Jämtland right in the middle of Sweden. Now, to me, grown up with the perspective that Stockholm was the belly button of Sweden (and the world), it wasn't even close to the middle. To me, Åre was almost unthinkably far north, and very exotic.
So many things were different there, and on the road to Åre we'd drive by fields with wandering reindeer and moose. Strange, beautiful animals that I had only seen on tv and at the zoo before. And there were Sami people, the indigenous ethnic group of the region. From my narrow city perspective, they were a fairytale people with their colorful robes, strange language and exciting customs.
Even the food was exotic. In restaurants across the village we were confronted with an abundance of meat from game. Reindeer, elk, grouse and many others. The food was powerful, and even if some of the compositions reminded me of what I had tried at home, the wild flavors were completely new and exhilarating to me.
But it wasn't the meat that thrilled me the most. Instead, the number one exciting flavor I encountered in Åre came from berries. Cloudberries, to be precise. As I remember it, these divine berries were very rare in the Stockholm area back then. They grew in the wild far up north, and were extremely exclusive. Mysterious. Almost secret. Now I know that they do actually grow more or less all over the country, but back then they were a magical symbol of the exotic Northern Sweden (which was actually Middle Sweden) to me. I am still enchanted by the flavor of Cloudberries, and I eat them with everything from Croissants to pancakes.
Here they are served in one of the most traditional Swedish manners – hot Cloudberry Jam together with a smooth homemade vanilla ice cream.
Still magical.
Print
Homemade Vanilla Ice Cream and Warm Cloudberry Jam
Enchanting cloudberries from the north, combined with a lovely creamy vanilla ice cream. Simple, and delicious.
Author:

Kalle Bergman

Prep Time:

20 mins

Cook Time:

50 mins

Total Time:

1 hour 10 minutes

Yield:

4

1

x
Cloudberry Jam
1 1/2

Ib of cloudberries

3/4

Ib of sugar
Vanilla Ice Cream
1 Cup

of heavy cream

4

Egg yolks from free range eggs

1 Cup

of milk

3/4 Cup

of sugar

1 1/2

Vanilla pod, split and scraped
Instructions
Rinse and clean the berries. Place them together with the sugar in a large sauce pan. Shake the pan lightly every now and then, but do not stir it. Leave the pan in a cool place for 2 hours.
Slowly heat the berries, and simmer on a low heat for 20 minutes. Remove any foam.
Pour the milk, cream, vanilla seeds and vanilla pod into a saucepan and bring the pan slowly up to boiling point. Remove from heat and leave to cool off for 15 minutes.
In a large mixing bowl, beat the egg yolks and sugar until fluffy. Remove the vanilla pod from the pan and pour the milk/cream into the egg mixture whilst stirring. Pour the mixture back into the pan and re-heat gently – keep stirring and do not let it boil. Leave to cool and freeze mixture in ice cream maker.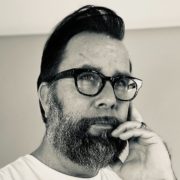 Kalle Bergman
Kalle Bergman is a food writer and media entrepreneur who is the founder of Honest Cooking and PAIR Magazine. As a food writer, his writing has been regularly featured in publications like Gourmet, Los Angeles Times, Huffington Post and Serious Eats. He is obsessed with simple food, more often than not from his native Scandinavia.