Natalie McLaury considers herself a bit of a hoarder when it comes to magazines. Never one to pass up a good deal on a subscription, it's to the point where she now finds herself receiving a magazine in the mail several times a week. Most of the time, she rips out pages of recipes but fails to actually create the recipe in her kitchen. Not anymore! Join Natalie as she cooks the magazines.
By Natalie McLaury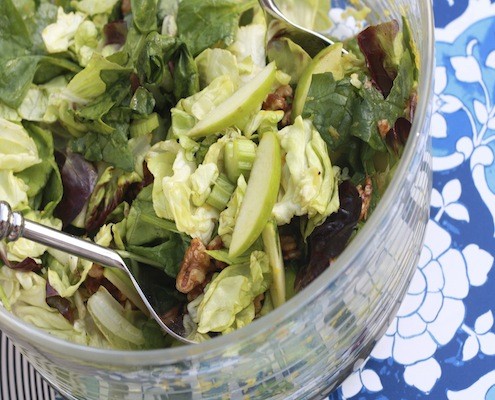 In a word, this salad is crunchy. It's got crunch from the apples, crunch from the walnuts, and crunch from the celery. It's a pretty basic salad, as I've found most recipes in All You magazine to be. When you're making a more complicated main dish, it's nice to have a salad that takes only a few minutes to throw together. The walnuts can be made a few hours in advance and the rest of the salad comes together in ten minutes, tops.
My husband Ryan wasn't crazy about the spiced walnuts, which he deemed too sugary. I found this interesting, since I thought the almonds in this salad were far more sugary and he didn't mention it then. Personally, I liked the flavor combination going on with the nuts and it's always nice to add a new salad to the ever-growing list. The dressing was light and my substitution of raspberry vinegar (I was out of red wine vinegar) turned out to work just fine.

Green Salad with Spiced Walnuts
A light and healthy side salad full of crunchy apples, celery, and spiced walnuts
Ingredients
for the walnuts:
2 tsp (10 ml) sugar
1 tsp (5 ml) olive oil
½ tsp (2 ml) salt
½ tsp (2 ml) cinnamon
½ tsp (2 ml) cumin
1 cup (8 oz) shelled walnut halves, toasted
for the salad:
3 tbsp (45 ml) olive oil
3 tbsp (45 ml) red wine vinegar
2 tsp (10 ml) orange zest
2 tbsp (30 ml) orange juice
salt & pepper
1 large head or 2 small heads of red-leaf lettuce (I just bought a salad mix that included red-leaf lettuce)
2 celery ribs, thinly sliced
1 Granny Smith apple, cored and thinly sliced
Instructions
To make the walnuts, whisk the sugar, olive oil, 2 tbsp (30 ml) water, salt, cinnamon, and cumin in a large skillet. Add walnuts and toss to coat. Cook over medium-low heat, stirring constantly, for about 2 minutes, until nuts are crisp and slightly glazed.
To make the salad, whisk olive oil, vinegar, orange zest, and orange juice in a large bowl. Season with salt and pepper. Add torn lettuce to the bowl, followed by celery and apple. Toss to combine. Top with walnuts and serve.
Notes
From All You, January 2011
Pre-packaged salads and store bought dressings are easy, but I promise recipes like this are not much more difficult and a hundred times better! Break out of your dinner salad rut with this Green Salad with Spiced Walnuts!