A tasty side-dish with Tofu and a host of spices that promises to tingle your taste-buds.
By Priya Sreeram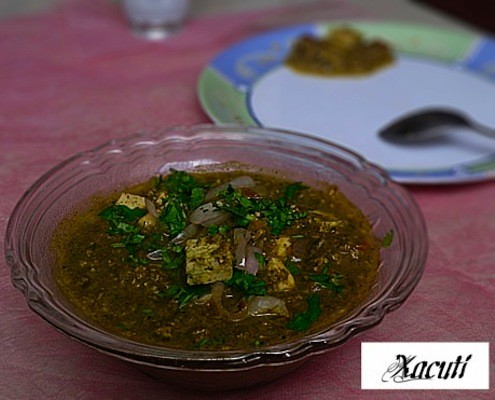 Xacuti is a typican Goan preparation that sees a fine blend of spices. The freshly roasted and ground masala/spice powder adds to the punch in terms of taste and aroma. It is usually prepared with chicken or lamb, but can be made using any other meat, pulses, vegeables or mushrooms. This dish has the added pep in terms of roasted and powdered coconut that elevates the dish to another level.
See Also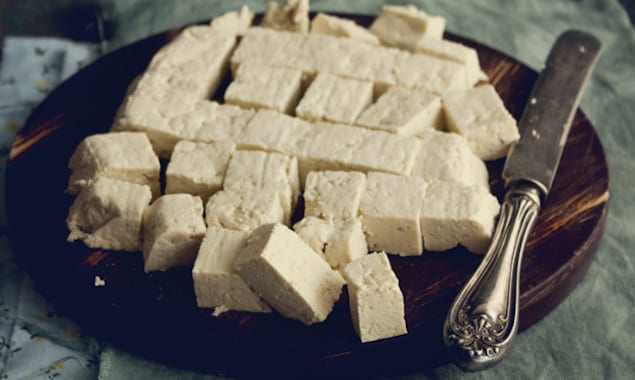 Having spent a few years in Goa, I learnt making xacuti from my goan friend. A block of fresh tofu in the refrigerator, had me cooking this dish that was lapped up by my folks.Tofu or bean curd made by coagulating soy milk is protein packed and was marinated in a green masala paste. This bought out immense flavour to the dish.
A tasty side-dish with Tofu and a host of spices that promises to tingle your taste-buds.
Ingredients
Tofu - 200grams
Onion - 1 -large - finely chopped
Tomatoes - 2-medium sized- finely chopped
Coconut Pieces- a fistful - roasted
Green Masala Paste for the marinade
Green Chillis - 5 - to taste
Ginger - a small piece (washed & peeled)
Garlic -1 large pod
Coriander leaves - a small bunch
water- as required
For the Ground Masala Paste
Coriander Seeds - 1 to 2 tbsp
Green Chillis - 5 - to taste
Cloves- 6 nos
Cinnamon - a small stick
Black Peppercorn - 2 tbsp - to taste
Aniseed - a very small piece
Mace - little
Poppy seeds - 1 tsp
Nutmeg - little
Turmeric Powder -1/2 tsp
Cardamom - Seeds of 3 pods
For Garnish
Caramelised Onions - a few pieces
Coriander leaves - as required
Instructions
Immerse the block of tofu in hot water for 5- 10 minutes. Drain well & cut in to small cubes.
Grind the ingredients for the marinade with little water in to a fine paste
In a bowl, mix the marinade paste with the cubed tofu and refrigerate it for an hour. This allows the bean curd to absorb the spices well.
In a small pan, add a drop or two of oil & roast the ingredients for the masala/spice paste. Once it cools down grind the paste with required water to a fine paste. Set it aside.
In the same pan, dry roast the coconut pieces to an aromatic brown & grind them to a coarse powder.
In a kadai/pan/wok, add oil and saute the onions for a few minutes. As it turns pink, tip in the chopped tomotoes and let it cook for a while. Add salt to it and mix well
Add the ground masala paste & the coarsely ground coconut powder and mix well. At this point add a cup of water to it and bring it to a boil. Let the mix simmer for a while and the spices blend thoroughly. The medley of flavours along with onions & tomatoes need to come to a gravy like consistency.
Drop the marinated & refrigerated tofu. Mix & let it remain on flame for a few minutes.
Garnish with caramelized onions & coriander leaves
Serve hot with rice/rotis/bread
Notes
1. Coconut as well as the spices are roasted to bring out the depth of flavor & taste. 2. The spices can be adjusted to suit your palate. 3. The dish is best enjoyed with Red Rice or Buns. 4. Wash/Immerse the block of tofu in hot water to ward away any unwanted bacteria/impurities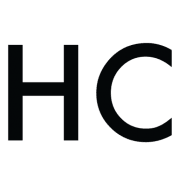 Priya Sreeram
Priya is an enthusiastic foodie who loves to experiment with different types of cuisine. She chronicles her heart and hearth adventures on the blog Bon Appetit, which has recipes ranging from simple to exotic.