Deep Dish Raspberry Peach Pie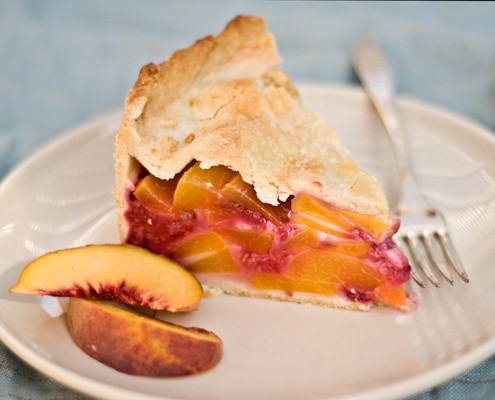 As the summer comes to an end, and we have one last shot at baking with those amazing summer fruit while they are still in season.
By Jackie Dodd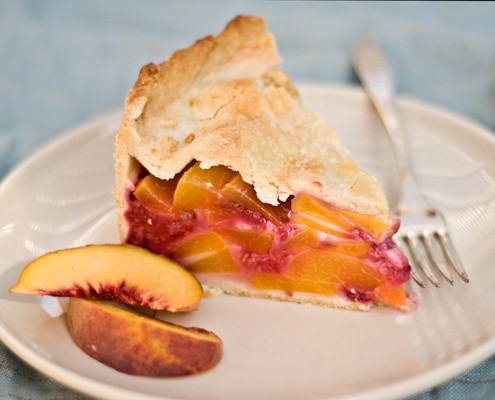 As the summer comes to an end, and we have one last shot at baking with those amazing summer fruit while they are still in season, raspberries and peaches are still a perfect candidate for our culinary attentions. And what better way to use them before it's too late than wrapped in a deep dish pie crust.
Deep dish pie crusts are made in a similar manner to traditional crust, however, are baked in a 9-inch spring form pan and require (for obvious reasons) a bit more dough than an average crust. For this recipe, the Cooks Illustrated Foolproof Pie Dough is an excellent choice.
Deep Dish Raspberry Peach Pie: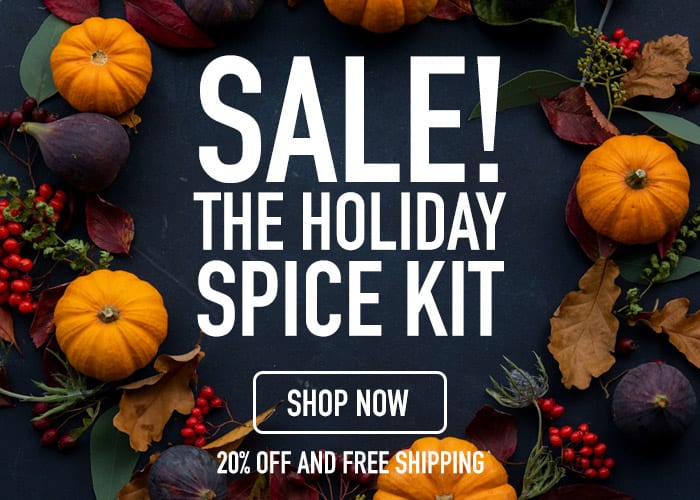 For the Crust:
1 batch Cooks Illustrated Foolproof Pie Dough
For the Filling:
1/2 cup flour
2 tbs cornstarch
1/2 cup sugar
1 tsp salt
6 cups peaches: peeled, pitted and sliced
4 cups fresh raspberries
Once your pie dough is completed, chilled and ready to go, roll out one disk (about half of the total recipe) so that it will sit in your spring form pan with about a 1 inch overhang. Fold in half, then in half again to form a triangle. Gently move to the pan with the point of the triangle in the dead center.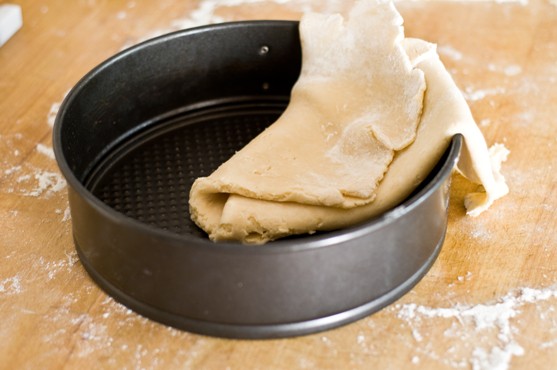 Unfold and smooth any rips or tears with your fingers. Set in the fridge to chill until ready to use.
Preheat oven to 375.
In a separate bowl, add the flour, cornstarch, salt, and sugar, then whisk to combine.
Add the peaches and raspberries and toss to coat.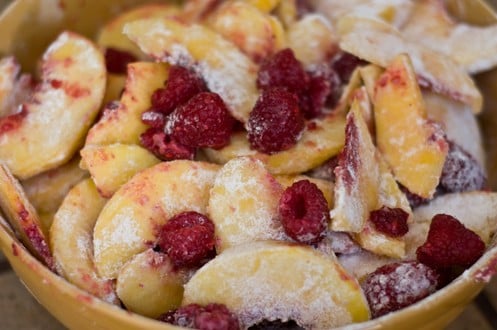 Add the fruit to the spring form pan that is now lined with pie dough. Roll out your remaining dough and place it on the top of the pie, using the same method to move as you did with your bottom dough layer. Using your fingers, squeeze the top and bottom layers of the crust together around the edge of the pan. Make a few slits in the top of the pie dough to release steam. If you want to cut out a shape, as shown below, do so prior to moving your dough.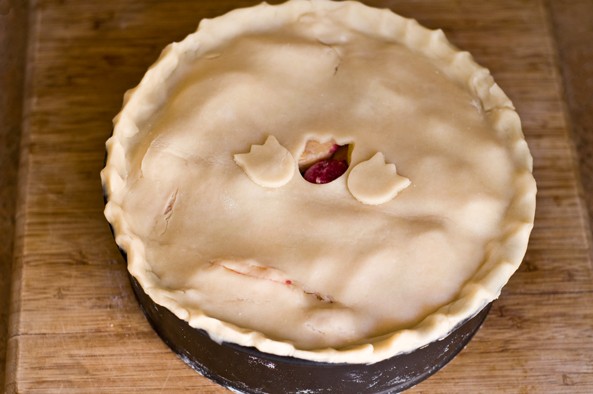 Bake at 375 for 50-60 minutes or until the top is a golden brown.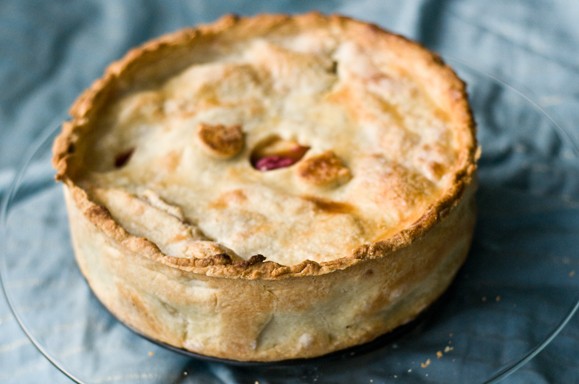 Jackie Dodd
Jackie Dodd is a California based food blogger who's passion for local ingredients began during her years growing up on farm in Eastern Washington surrounded by apple orchards and peach trees. She is now happy to focus on California produce, and has a passion for baking. Along with her websites, www.domesticfits.com and www.thebeeroness.com, she also writes a column for the Glendale Examiner.