Lavender is a wonderfully versatile herb, that can be used for everything from flavoring drinks to salad dressings.
By Sawsan Abu Farha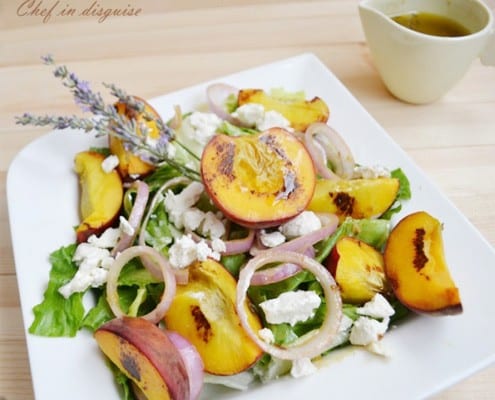 Have you ever cooked with lavender? Or is it to you just something to stuff bags with to make clothes smell nice in the cupboard?
Lavender is a wonderfully versatile herb, you can use it to flavor drinks, desserts (think lavender flavored cookies, cakes, cheesecakes), ice creams and sorbet, marinate chicken – and as we will be making today, you can use it in salad dressings.
You do have to remember one thing about lavender before you start experimenting with it – a little goes a long way. Lavender is very strong add too much and you will turn your meal into a bottle of perfume! The rule here is to use 1/3 lavender dried flowers in the place of fresh and always start with a little amount and see how you like it then you can add more if you want.
See Also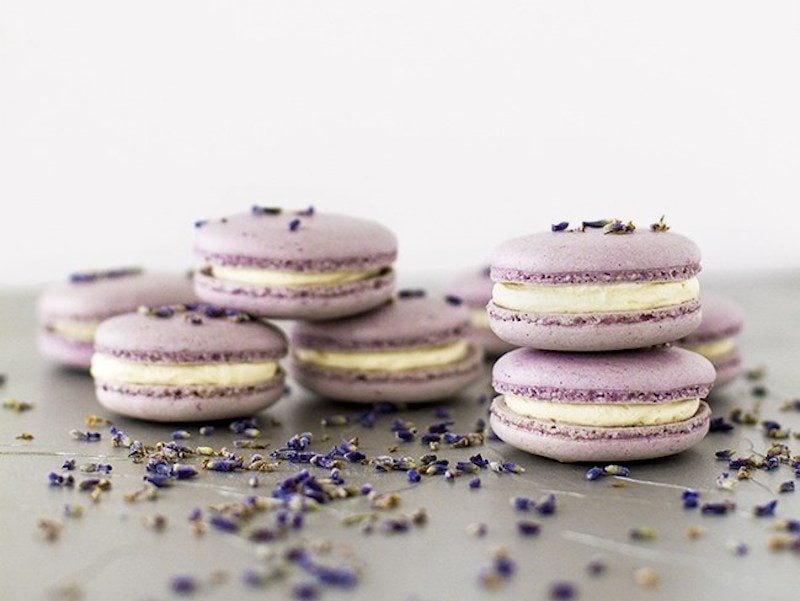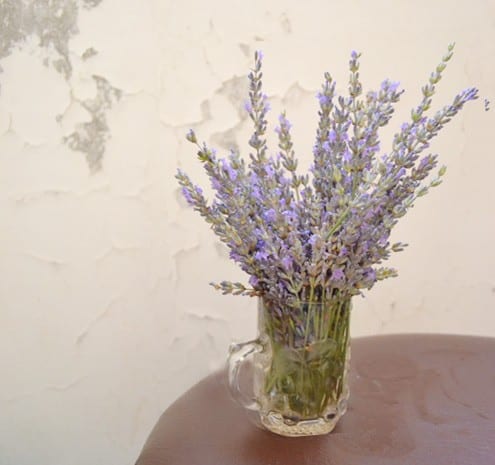 Cooking with lavender, peach and feta salad with lavender dressing
Add a wonderful twist to your summer table with this grilled peach feta salad with lavender dressing
Ingredients
3 cups romaine lettuce torn
1 red onion cut into rings
2-3 tablespoons of feta crumbled
2 peaches cut into segments
For the lavender dressing
Juice of half a lemon (4 tablespoons)
5 tablespoons olive oil
½ teaspoon sea salt
1 teaspoon mustard
1 teaspoon fresh lavender flowers
1 clove garlic minced
2 tablespoons balsamic vinegar
Instructions
To make the dressing
In a bowl add the lemon juice, salt, mustard ,lavender, garlic and balsamic vinegar and whisk
Slowly drizzle the olive oil while you continue whisking until you have added the entire amount
I usually add the onion rings to the dressing while I prepare the salad, this takes the sharp edge off the onions
To make the salad
On the grill or in a pan on the stove top, lightly grill the peach segment
In your serving plate, arrange the torn lettuce, topped with the grilled peach segments
Take the onions out of the dressing and arrange on top of the lettuce
Crumble the feta cheese on top
Decorate with a few lavender twigs
Drizzle the dressing on the salad right before serving
Sawsan Abu Farha
Passionate food explorer Sawsan Abu Farha lives in Jordan and enjoys mixing east and west in her kitchen aiming to get the best of both worlds.Juggling work, motherhood, blogging and a passion for food and food photography, she shares her journey in her blog "Chef in disguise".