Cooking with Roses: Chocolate-dipped Rose Petals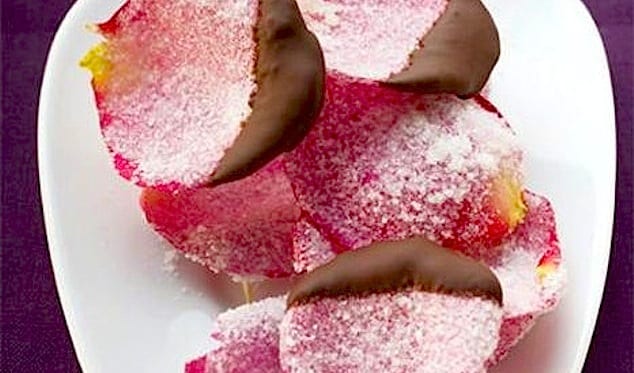 Fresh rose petals, dipped in dark chocolate, then frozen… sweet, bite-sized delights. A perfect dessert garnish or a romantic surprise.
By John Nevado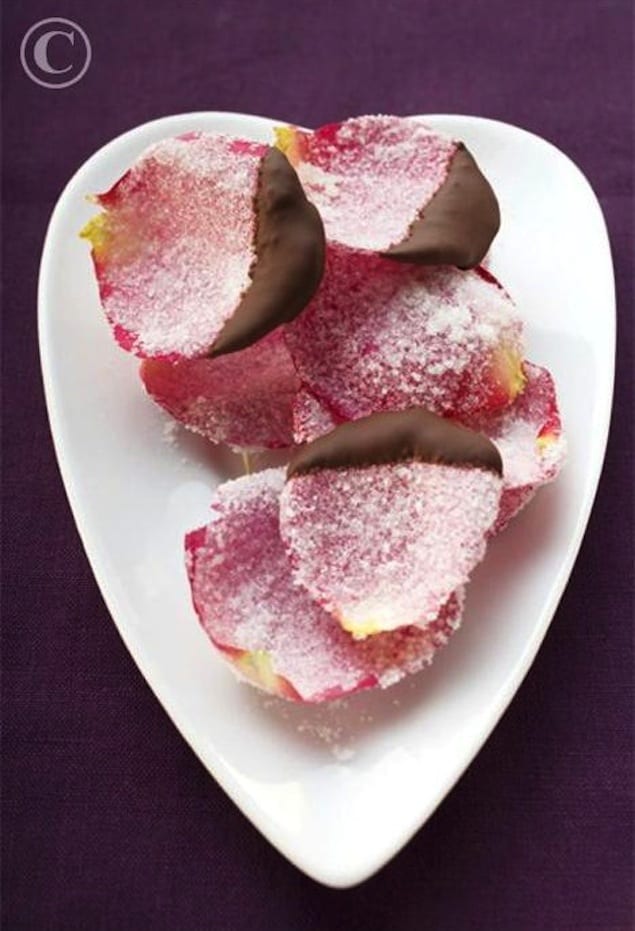 And….Then it came to me. Fresh rose petals, dipped in dark chocolate, then frozen… sweet, bite-sized delights. I'd seen the idea a while back on Martha Stewart's website, but hadn't yet tried it myself. The floral flavors of fresh roses and chilled, sweet dark chocolate are a perfect pairing. I served them at a recent dinner party to family and friends. We allowed them to melt in our mouths, cleansing our palates with refreshing sweetness. It was the perfect way to end our meal … a lovely escape. Breathe deep, relax, and enjoy!

Cooking with Roses: Chocolate-dipped Rose Petals
Fresh rose petals, dipped in dark chocolate, then frozen… sweet, bite-sized delights. A perfect dessert garnish or a romantic surprise.
Ingredients
1 bunch large, unblemished rose petals (you'll need about 35 petals total, so 1-2 USDA Organic roses will do)
1 bar dark chocolate
You Will Also Need
baking sheet, parchment paper
Instructions
These rose petals will only stay fresh-looking for a day or so, and should be served straight out of the freezer, so plan your preparations accordingly.
Assemble your petals. Make sure they are Organic! Rinse them clean with cold water, then pat them thoroughly dry with paper towels. Use the largest, sturdiest petals. You'll need about 35 large petals.
Line a baking sheet with parchment paper. Dip the petals in sugar as an additional treat. Break the chocolate bar into pieces, place in a heat-safe dish, and melt chocolate in the microwave on 50% power for 1-2 minutes, stirring every 30 seconds, till melted and smooth. Dip the petals into the melted chocolate one by one, covering ¾ of each petal with chocolate.
As each petal is dipped, place it on the parchment-lined baking sheet. When all of the petals have been dipped, place the baking sheet into the freezer for 30 minutes till chocolate is firm and chilled, up to 5 hours.
Serve dark chocolate rose petals straight from the freezer on a chilled plate.
You can also use the petals as a creative topping for ice cream. Serve immediately; don't allow them to sit at room temperature for long.
John Nevado
John Nevado is a rose grower in South America, growing the worlds most luxurious roses for discerning customers around the world. On his farms he also grows edible USDA Organic roses that he sells to restaurants, including El Bulli in Spain and PerSe in New York. John loves to cook up new zany recipes with his tasty florals invites you to share his "la vie en rose".