Jovina Coughlin provides some valuable tips for a farmers' market find. Try her recipe for summer squash salad after you dive into your local market's produce.
By Jovina Coughlin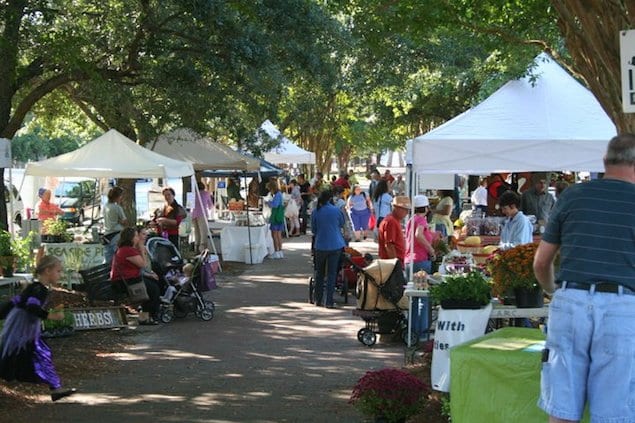 A farmers' market is a place where farmers sell their products directly to consumers. Ultra-fresh produce, pastured meat and eggs, artisan cheeses, hand-harvested honey and other fresh, small-batch foods are the hallmark of the best farmers' markets. With farmers' markets overflowing with the best of the season's produce—corn on the cob, tomatoes, squash, stone fruit and more, all at the absolute peak of their ripeness—it's easy to pull together an elegant, satisfying dinner menu that showcases the summer's bounty.
If you know a bit of what to expect when you get to the farmers' market, making decisions at each stall is much easier. Learn what grows in your area and talk to the growers about what will be coming to market in upcoming weeks. In the US, find your local farmers' markets from United States Department of Agriculture
Markets tend to be less crowded right when they open or just before they close. For the best selection, go to the farmers' market early in the day. The best goods go first. Popular-but-limited items may even sell out before the day is done. For the best deals, go to the farmers' market late in the day. Farmers and other vendors often prefer to discount products instead of loading them back up and taking them home.
Some farmers' market vendors offer bags, but they tend to be thin and flimsy plastic ones that can break under the pressure of any substantial produce purchase. Make sure everything gets home from the farmers' market by bringing your own sturdy canvas or nylon bags.
Although vendors will make change, purchases will go easier and faster if you have small bills with you. Most farmers only take cash at the market.
If you find a vegetable that's new to you and want to give it a try, ask the farmer how to prepare it. For the best tips specifically ask how they like to eat it.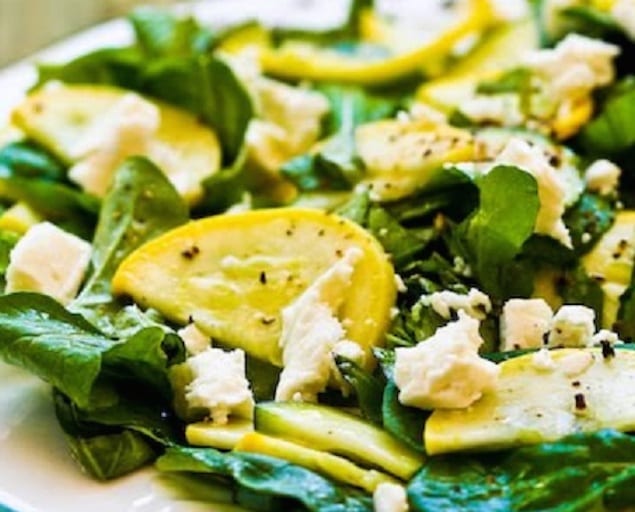 Print

Summer Squash Salad with Arugula, Feta and Herbs
---
Description
Here are some valuable tips for a farmers' market find. Try a recipe for summer squash salad after you dive into your local market's produce.
---
3 tablespoons

lemon juice

4 tablespoons

extra-virgin olive oil

1

lemon

3

summer squash (medium-sized yellow or green, about

3

–

4

cups sliced squash)

6

ozs arugula leaves (baby,

3

–

4

handfuls)

1/2 cup

chopped fresh herbs (basil, mint and parsley)

1/4 cup

feta cheese crumbled
---
Instructions
Zest the lemon and place the zest in a bowl or glass measuring cup. Squeeze the juice from the zested lemon to measure 3 tablespoons. Add lemon juice to the zest, then whisk in the olive oil.
Cut off the ends of the squash and cut in half lengthwise; then cut into very thin slices. Layer the sliced squash into a flat dish and pour 2/3 of the dressing over the squash and season with a generous amount of salt and fresh ground black pepper. Let squash marinate 15-30 minutes.
Wash baby arugula leaves and spin dry or dry with paper towels. Wash herbs of your choice and spin dry or dry with paper towels and coarsely chop them.
Combine arugula and herbs in bowl large enough to hold all the salad ingredients. Add marinated squash slices, toss to combine and taste to see if you want to add more dressing, salt or fresh ground black pepper. Arrange salad on individual salad plates, sprinkle each with 1 tablespoon crumbled feta cheese and serve.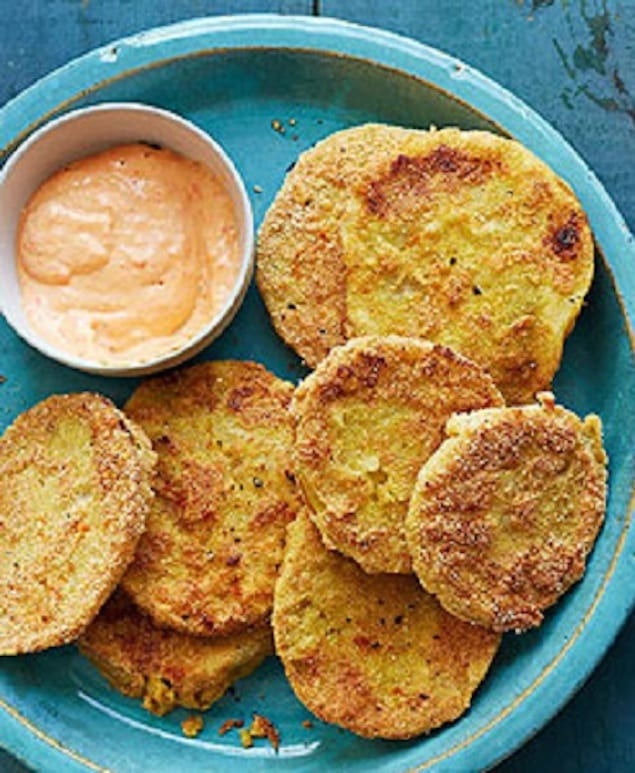 Print
Green Tomatoes with Red Pepper Aioli
---
1/2 cup

light mayonnaise

1/4 cup

roasted red peppers, drained

1

large clove garlic, coarsely chopped

2

pounds firm green tomatoes

1/2 teaspoon

salt

1/3 cup

all-purpose flour

2

large eggs

2/3 cup

yellow cornmeal

2 tablespoons

grated Parmesan cheese

1/4 teaspoon

black pepper
Pinch cayenne pepper

6 tablespoons

canola oil, for sauteing
---
Instructions
Aioli
Combine mayonnaise, red peppers and garlic in a processor or blender. Process until well combined and fairly smooth, scraping down sides of the processor halfway through. Transfer to a small bowl. Refrigerate until serving.
Tomatoes
Core tomatoes and cut a thin slice from the top and bottom of each and discard. Cut each tomato into three or four 1/4-inch-thick slices and dry on paper towels. Sprinkle with 1/8 teaspoon of the salt.
Combine flour and 1/8 teaspoon of the salt in a shallow dish. Lightly beat eggs in a second shallow dish. Whisk together cornmeal, Parmesan, remaining 1/4 teaspoon salt, the black pepper and cayenne in a third shallow dish.
Coat 1/3 of the tomato slices in the seasoned flour, followed by egg, then cornmeal mixture.
Heat oven to 200 degrees F.
Heat 2 tablespoons of the oil in a large nonstick skillet over medium-high heat. Add the coated tomato slices and saute for 2 minutes. Carefully turn over the slices and saute an additional 2 minutes. Transfer to a baking sheet fitted with a wire rack and keep warm in the oven.
Repeat, coating 1/3 of the tomato slices with seasoned flour, egg and cornmeal mixture. Add 2 more tablespoons of the oil to skillet and saute as directed above. Repeat with the last batch of tomatoes and oil. Serve tomatoes warm with the aioli on the side.
Jovina Coughlin
I was born in New Jersey to first generation Italian parents. Both sets of my grandparents were born in Italy and emigrated to the United States in the early 1900s. They brought with them a love of the Italian culture and cooking. I have 2 brothers and 1 sister. I learned many of my cooking skills from my parents and grandparents, but I also studied Italian cooking and made many of the recipes for my children as they were growing up. I am married with three children and six grandchildren. Besides New Jersey, I have lived in Pennsylvania, Michigan and now on the Gulf Coast of Alabama. I have a Bachelor of Arts Degree and a Masters of Science Degree and I have taught high school English and special education. I have also been an administrator in the public schools at the district and county levels. Now that I am retired from the teaching profession, I have the time to write a blog and share my information about Italian American cooking and culture. Because I am a teacher by trade, I feel that I have the skills to share with readers the techniques for preparing authentic and healthy meals.