Tamara Novacoviç with a recipe for crescents that don't look like the usual kind of crescent-suspects.
Text And Photo By Tamara Novacoviç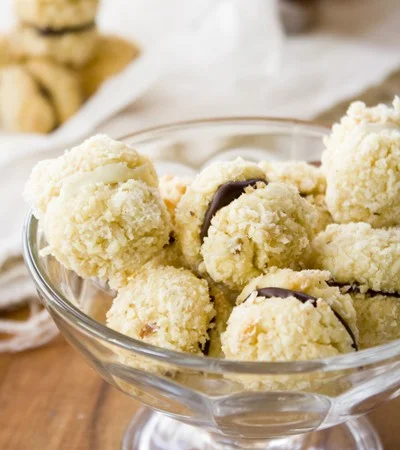 I understand that the word crescent means something different than what you see in these pictures, in the sweet pastry and baking world, right? But for some reason we call these cuties crescents in Croatia (Kresenti in original). They are are made of flavorful and melt-in-your-mouth dough, linked by dark or white chocolate, or also with marmalade. I made mine with dark chocolate and white chocolate, in which I added 2 drops of almond extract.
The dough is formed into tiny balls, dipped into egg whites, rolled into ground almonds/ walnuts or hazelnuts, baked and them linked with chocolate or jelly. Heaven! This dough is so flavorful due to rum, orange/lemon zest and vanilla bourbon in it. The cookies are best after a day or two, they soften a bit and all the flavors come together. Recipe is adapted from here (the text in Croatian).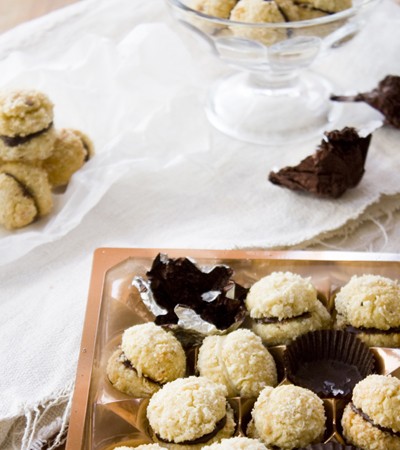 These cuties are delicious; the dough is made with rum, orange/lemon zest and vanilla bourbon in it. They are linked with dark and white chocolate and best after a day or two, when all the flavors come together.
Recipe Type:
Dessert, Baking
Ingredients
For the dough
12.3 oz (350 g) all purpose flour
7 oz (200 g) butter
5.2 oz (150 g) sugar
1 vanilla bean pod
zest of 1 lemon
zest of ½ orange
1 egg
2 egg yolks
2 tbsp rum
For the filling
3.5 oz (100 g) dark chocolate
1.4 oz (40 g) butter
you can also use 3.5 oz (100 g) white chocolate
your favorite marmalade
For the coating
2 egg whites
5.2 oz (150 g) ground almonds
Instructions
For the dough, mix butter with sugar, seeds from vanilla bean, eggs and yolks, lemon and orange zest, rum. Mix well, then add sifted flour and make the dough. When the dough comes together (it will be creamy and soft) wrap it in plastic wrap and leave in the fridge for at least 1 hour.
Preheat oven to 350°F - 180 Celsius.
Take well-chilled dough and form little balls. Dip them in egg whites (you can just slightly beat them with your fork) and then roll into almonds. Place them on baking sheet lined with parchment paper. Bake for 20 minutes. Let coll while you make the filling.
Melt dark chocolate with butter and let cool for 10 minutes. Use this to join 2 balls. You can also link them with white chocolate that you melt in your microwave or with your favorite marmalade.