While the ultimate American pie has a more flaky dough, Croatian pies have more melt-in-your mouth dough.
Text And Photo By Tamara Novacoviç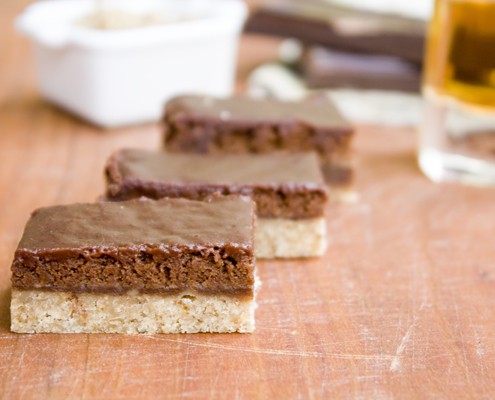 Here in Croatia, the term pie is somewhat different than in the US; the dough is a bit different that the dough of, for example, American apple pie. While the ultimate classic (apple pie) has a more flaky dough, Croatian pies have more melt-in-your mouth dough. Flaky dough crust cakes are called savijaca, or strudel here. This type of pie is called pita and is usually made in square forms. Probably the most common filling is cheese (in sweet versions, similar to the cheesecake filling) or yogurt and sour cream, but also apples. There are two layers of dough, with the filling in the middle. Sometimes, the top dough layer is frozen and then grated on top of the filing.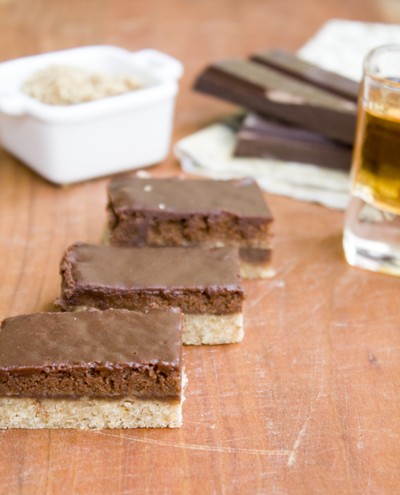 This pie is a bit different-it uses chocolate and hazelnuts and has no top layer, besides chocolate glaze. Hazelnuts and chocolate go hand in hand, and the bottom melt-in-your-mouth dough is great complement. The recipe is adapted from here (text in Croatian).

Classic Croatian pie gets a more modern filling: chocolate and hazelnuts!
Author:
Tamara Novakovic, adapted from Coolinarika
Ingredients
First dough
½ cup (100 g) sugar
⅞ cup (100 g) all purpose flour
3.5 oz (100 g) butter
⅜ cup (60 g) ground, toasted hazelnuts
1 egg
Second dough
½ cup (100 g) sugar
5 oz (150 g) butter
3.8 oz (100 g) chocolate
4 eggs
1 tbsp all purpose flour
Chocolate glaze
3.5 oz (100 g) chocolate
2.8 oz (80 g) butter
3 tbsp milk
Instructions
Make dough number 1 first: Whisk egg with sugar, add softened butter, ground and toasted hazelnuts and flour. Mix until well combined. Cover with plastic wrap and put in freezer for 30 minutes.
Preheat oven to 356 F (180 Celsius).
Prepare square baking pan-7.8 x 11.8 inch (20 x 30 cm) and grease with some butter, sprinkle with some flour. Arrange the dough over the bottom of the pan. Bake for 10 minutes.
In the meantime, prepare dough number two: Whisk egg yolks with sugar, add softened butter, melted chocolate and flour. In a separate bowl whisk egg whites until stiff peaks form. Add them to the previous chocolate mixture, combine. Arrange this mixture over the prebaked crust. Lower the temperature to 302 F (150 Celsius) and bake everything for about 50 minutes.
For the glaze, melt chocolate with butter, add milk. Pour over slightly cooled, baked pie and put in the fridge for several hours.
When set and cool, cut small rectangles and serve.