Ever wanted to cook like a Michelin-star chef? Here are the cooking classes to take, put on by an award-winning chef duo.
The city of St. Gallen in Switzerland has one of the coolest Michelin-star restaurants out there. Not only are there two chefs ( Hi Moses, Hi Sebastian!) but the dynamic and award-winning chef duo regularly give cooking classes to self-professed gourmets
If you can make it to Einstein Gourmet in 5-star luxury Hotel Einstein – then count yourself lucky. Here is a relatively easy but definitely delicious recipe by the two innovative chefs: Sepia Tagliaelle.
Just like the cuisine of Chefs Moses and Sebastian – there are elements of Europe ( German part of Switzerland of course!) and a bit of Asia in their dishes. 'Fusion' perhaps only works well for well-trained chefs and this is where it shines.
Einstein Gourmet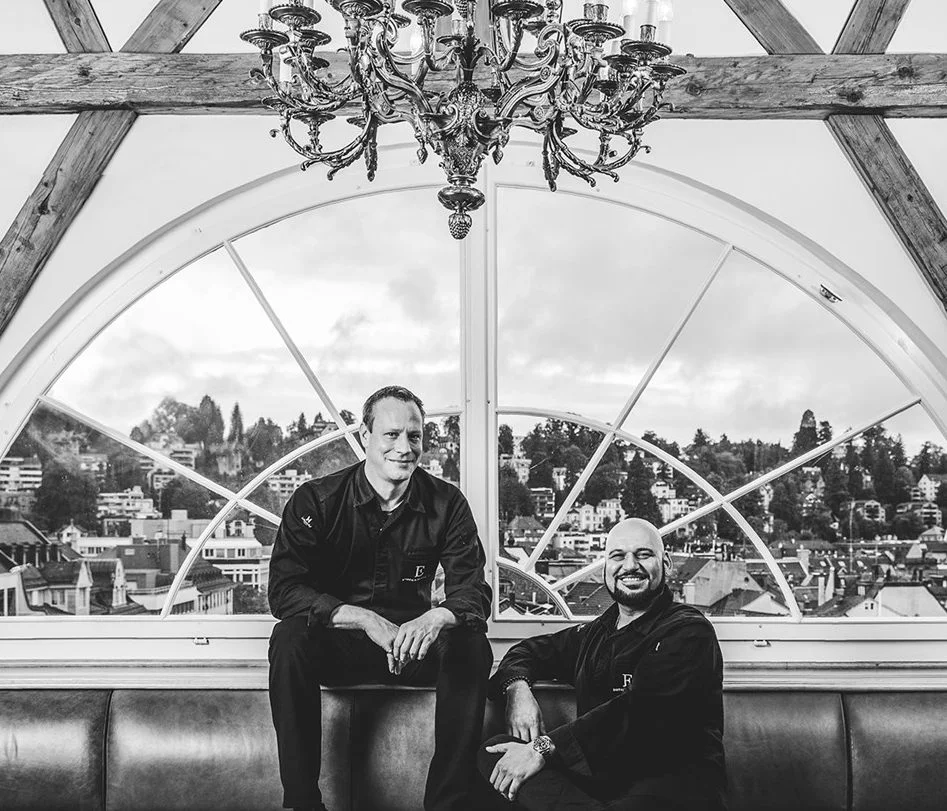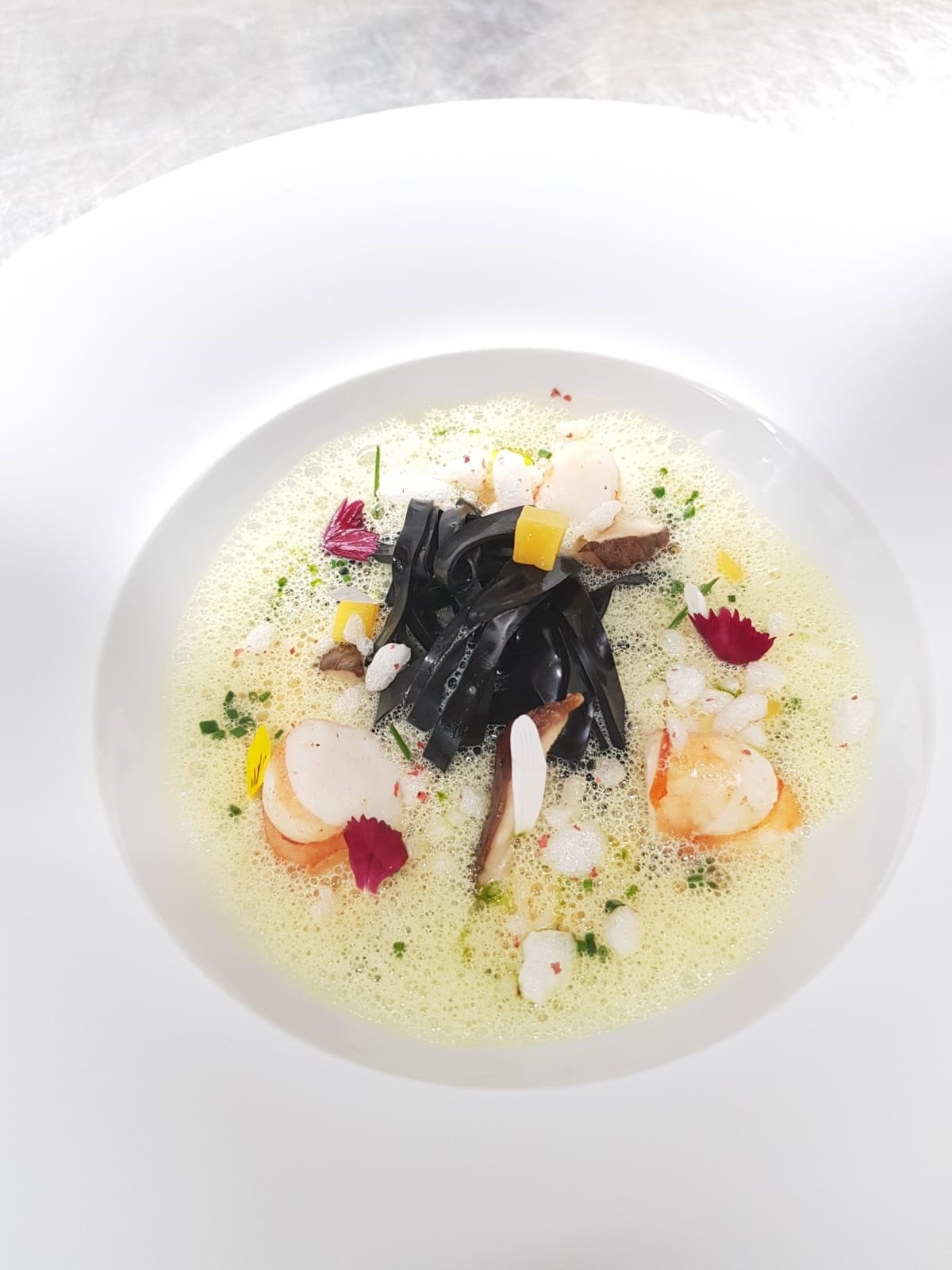 Sepia Tagliatelle
Blue shrimp | Lemon grass foam | Herb spinach
Ingredients noodles:
6 eggs
20g egg yolk
salt
cayenne pepper
Sepia Ink
Ingredients herb spinach:
200g baby spinach
60g leaf parsley
30g olive oil
30g butter
1 shallot
1 clove of garlic
salt
nutmeg
Ingredients Currynage:
50 g lemongrass
5 pieces Lime Leaves
70g ginger
250 ml coconut milk
1l poultry stock
Green Curry Paste
30g sesame oil
200g chicken wing
lemon juice
salt
pepper
Ingredients Blue shrimp:
Four (blue) prawns
Ingredients decoration:
blossoms
Pink Pepper
crab chips
Step 1 Noodles
Cook the eggs in a water bath at 70°C for 1 hour and then cool with cold water. Separate the egg white from the egg yolk. Mix the egg yolk in the Thermomix with the addition of egg yolk to a solid gel and season to taste with salt and cayenne pepper, add sepia ink. Pour 75g of the gel into a medium vacuum bag (200x300mm) and vacuum thoroughly. Distribute evenly with a rolling pin. At 70°C, finish simmering in a water bath for 1 hour without a fan and then cool with cold water. Cut into tagliatelle, portion on a baking tray with olive oil and heat à la minute in the oven.
Step 2 Herb spinach
Cut the shallot and garlic into fine cubes and cook in a pan with butter and olive oil. Add the spinach and parsley and season to taste. Chop the spinach finely.
Step 3 Currynage
Put the chicken wings in a saucepan with hot sesame oil and fry well. Add the chopped ginger, lemon grass and lime leaves and sauté briefly. Add the chicken stock, curry paste and coconut milk. Let the stock simmer for half an hour. Now strain the stock and season to taste as desired.
Step 4 Prawns
Heat a small pan with olive oil. Season shrimps well and fry well on both sides, add the herbs and butter shortly before the end.
Michelle Tchea
Michelle Tchea is a 4-time bestselling author. Her books include, Building a Perfect Meal, My Little SoHo Kitchen, Signature Dishes (Australia's Best) and Chefs Collective. Her work can be found in other leading luxury travel and food magazines including Travel+Leisure Asia, SMILE, NUVO Magazine and The Telegraph