An ultra moist cake complete with coconut, spiced, pineapple, and walnuts that are complemented by a coconut milk frosting.
By Tori Cooper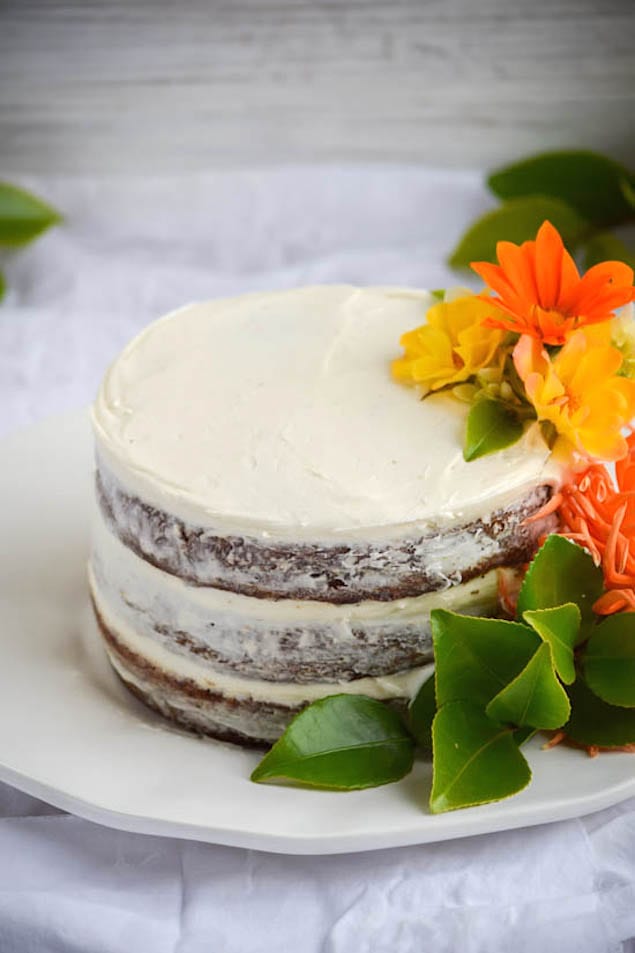 For a while I thought I'd never leave a cake unfrosted or half way iced, that's because cake decorating is basically in my blood. Both my mother and my grandmother have been known for making beautiful, not to mention delicious, cakes. Anyway, leaving a cake in such a plain, raw state seemed like something that would never happen.
I have to admit that the look has grown on me though. Not only is it rustic-ly elegant, but it saves time and makes cake decorating more approachable for those who fear the pastry bag. I'm sure that I'll choose to decorate more often than not, but this was something that I think I'll definitely do again.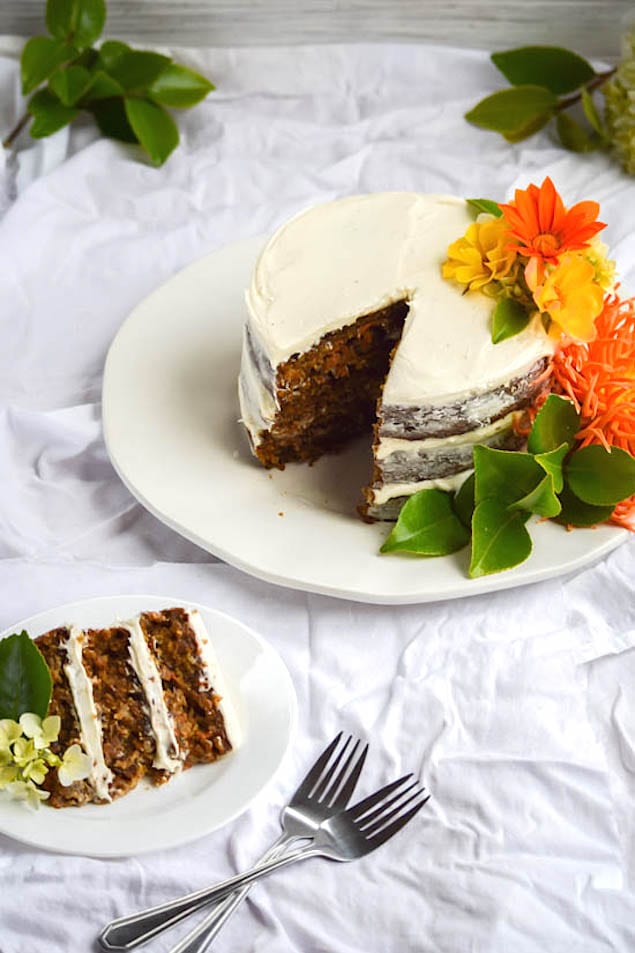 This cake is ultra moist and perfectly complemented by the coconut cream cheese frosting. Plus, I added plenty of coconut to the cake too because that just had to happen.

Coconut Cream Cheese Iced Carrot Cake
An ultra moist cake complete with coconut, spiced, pineapple, and walnuts that are complemented by a coconut milk frosting.
Recipe Type:
Baking, Dessert, Cake
Serves:
1 cake, 10-12 servings
Ingredients
Cake
½ cup (1 stick) butter, softened
½ cup oil (I use sunflower)
⅔ cup coconut milk (shake the can before opening)
4 eggs
2½ cups raw (turbinado) sugar (or regular)
1½ teaspoons salt
2 teaspoons vanilla extract
2½ teaspoons baking soda
2 teaspoons cinnamon
¼ teaspoon each of: cloves, allspice, ginger and nutmeg
⅛ teaspoons cardamom
2⅔ cups all-purpose flour
2½ cups grated carrots
2 cups chopped walnuts
1 cup crushed pineapple
1⅓ cups unsweetened shredded coconut flakes
Frosting:
1 (8 oz) package cream cheese, softened
3 tablespoons coconut oil
2 tablespoons coconut milk
4 cups powdered sugar
2 teaspoons vanilla extract
¼ teaspoon salt
Instructions
Preheat oven to 350 degrees F (180 C) and grease 3 (8 or 9 inch) round cake pans. Cream butter, oil, and raw sugar in a large mixing bowl until smooth. Mix in eggs and add salt, vanilla, soda, spices, and flour and stir until combined. Add remaining ingredients and mix well.
Divide batter among prepared pans and place in oven to bake for 35 - 45 minutes or until toothpick inserted in center comes out clean.
Remove from oven and cool completely before frosting.
Frosting:
Beat cream cheese in mixer with whisk attachment until no lumps remain. Add coconut oil, and milk and beat in until smooth. Slowly add remaining ingredients and whip until light and fluffy.
Remove cakes from pans and trim tops if necessary. Frost in between each layer and decorate as desired.
Tori Cooper
Tori is a food blogger with a passion for what she does. She shares all her recipes, photography, and bits about her life living in Patagnia Chile on her blog, Gringalicious.