Dusted in powdered, freeze-dried raspberries, these festive truffles are rich, decadent and surprisingly vegan.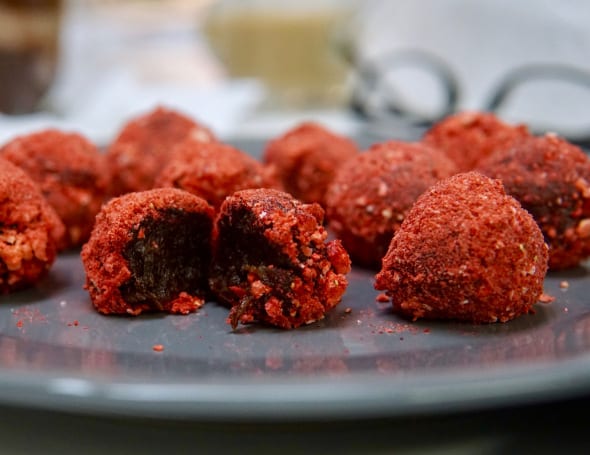 Oh my. These are good. Amaaaazingly good. And decadently delicious, yet with no added sugar. How about that? World, please meet my Raspberry-Dusted Cocoa Caramel Truffles!
Cocoa-Caramel Truffles
Serves:
makes 25 to 30 truffles
Ingredients
1¾ cups freeze dried raspberries
1½ cups Medjool dates, pitted
⅓ cup tahini
¼ cup cocoa powder
3 tablespoons water or raspberry liqueur
1 teaspoon pure vanilla extract
Instructions
Using a food processor or a blender, process raspberries into a powder – or simply place raspberries into zippered plastic bag, and hand crush with a rolling pin or kitchen mallet. Pour raspberry powder into a bowl and set aside.
In a large high powered blender add dates, tahini, cocoa, water or raspberry liqueur, and vanilla, and process until smooth.
Turn power off, remove lid, and transfer blended mixture to a covered container. Freeze or refrigerate for an hour or more, or until mixture is well chilled.
Remove chilled mixture from refrigerator or freezer, scoop out small amounts, and roll into balls, ¾ of an inch in size. Carefully roll the balls, one or two a time, in the raspberry powder, covering each one completely. Repeat with remaining truffles.
Place Raspberry-Dusted Cocoa Caramel Truffles into an air-tight covered container, and return to the freezer to harden for 30 minutes or more before serving. Extras can be stored in the freezer for up to two weeks.