The CLT Sandwich with Avocado and Chorizo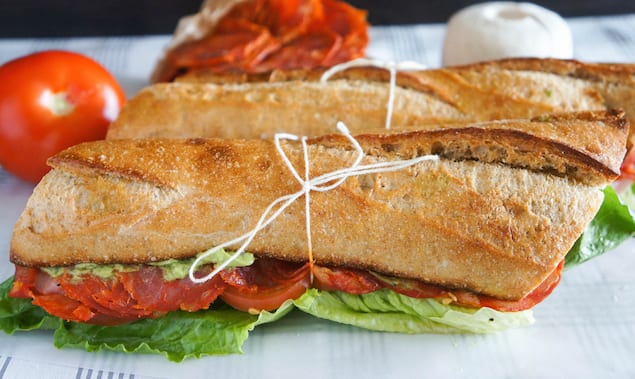 The chorizo, Lettuce and Tomato, also known as the CLT, is a delicious sandwich including a spicy avocado spread made with jalapeño for a perfect picnic treat.
By Carolyng Gomes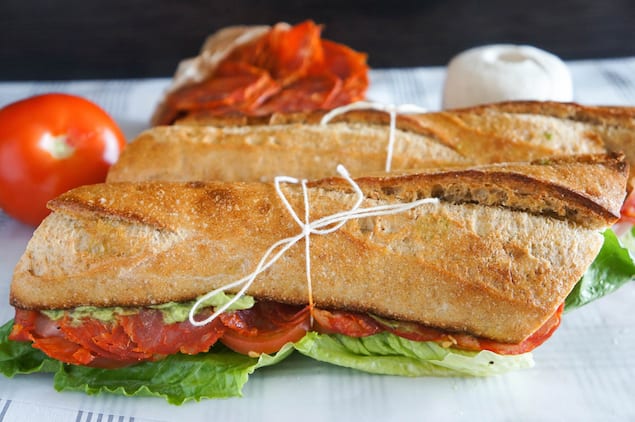 Take this CLT with Spicy Avocado Spread where C stands for delectable and fresh smoked chorizo.
This recipe is perfect for a picnic or enjoying on the go. It is a special treat, because anytime you are enjoying some fresh baguette with delicious fixing inside deserves a bit of a celebration.
This sandwich is simplicity at its finest, because when my day to day consists of quick eats like overnight oats for breakfast, a quick rice bowl mash for lunch and a veggie burger for dinner I can't be spending time making something no matter how nice it is.

The CLT Sandwich with Avocado and Chorizo
The chorizo, Lettuce and Tomato, also known as the CLT, is a delicious sandwich including a spicy avocado spread made with jalapeño for a perfect picnic treat.
Ingredients
Sandwich
1 baguette
¼ pound smoked chorizo, thinly sliced
1 tomato, sliced
4 leaves Romaine lettuce
Spread
1 avocado, chopped
½ jalapeño, minced
1 green onion, chopped
3 tbsp olive oil
2 tbsp lemon juice
salt and pepper to taste
Instructions
Preheat oven to 400 F. Line baking sheet with aluminum foil and set aside.
Slice ends off of baguette, then cut in half. Proceed to slice each piece lengthwise and open.
Transfer to oven and bake for 5 minutes, until warm.
Remove from oven, top each with half of the chorizo, and return to oven for another 5 minutes.
Top chorizo with half of the tomato slices and 2 leaves of lettuce.
In a food processor or blender combine all ingredients for spread. Process until smooth. Divide spread among sandwiches.
Enjoy warm or close with bakers twine or wrap for a delicious sandwich later.
Carolyng Gomes
Carolyng loves to eat, loves to cook and loves to eat more. To her a recipe is more a list of suggestions, saving time doesn't mean sacrificing on flavor and when in doubt, a splash or two (well, a nice pour) of wine never hurts. Welcome to her Cocina Latina, where South American and Latin fusion dishes are always on the menu.