Layered Chocolate and Peanut Butter Cups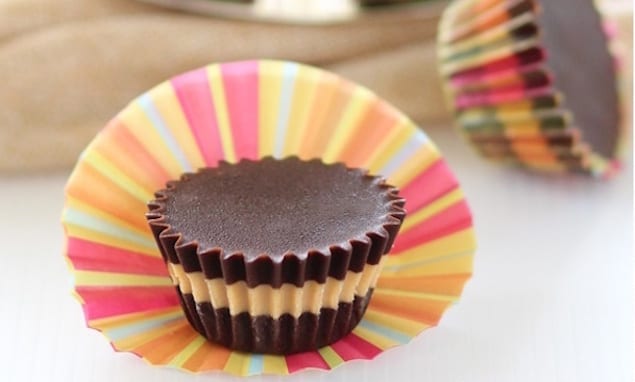 Recreate classic chocolate and peanut butter cups with beautiful layers and a soft, creamy bite.
By Ann Low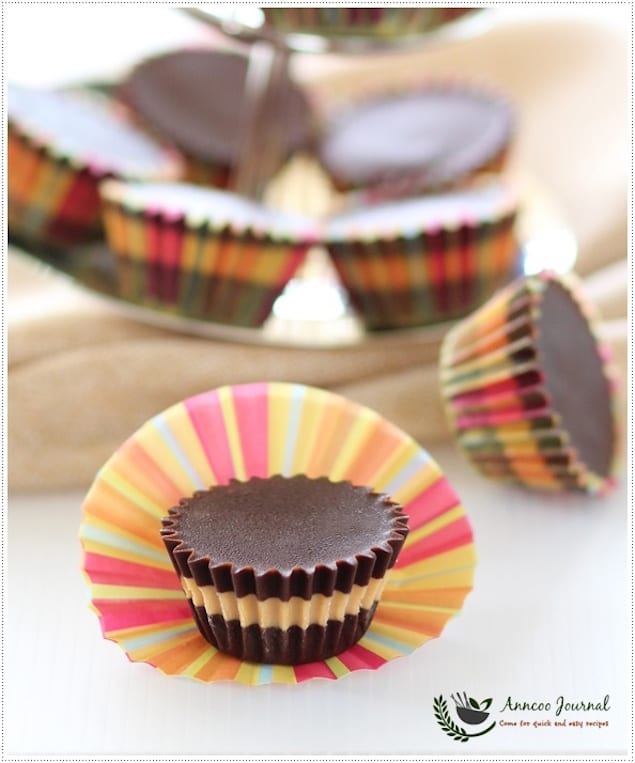 Look at these Chocolate Peanut Butter Cups, don't they look pretty? I first saw these cuties posted by Joanne of Fifteen Spatulas on her blog and was so smitten by the easy and simple recipe. So I've made a some changes on the chocolate with some whipping cream and butter as I prefer a softer bite to the chocolate. These cups are very indulgent are for sure worth making.

Layered Chocolate and Peanut Butter Cups
Recreate classic chocolate and peanut butter cups with beautiful layers and a soft, creamy bite.
Recipe Type:
Chocolate, Dessert
Ingredients
300g (10.6 ounces) valrhorna chocolate 66%, chopped (or use semi sweet chocolate)
80g (2.8 ounces) dairy whipping cream (cooking cream)
20g (0.7 ounces) butter
100g (3.5 ounces) creamy peanut butter jam
15g (0.5 ounces) butter
¼ cup icing sugar, sifted
Instructions
Line a mini size 12 cup muffin tin with paper cupcake liners.
Melt chocolate pieces and butter under double boiler. Add in whipping cream and stir till smooth.
Drop a teaspoon of melted chocolate into muffin tin. Then drop the pan repeatedly on the table top to flatten the chocolate and release air bubbles. Please the pan in the freezer for about 10 minutes.
In the meantime, whip the peanut butter, butter and icing sugar together with a electric hand mixer until light. Place small teaspoon of peanut butter into each cup, then drop the pan repeatedly on the table top again, so the peanut butter layer is flattened out. Place in the freezer for 15 minutes.
Then fill up the top with the remaining melted chocolate, about 1 teaspoon. Better to drop the pan on the table top a few times to flatten out after each filling of melted chocolate, because the top layer of the chocolate will harden quickly as the whole pan just chill in the freezer.
Then place the peanut butter cups back to the refrigerator for at least 1-2 hours before serving.
Ann Low
Ann Low is the author of Anncoo Journal, and loves to bake and cook for both family and friends. She acquired a strong passion for culinary skills from a very young age by watching her grandmother prepare delicious meals for the family. Ann believes that baking is an art and she wants to share her baking and cooking experiences with everyone in the world.