Classic Tuscan Panzanella
Colorful, vibrant and flavorful, Panzanella is a classic Tuscan dish. Toasted bread and vegetables combine for the perfect summer salad.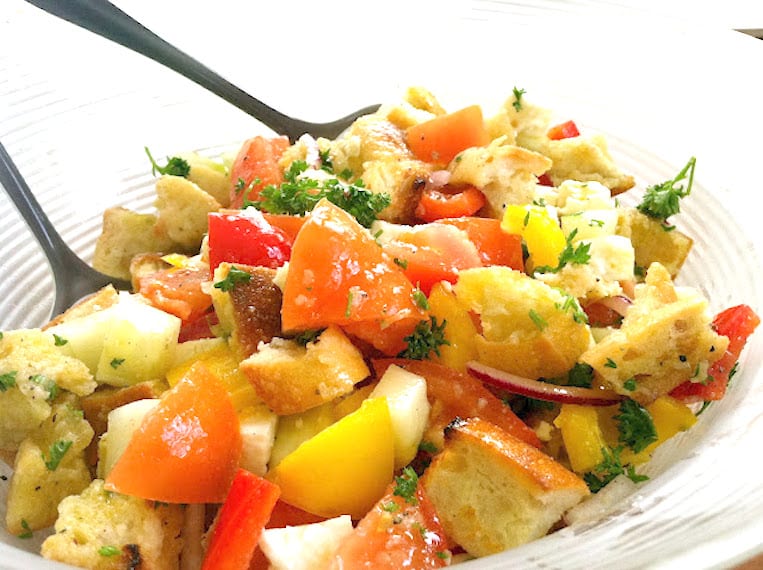 Colorful, vibrant food is instantly appealing. Looking at a wall of penny candy or a heaping bowl of fruit, you are mesmerized by the abundance of color. If it's appealing to the eye, it must be appealing to your taste buds. We felt this way when we first created this summery, visually enticing side dish. Panzanella salad, a classic Tuscan summer dish, celebrates fresh garden produce.
Classic panzanella incorporates stale, unsalted Tuscan bread. Since we do not keep stale bread on hand, we decided to char a French baguette. The toasted baguette inside the dish absorbs the vinaigrette while maintaining its crunch alongside the fresh cubed vegetables. The married flavors are a kaleidoscope of color and texture.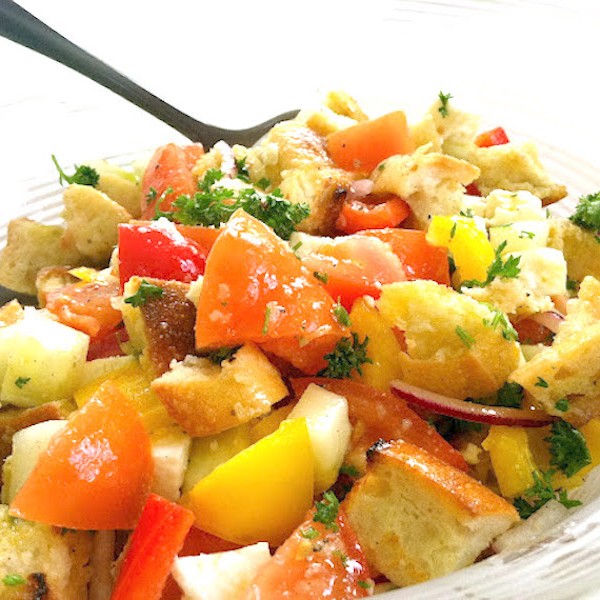 Kara and Marni Powers
Ingredients
Salad
3

T

EVOO

1

baguette cut into 1-inch cubes

2

large tomatoes

cut into 1-inch cubes

1

cucumber

peeled, seeded, and sliced into 1-inch cubes

1

red bell pepper

seeded and cut into 1-inch cubes

1

yellow bell pepper

seeded and cut into 1-inch cubes

1/2

red onion

thinly sliced

1/2

c

basil leaves

julienned

8

oz

feta cheese cut into 1/2-inch cubes

salt and pepper throughout
Vinaigrette
1/2

c

EVOO

3

T

red wine vinegar

1

clove

minced garlic

1

t

Dijon mustard

salt and pepper throughout
Instructions
Preheat oven to 375 degrees Fahrenheit.

In a large bowl, toss the bread cubes, EVOO, salt and pepper and arrange on a baking sheet. Cook in the oven until nicely browned on both sides, approximately 5-7 minutes.

In a small bowl, whisk all the vinaigrette ingredients together.

In a large salad bowl, mix the tomatoes, cucumber, red pepper, yellow pepper, red onion, and basil.

Add the bread cubes and toss with the vinaigrette.

Add the feta and season with salt and pepper. Let the salad sit for 20-30 minutes to allow the bread and vegetables to absorb the vinaigrette before serving. Serves 6-8.
Kara and Marni Powers
Kara and Marni Powers are twin sister cooks, dining and blogging their way through Boston's North End and beyond. They see the act of cooking and entertaining as a form of creative expression, an art that encourages the mixing of flavors, spices, techniques and stories. Their interest in cooking dates back to their Greek grandmother's open-arms approach, letting them taste her savory creations like her famous spanakopita. Kara and Marni's fascination with food and culture continued during their travels abroad in Europe where they saw firsthand the limitlessness of cooking.