A crunchy crust and a chewy inside, taralli are similar to a classic bagel. Try this savory bread spiced with fennel for delicious flavor.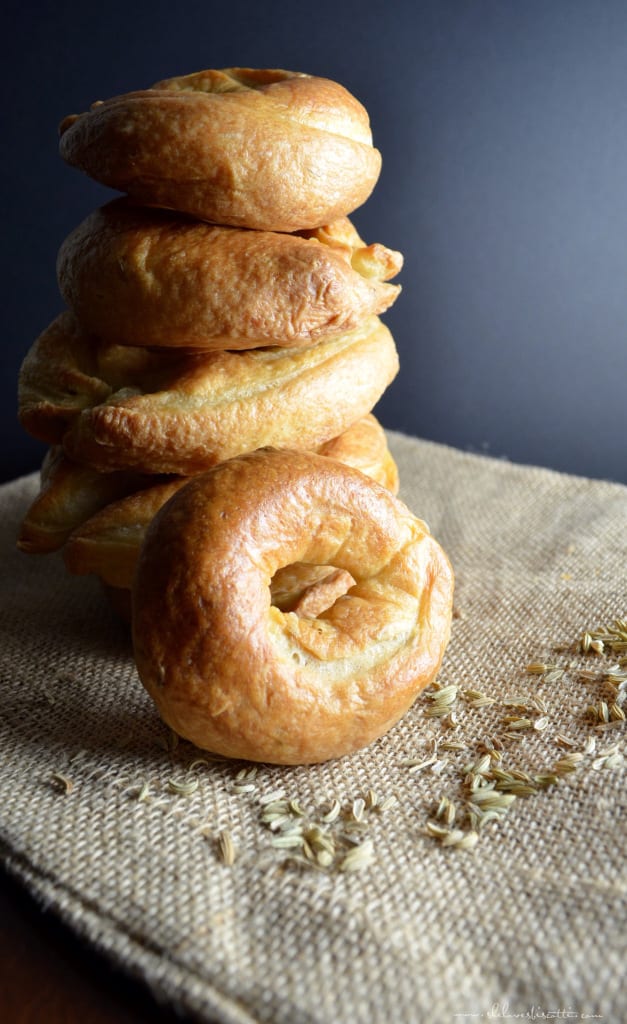 Taralli (plural) are without a doubt extremely addictive and very unusual as far as texture is concerned. There are many variations of this very simple food to be found throughout the regions of Italy. (I've already shared 2 recipes with you; one made with wine and my personal favourite.) This particular variation is made with yeast and is unsweetened. As with most Italian recipes, these fennel taralli are simple but a little time-consuming. However, they are well worth the effort.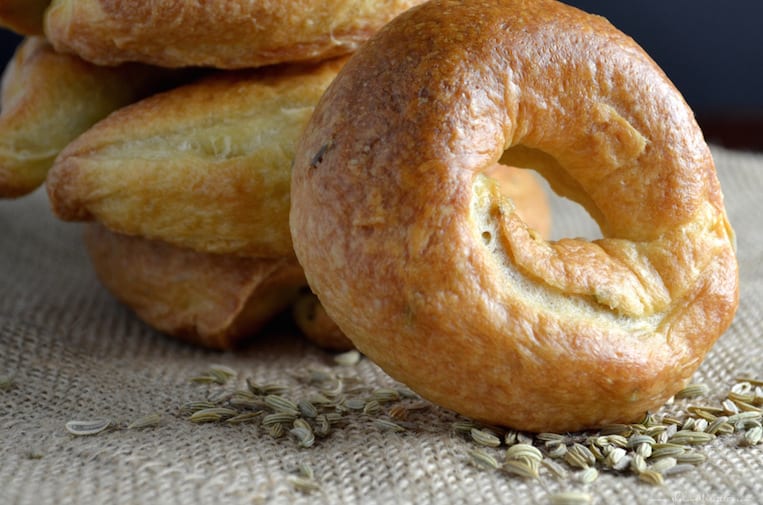 Once you have made the dough and it has been left to double in size (this can take up to 2 hours), you can slice the dough in strips and form them into rings. You can make the rings as small or as large as you like. I usually form them into 7 inch rings; about 1? thick. Once again, you can make larger (or smaller) rings…it's really up to you. These taralli get dunked in boiling water, just like bagels, for a few minutes and then in the oven for about 1 hour.

Fennel Taralli Bread
A crunchy crust and a chewy inside, taralli are similar to a classic bagel. Try this savory bread spiced with fennel for delicious flavor.
Recipe Type:
Bread, Baking
Ingredients
1 package active dry yeast (2¼ teaspoons or 8 grams)
1 teaspoon sugar
2 cups lukewarm water
6 cups flour
3 teaspoons salt
3 eggs (room temperature)
¾ cup vegetable oil
1 tablespoons fennel seeds
Instructions
In a medium bowl, combine yeast, sugar and water.
Stir and let stand for 10 minutes (will get foamy).
In the bowl of a food processor, combine flour and salt.
Add eggs and oil to yeast mixture. Mix to combine.
Add this liquid mixture to the flour and salt.
Add the fennel seeds.
With dough hook attachment knead for approximately 10 minutes until you have a soft, smooth elastic dough. Alternately, you can knead by hand.
Gather dough and place on a well floured wooden board in the shape of a log.
Cover with wrap and dishcloth and allow dough to rest until double in size(up to 2 hours) in a warm place.
Bring a large pot of water to boil.
With a very sharp knife, slice dough into 18 equal parts. (you can make them smaller if you want)
Roll each piece into a 6-8 inch rope, then form into a ring. Make sure that you press the ends firmly together.
Plunge the taralli in boiling water; 3-4 at a time. Once they surface to the top, turn them over in the water and continue to boil for 1 minute. The whole process should take about 2-3 minutes.
Remove with slotted spoon and place on cooling rack to drain.
Repeat process until all the taralli have been boiled.
Place boiled taralli directly on oven grates.
Bake in a preheated oven at 350° F for 45-60 minutes or until golden brown. (Set oven rack one below the center).
Notes
These taralli are excellent the day they are made. They can easily be frozen.
Up to half of the all purpose flour can be replaced with whole wheat flour.