With a beautiful golden hue (thanks to the turmeric) and burst of red from goji berries, this granola is pleasing to all senses.
By Mariela Alvarez Toro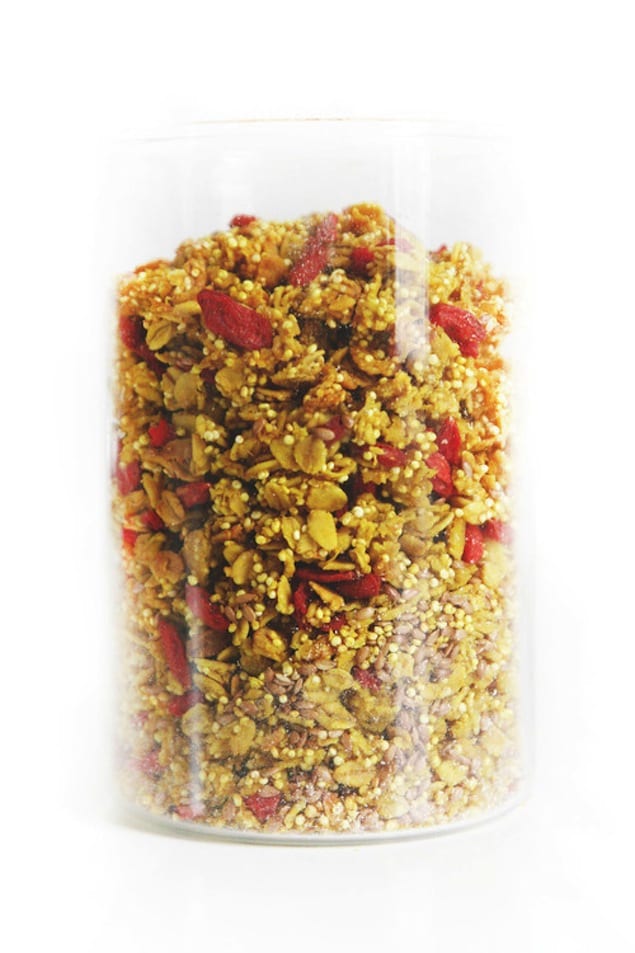 Granola is easy to make, foolproof, versatile, and inexpensive. Like a blank canvas, oats absorb whatever flavor you throw at it flawlessly, making it perfectly adaptable to whichever season and cravings. The key to perfection is balance within difference. I like to add a combination of crunchy ingredients (nuts, seeds, quinoa), sweet ingredients (maple syrup, honey, fruit juice), and soft-chewy ingredients (dried cranberries, golden raisins, coconut) that will make each bite special.
This recipe is unlike any other granola recipe I have made before. Rather than going the nutty cinnamon-y route, this granola is floral, citrusy, and totally addictive. It is a farewell to winter, and a warm sunny welcome to spring. The use of the bold flavors in grapefruit juice, zest and turmeric, make for a guilt-free (less sugar and oil), healthier granola to enjoy for breakfast or as a snack.

Citrus and Turmeric Granola with Goji Berries
With a beautiful golden hue (thanks to the turmeric) and burst of red from goji berries, this granola is pleasing to all senses.
Author:
Mariela Alvarez Toro
Ingredients
2 cups GF oats
¾ cup quinoa
1 tsp. sea salt
1 tbsp. grapefruit or lemon zest
Juice of one whole grapefruit
¼ cup maple syrup
2 tbsp. raw local honey
1 tbsp. coconut oil
1 tsp. vanilla
2 tsp. turmeric
¼ cup roasted flax seeds (optional)
½ cup dried goji berries (can substitute for cranberries or golden raisins)
Instructions
Preheat oven to 325 degrees Fahrenheit.
In a bowl, place oats, quinoa, and sea salt. Set aside. In a small sauce pan over low heat combine grapefruit zest and juice with maple syrup, honey, coconut oil, vanilla and turmeric. Stir until everything is well incorporated and coconut oil has completely melted.
Mix in wet ingredients into bowl with dry ingredients. Stir until everything is well incorporated.
Transfer granola onto baking sheet and bake for 30 minutes, stirring once, halfway through.
Remove from oven, then add goji berries and flax seeds, if using. Mix and let cool completely.
Transfer granola into a sealed container. Serve over yogurt, with milk, or with preferred fruit of choice.
Mariela Alvarez Toro
Recently graduated with from Harvard University's Graduate School of Design. She has recently completed "People in Food-Space", an ethnographic study on the cultural production of taste in space. She has also examined post-soviet food production systems and housing projects in Havana, Cuba. Originally from Puerto Rico, Mariela has been living in the United States for eight years. She has involved herself in both teaching and practice, while writing on food at tastyplan.com. Her goal as a food writer is to cook creatively, using the best ingredients to find new flavor combinations every day.