Natasha Steinberg makes these sweet and savory cinnamon buns with berry glaze, packed individually in parchment paper for a rustic feel.
By Natasha Steinberg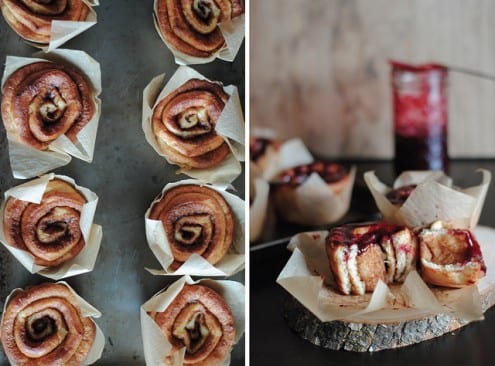 Cinnamon Buns with Berry Glaze
Natasha Steinberg makes these sweet and savory cinnamon buns with berry glaze, packed individually in parchment paper for a rustic feel.
Author:
Natasha Steinberg
Ingredients
Dough:
240 ml (1 cup) whole milk, warm (105 degrees F)
1½ Tbsp. (2 packets) active dry yeast
133 g (2/3 cup) granulated sugar
113 g (1/2 cup) butter, at room temperature
2 eggs
¼ tsp. salt
563 g (4½ cups) all-purpose flour, plus more for rolling
Filling:
215 g (1 cup packed) dark brown sugar
2 Tbsp. ground cinnamon
zest of a medium orange
56 g (1/4 cup) butter, melted
Glaze:
12 oz. frozen berries (I used a mix of strawberries, raspberries, blueberries, and blackberries)
2 Tbsp. water
150 g (3/4 cup) granulated sugar
juice of a lemon
1 tsp. vanilla bean paste or half a vanilla bean, scraped
Instructions
Make the dough:
Place warm milk in the bowl of a stand mixer. Stir in yeast and sugar. Cover loosely and set aside until foamy, 5-10 minutes. Transfer bowl to stand mixer fitted with paddle attachment. Add butter, eggs, salt, and 2 Tbsp. of the flour and mix until combined (butter may not mix in completely).
Switch to dough hook. With mixer on medium-low, gradually add the remaining flour. Once all flour has been added, increase speed to medium until dough forms then increase speed to medium-high and knead until dough is soft and pliable but slightly sticky, about 10 minutes.
Transfer dough to lightly floured work surface and knead by hand for another couple of minutes. Form dough into a ball and place in a large, lightly oiled bowl, flipping once to coat the dough. Loosely cover and set in a warm place to rise until doubled in size, about 2 hours. (I set the bowl on top of an oven set at the lowest temperature.)
Grease the wells of two jumbo muffin tins and line with parchment paper. Since my jumbo muffin tins have six wells each, I end up with more rolls than wells, so I also line an 8x8 pan with parchment for the extra buns.
Make the filling:
In a small bowl, whisk together brown sugar, cinnamon, and orange zest. Transfer the dough to a lightly floured work surface and roll out to 10 inches wide and 24 inches long. Brush melted butter evenly over dough. Sprinkle brown sugar mixture evenly over the dough, leaving a one-inch border around the edges, and lightly pat down.
Roll and cut dough:
Working from the 24-inch side, carefully and roll up the dough into a tight log. Slice log into 16 even pieces, each about 1½ inches wide. Place the pieces, cut side down, into wells of prepared pan (and place extra rolls into the prepared 8x8 pan). Loosely cover and set aside to rise until puffy, about 2 hours. Alternatively, cover with plastic wrap and place in the refrigerator over night. In the morning, let them sit out at room temperature for about an hour.
Make the berry glaze:
Combine frozen berries and water in a large saucepan and set over medium heat. Cook until berries are thawed and have begun to break down. If you don't mind seeds in the glaze, simply mash the berries with a potato masher. If you want to remove the seeds, transfer berries to food processor or blender, process/blend until smooth, press through a fine mesh strainer, and transfer back to the saucepan.
Add the sugar and lemon juice and cook over medium heat until bubbling. Decrease heat to medium-low and simmer for 10-20 minutes, until mixture coats the back of a spoon. Transfer to a heatproof bowl or jar and set aside.
Bake:
Preheat oven to 400 degrees F. Bake until golden, about 15 minutes. Cool in pan on wire rack for 10 minutes than remove from pan. Serve warm drizzled with berry glaze.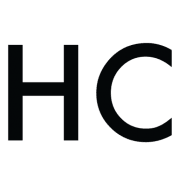 Natasha Steinberg
Natasha is a love-and-matriarch-taught maker of sweet things. She is passionate about using local and seasonal ingredients and making simple, satisfying sweets that make even the least of sweet tooths swoon. Although she is a native Texan, she currently resides in Atlanta where she is finishing up law school and documenting her sweet adventures through photos, recipes, and stories on her blog at tartletsweets.blogspot.com.