These churro waffles are coated in cinnamon sugar and drizzled with a sweet and spicy Mexican chocolate sauce.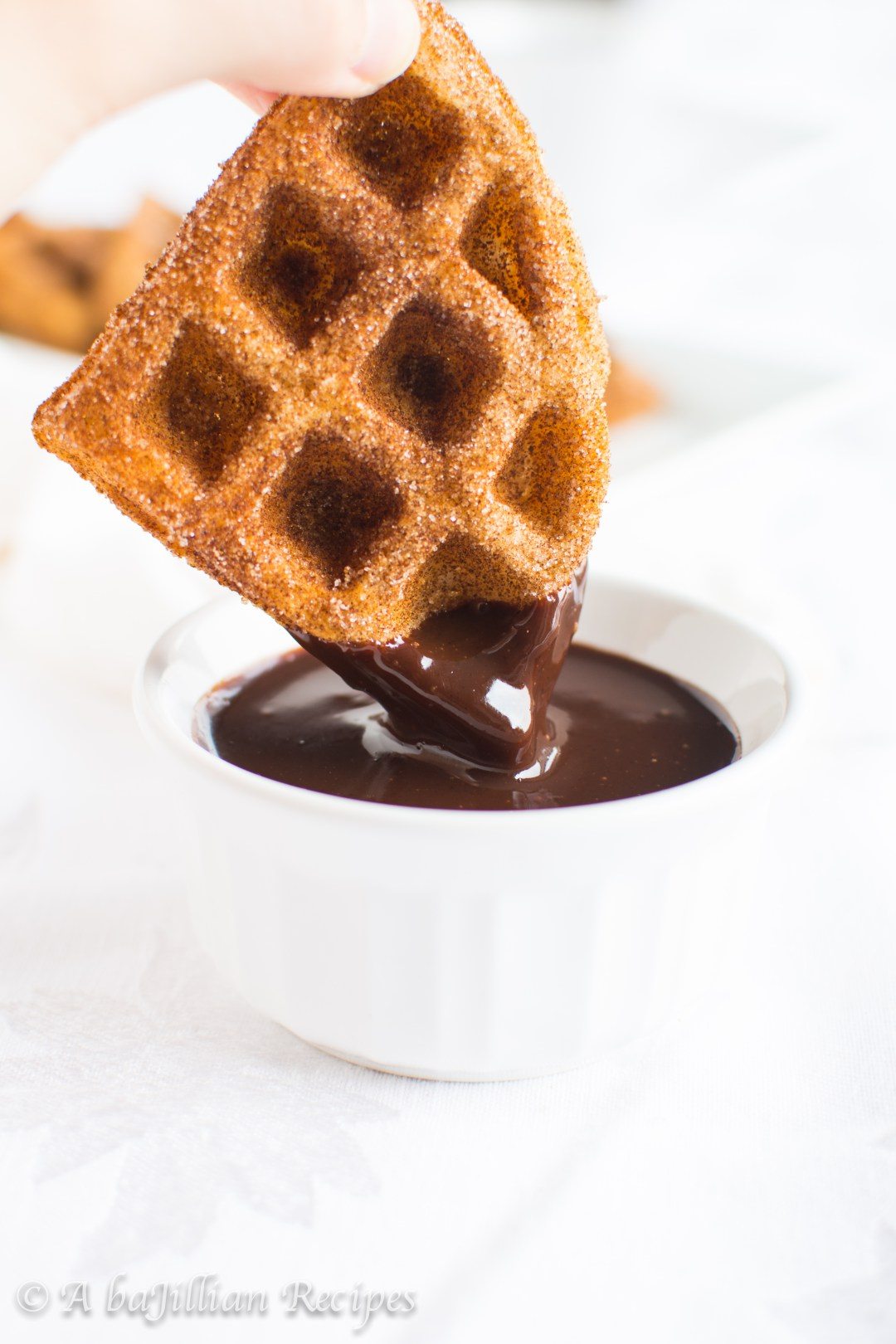 Are you a pancake person, or a waffle person?
I'm more of a waffle person. Or better yet, a waffle WARRIOR.
I'm all about those lightly crisp edges and those mesmerizing square puddles of maple syrup. While the many squares make buttering a bit cumbersome to most people, I see ALL of those little squares as an opportunity to load your waffle up with as much butter and maple syrup as you like. Because a well-dressed waffle is all about full coverage. Of course, I could say the same thing about teen girls and their low-cut tops and barely there bottoms…
Annnnnywho, whether you're more of a pancake person or a waffle warrior, I'm sure it won't take much persuading for you to fall head over heels for this heavenly concoction of sweetness.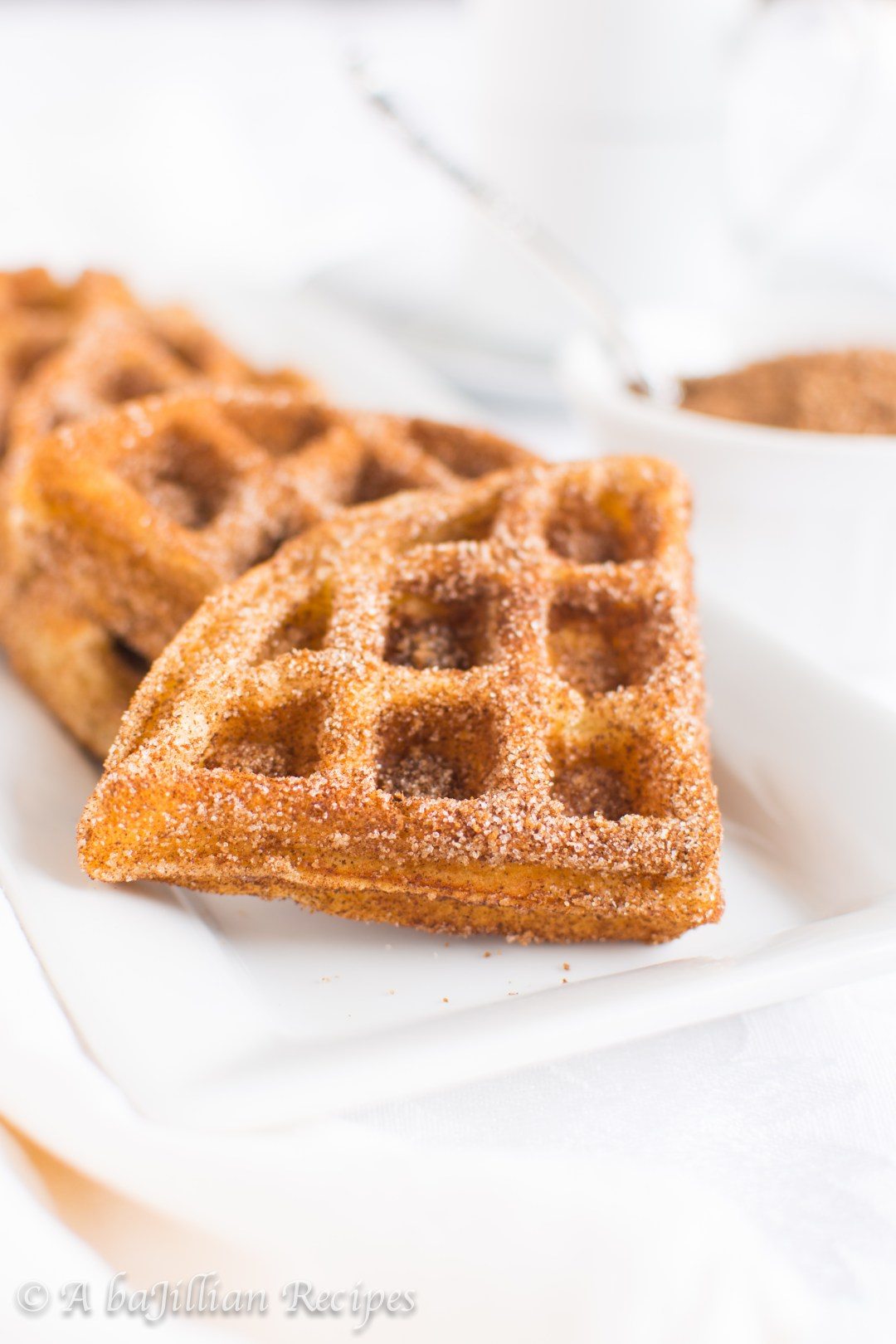 If you thought waffles were amazing enough on their own, then you're about to go ape poop for these golden crispy waffles DIPPED in cinnamon sugar.
Yes, people.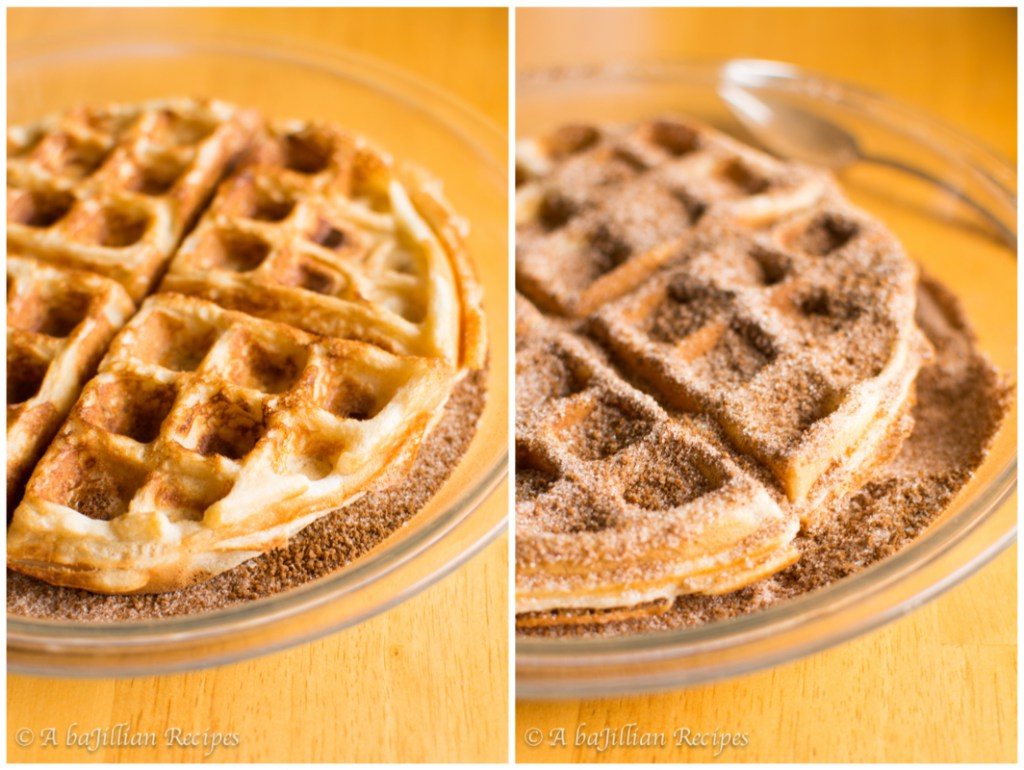 Just like the traditional churro, these waffles are drenched in a sweet and spicy coating of cinnamon sugar. But to add a little not-so-traditional twist, I also mixed in a little brown sugar. The brown sugar not only adds a more maple-like sweetness, but it's moister texture also helps the cinnamon sugar stick to the waffle better.

And if sugar-coated waffles didn't sound sweet enough for you, not to worry. I am the QUEEN of over-the-top sweetness, which is why I also drizzled the waffles in a sweet and cinnamony Mexican chocolate sauce.

What makes it Mexican, you ask? Well, the chocolate of course! It's a special type of chocolate that's usually found in the international food aisle at most grocery stores. I used Ibarra brand. They're solid, almost rock-like disks of chocolate that have a subtle cinnamon and almond flavor. To make the sauce, just chop up the chocolate and stir it into a saucepan of simmering heavy cream along with some vanilla and a dash more of cinnamon for a little extra spice.
If you don't have Mexican chocolate in your area, or if you want a substitute, just use the same amount of semi-sweet chocolate and add about a 1/2 teaspoon of cinnamon and about an 1/8 teaspoon of almond extract (optional). It won't be as "authentic", but it will taste pretty much the same.
See Also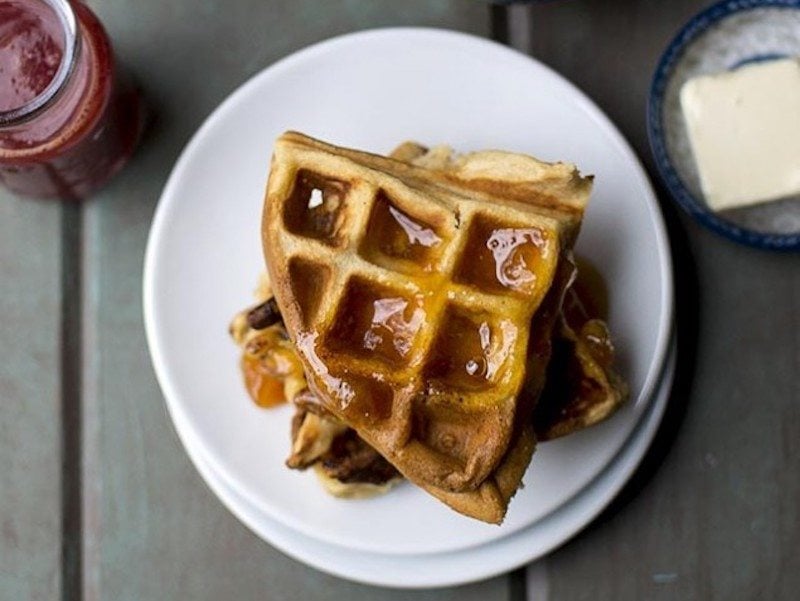 Before I let you go, here are a few tips for waffle warrior success:
Whip 'em good: I whipped the egg whites separately instead of just whisking them whole with the other wet ingredients. Why? Beating the egg whites beforehand gives you fluffier, taller waffles with a nice and crispy exterior. Once they've been beaten to soft peaks, I add the sugar, then continue beating until stiff and glossy. The sugar makes it easier to fold into the batter.
Cornstarch it up: Cornstarch seems to be a secret ingredient for everything when it comes to baking. In this case, cornstarch prevents waffles from getting soggy from the steam when cooking in the waffle iron, leaving you with perfectly crisp and tender edges.
You're a Good Iron, Waffle Brown: Having a good waffle iron DEFINITELY helps if you want those fluffy, tall, and evenly browned waffles. I tested the recipe out with an old waffle iron press we've had for decades and a new flip iron, and BOY did it make a humongo difference. The old one never browned evenly, and the waffles were nowhere near as fluffy as the waffles that were made in the new one. Not to mention, batter ALWAYS spilled out the sides if you wanted a complete waffle. Using a flip waffle iron allows the batter to spread out evenly, creating a complete waffle without all that drippy batter mess.
P.S. I know that Charlie Brown bit was lame, but I'm still ridiculously proud of myself for coming up with it.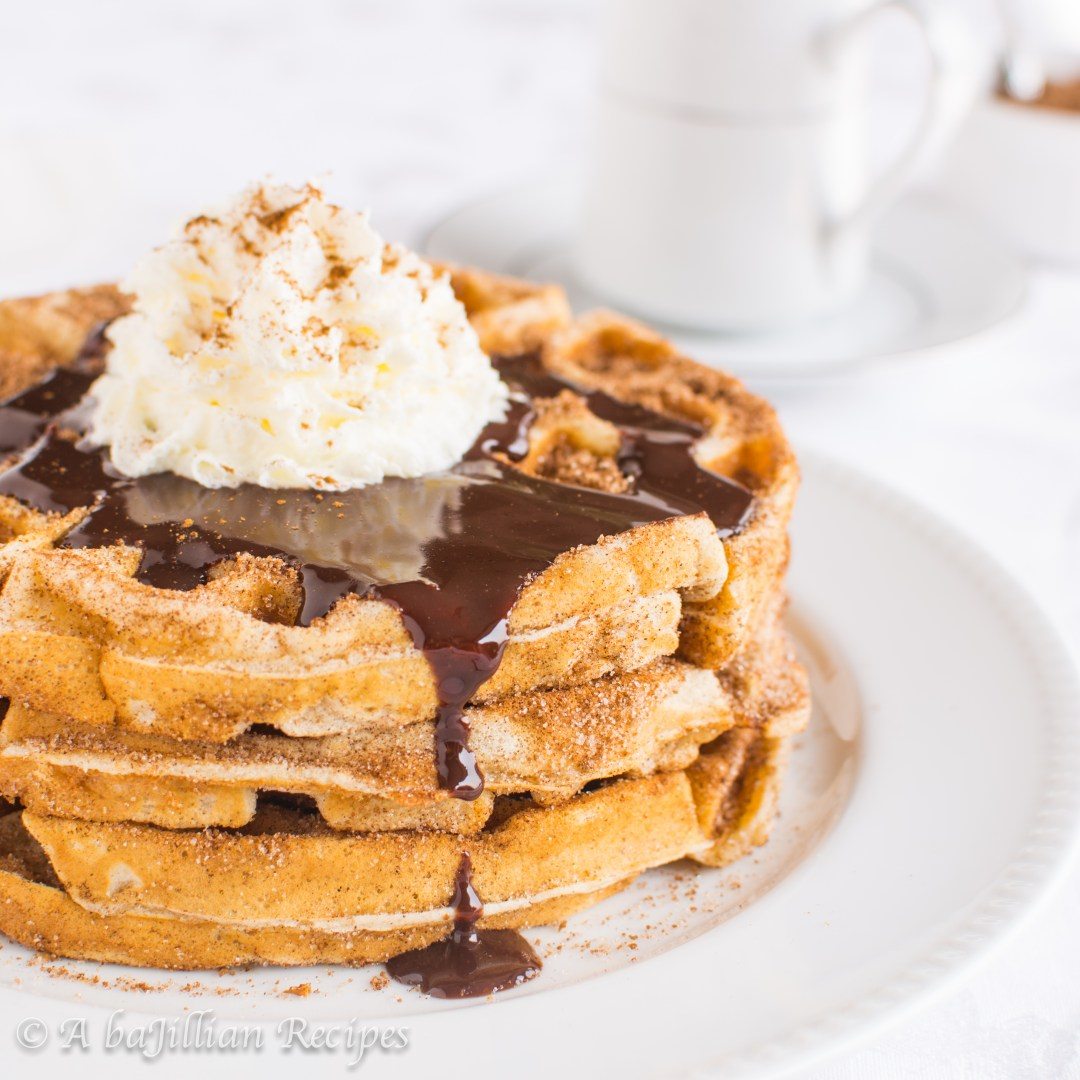 Click here for the spiced Mexican chocolate recipe.
Print

Churro Waffles and Spiced Chocolate Sauce
---
Description
These churro waffles are coated in cinnamon sugar and drizzled with a sweet and spicy Mexican chocolate sauce.
---
Mexican Chocolate Sauce:
Click the link above for the recipe.
Churro Coating:
1/2 cup

granulated sugar

3 Tablespoons

brown sugar

3 Tablespoons

cinnamon
Churro Waffles:
2

and 1/4 cups milk

2 Tablespoons

lemon juice

2 cups

all-purpose flour

1/2 cup

cornstarch

2 teaspoons

baking powder

1/2 teaspoon

cinnamon

1 teaspoon

salt

2

eggs (separated)

1/3 cup

granulated sugar

1/2 cup

vegetable oil

1

and 1/2 teaspoon vanilla extract

1/2 teaspoon

almond extract
---
Instructions
Make the Sauce:
Click the link above.
Make the Churro Coating:
In a pie plate or shallow dish, combine the granulated sugar, brown sugar, and cinnamon; set aside.
Make the Waffles:
In a medium bowl, combine the milk and lemon juice. Allow to sit while you work on the batter. In a medium bowl, whisk together the flour, cornstarch, baking powder, cinnamon, and salt; set aside.
In a separate bowl, using an electric beater on high speed, whip the egg whites until soft peaks form. Add the sugar, then continue whipping until stiff peaks form.
Add the egg yolks, oil, and extracts to the milk mixture and stir until well combined. Pour wet ingredients into the flour mixture and stir until just combined–batter should be lumpy. Gently fold in the whipped egg whites.
Cook batter in a waffle iron according to manufactures instructions. Once cooked, immediately place waffle in the churro coating, flipping and sprinkling coating all over until fully covered.** If not serving right away, place coated waffle directly onto the (clean) rack of an oven that's been preheated to 200ºF, while you cook up and coat the rest of the waffles. Serve with Mexican chocolate sauce drizzled on top.
Notes
***If you have trouble getting the churro coating to stick, brush the waffle with a little melted butter, then try coating it again.
Category:

Breakfast, Dessert
Jillian Hatsumi
I'm Jillian, the writer, baker, chef, recipe creator, and amateur (very amateur) photographer of A baJillian Recipes. Though I'm not a classically trained chef, I like to think I know my way around a kitchen pretty well. Aside from baking, cooking, and EATING, I also enjoy acting, couponing (I LOVE saving money!!), running, working out, photography, and playing with my little fluffernutter, Olivia. She's a dog, if you're wondering...