Tailgate season is here! Often, tailgate menus are more of a potluck setup where everyone brings a dish or drink to pass. Here are a few bites and drinks to inspire your next tailgate offering.
Some of these suggestions and ideas come from the tailgating king himself, James Beard Award winning Chef John Currence. He feeds at least 2,000 football fans by noon on game days at City Grocery in Mississippi.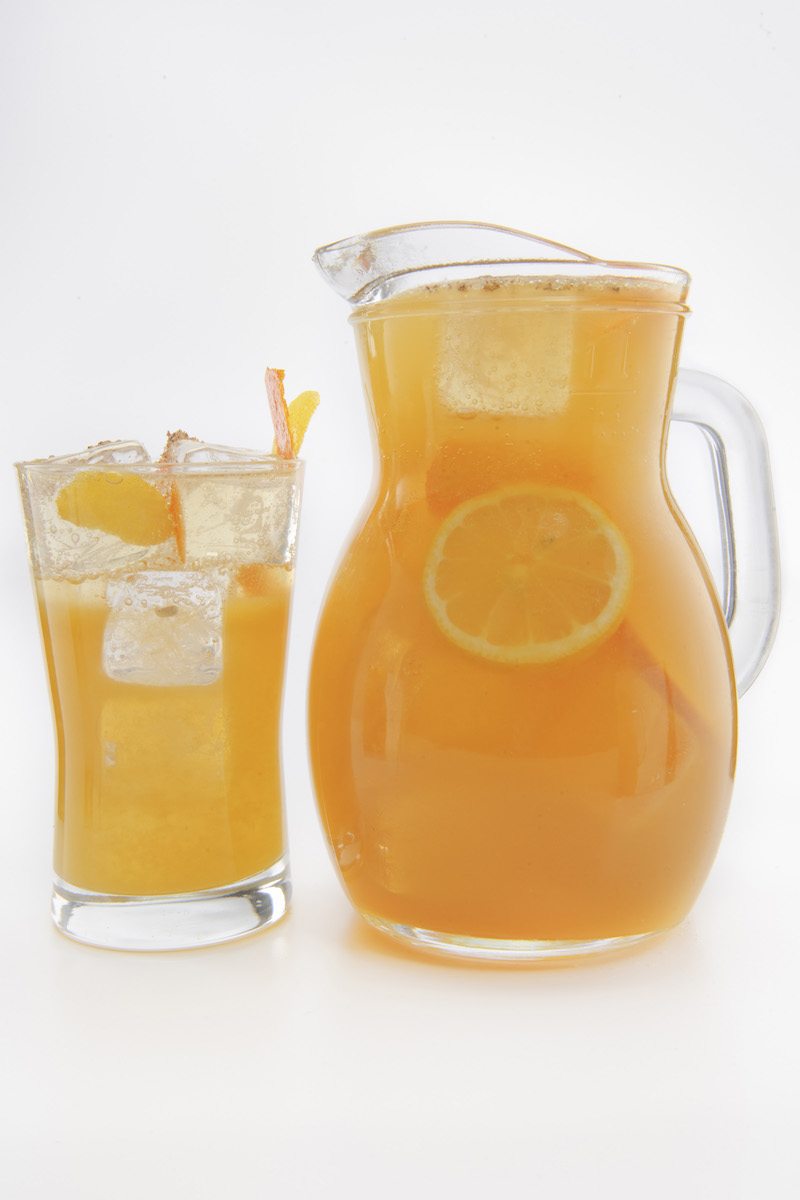 To Drink: Fancy Bourbon Punch
Make a big pitcher or throw it in a few hydro flasks for easy transport and take it to your tailgate party. Created by Mixologist Matt Wallace.
1 liter Maker's Mark® Bourbon
1 cup granulated sugar
Peels of 3 lemons and 1 orange
Juice of peeled fruit
1 liter of strong tea (preferably green tea)
250 ml champagne (club soda can be used for a less fancy version)
Freshly grated nutmeg*
Combine sugar and citrus peels in the bottom of a punch bowl. Muddle together until sugar starts to clump together. Let sit for about 2 hours, (while not necessary, this does add a little complexity). Brew the tea for about 30 minutes, remove loose tea or tea bags and allow to cool. Add the juice of the peeled fruit, tea and bourbon. Stir. Top with champagne just before serving and stir gently. Top with freshly grated nutmeg and serve.
*If you can't grate fresh nutmeg, don't use the prepackaged powdered stuff. It will turn your punch into a paste. If fresh isn't possible, garnish with citrus wheels or fresh fruit.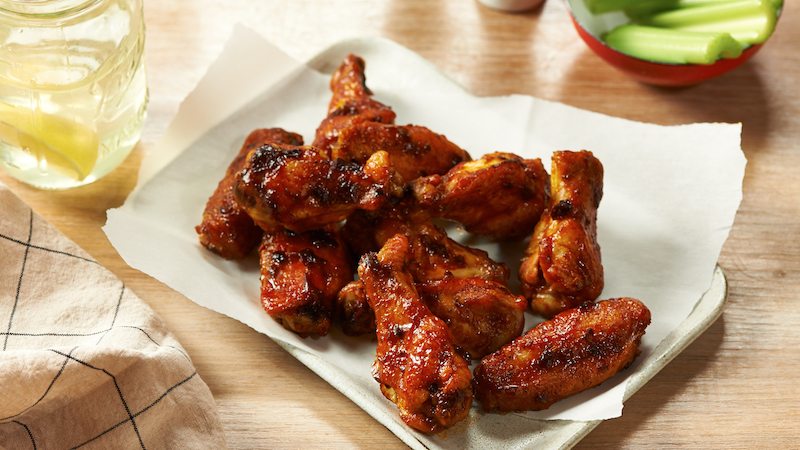 Chipotle Chicken Wings
Sweet, spicy, sticky, just how wings should be. Make a pan, cover in foil and head out to meet your friends. Created by Genevieve Ko, cookbook author and food writer.
Active Time: 10 minutes
Total Time: 1 hour 10 minutes
Makes: 4 servings
chicken wings (4 1/2 pounds), split, tips discarded
Kosher salt and freshly ground black pepper
1/2 cup Maker's Mark® Bourbon
5 chipotle chiles in adobo, finely chopped with sauce
1/3 cup honey
2 tablespoons tomato paste
1. Preheat the oven to 375°F.
2. Arrange the wings on a half-sheet pan in a single layer and season with salt and pepper. Bake until just cooked through, about 20 minutes.
3. Meanwhile, in a medium saucepan, whisk together the bourbon, chipotles, honey, and tomato paste until smooth. Bring to a boil over medium heat, then reduce the heat to simmer for 10 minutes.
4. Pour the hot glaze over the wings and toss to evenly coat. Bake, stirring twice, until browned and caramelized, about 40 minutes. Serve hot.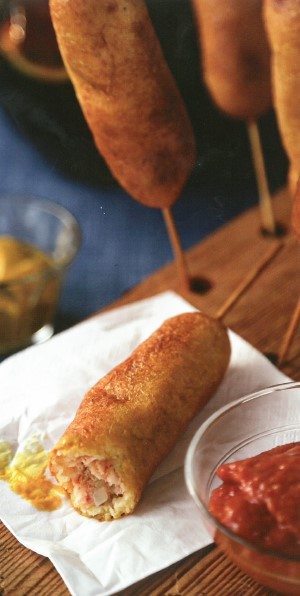 Shrimp and Lobster Corn Dogs
Food on a stick is always a winner. These corn dogs will be a delightfully new bite for your tailgate crew and require no utensils. Created by Chef John Currence, adapted from Big Bad Breakfast: The Most Important Book of the Day
Serves 8
1 pound cooked lobster claw and tail meat, chopped
½ pound shelled, fresh shrimp, chopped (26 to 30 count)
2 medium shallots, minced
1 teaspoon finely minced garlic
2 tablespoons chopped fresh chives
½ cup toasted bread crumbs
2 tablespoons Grainy Mustard
6 tablespoons heavy cream
2 large eggs, whisked until broken up
Finely grated zest and juice of 1 lemon
½ teaspoon cayenne
Salt and freshly ground white pepper
To make the corn dogs: Combine the lobster, shrimp, shallots, garlic puree, chives, bread crumbs, mustard, cream, eggs, lemon zest and juice, cayenne, and salt and white pepper in a food processor. Pulse quickly just to combine. You do not want to puree this mix or add any air to the eggs, or else they will rise when they cook. They are meant as a binder only.
Spoon the seafood mix into a zip lock bag and seal. Cut a corner off the bag and pipe a fat line of the mixture onto 8 (12-inch-long) pieces of plastic wrap. You want the seafood lines to be about as long as typical hot dog, but they should be a little fatter. Fold the plastic over the mixture and roll the "sausages" up tightly. Grabbing the ends of the plastic, roll the sausages across the counter so that it tightens while you hold the ends. Fold the ends in toward the center and then roll the sausages in aluminum foil to secure them. If you are not proceeding immediately, refrigerate the uncooked sausages.
See Also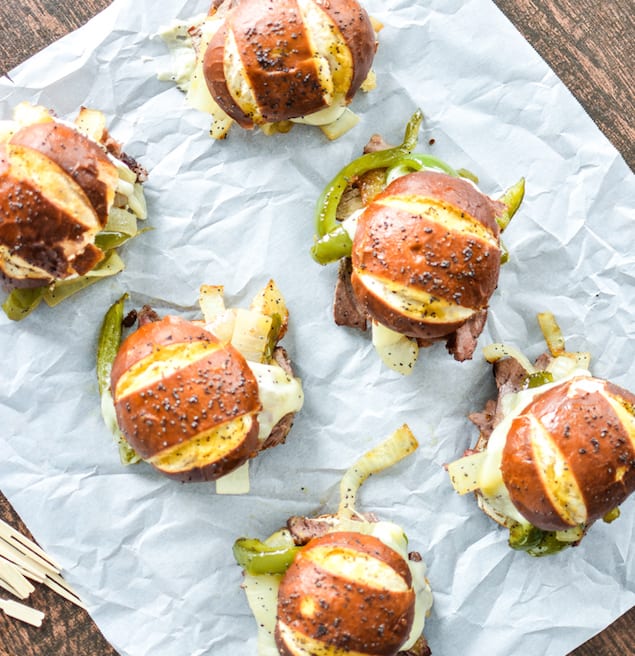 Fill a medium soup pot with 4 quarts water and bring to a boil over high heat. Lower the heat to medium and drop the sausages into the boiling water. Poach for 12 minutes. Remove them from the water and let them cool in their wrappers. Refrigerate for 2 hours or as long as overnight.
Remove the sausages form the refrigerator and peel off the aluminum foil and plastic wrap. Insert a bamboo skewer into one end of each of these "dogs" and push until the skewer goes about three-quarters of the way through the dog.
Corn Dog Batter
2 cups yellow cornmeal
2 cups all-purpose flour
1 teaspoon baking soda
¾ teaspoon salt
3 tablespoons sugar
1 teaspoon onion powder
½ teaspoon cayenne
3 cups buttermilk
½ cup whole milk
3 tablespoons unsalted butter, melted
2 large eggs
Blend together the cornmeal, flour, baking soda, salt, sugar, onion powder, and cayenne in a stainless-steel bowl. In a separate bowl, whisk together the buttermilk, milk, butter, and eggs. Whisk the wet ingredients into the dry ingredients until evenly smooth. Let stand at room temperature for 20 minutes.
Frying and Serving
4 cups peanut oil
2 cups lard
2 cups Seasoned Flour
Ketchup and/or mustard, for serving
Heat the oil and lard together in a medium Dutch oven to 375F. Dredge the dogs in the seasoned flour and knock off any excess. Dip them into the batter and allow the excess to drip off briefly. Gently place the dogs in the hot oil and cook until golden brown, about 5 minutes. Remove and drain them briefly on a plate lined with paper towels. Serve with ketchup or mustard.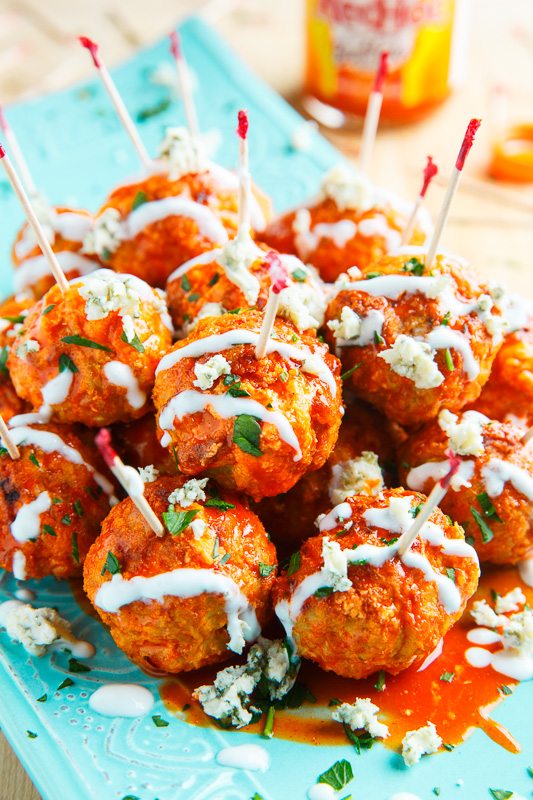 www.closetcooking.com
Jalapeno Popper Stuffed Buffalo Chicken Meatballs
They're spicy, but cooled down with a cream cheese center. See the recipe.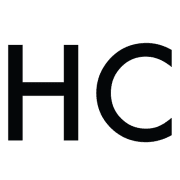 Honest Cooking
The Honest Cooking editorial team handpicks inspiring culinary stories to share with you that we think are beautiful. As an international online culinary magazine with the ambition to truly change the face of online food media we hope to create an inspiring place for serious culinary debate, salivating recipes, interesting food news and international food-fun.