Chocolate Texas Sheet Cake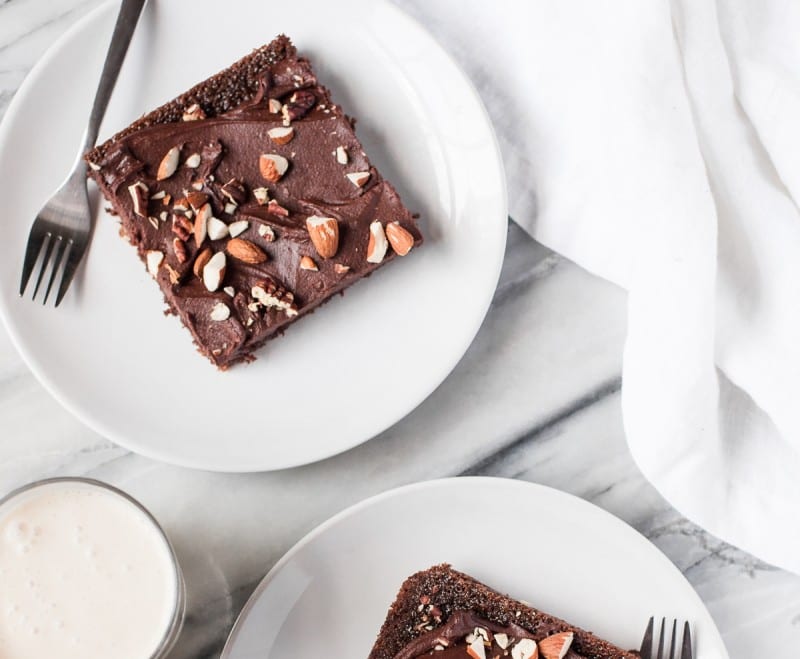 PARTNER POST: Discover how delicious dairy-free sweet and savory cooking can be with DREAM Ultimate Almond.
Start baking this rich, chocolate Texas sheet cake that is topped with a smooth ganache and so easy to make when you need a dessert for a crowd.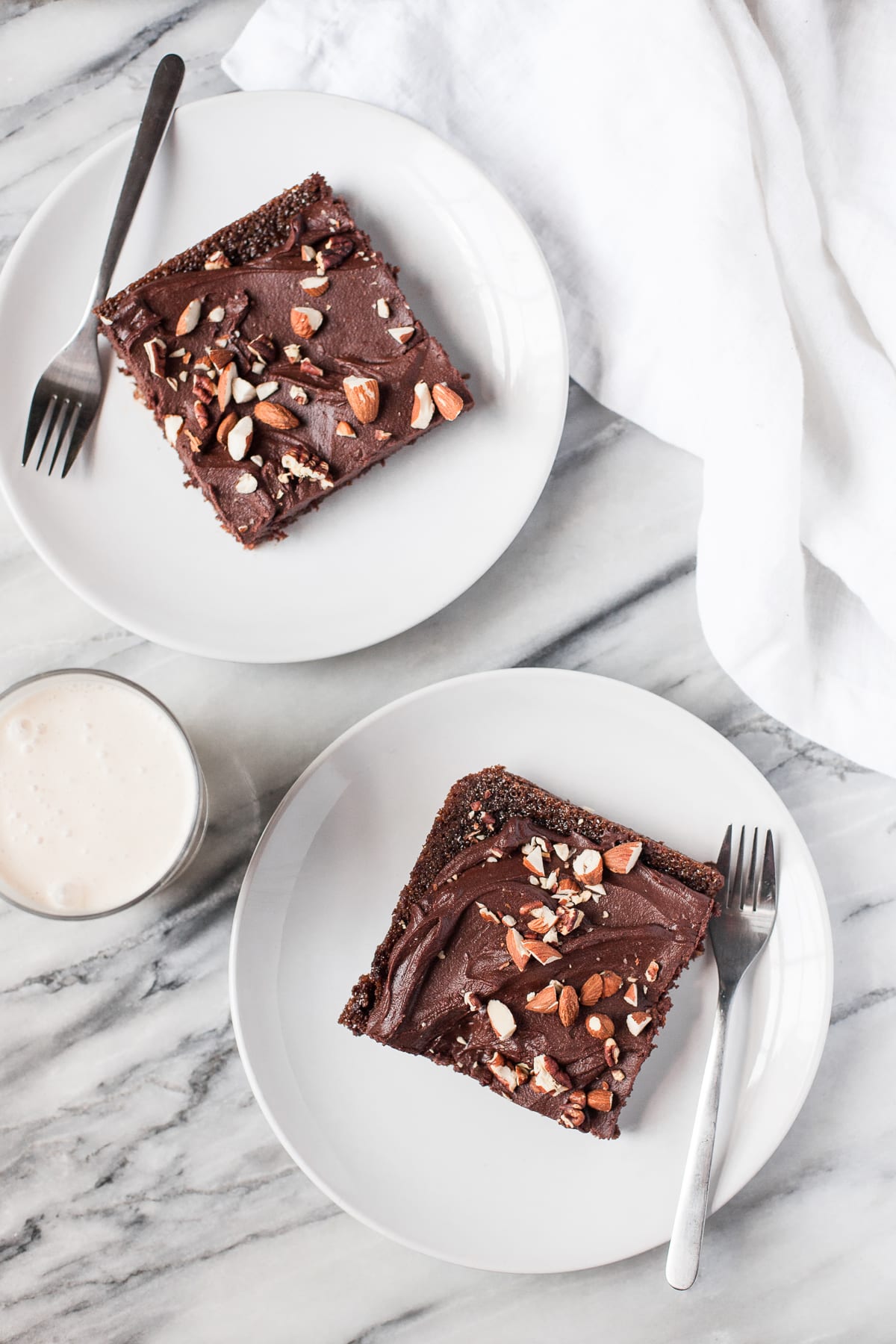 When you need grain-free, dairy-free cake for a crowd, this easy Texas sheet cake is here for you! It's simple to make (no mixed needed!) and impossibly delicious.
It's ideal for feeding folks with dietary restrictions since it's paleo-friendly and free of gluten, grains, and dairy. And it's also just the thing for when you suddenly need chocolate cake on a random afternoon and don't want to wait too long to get your fix. With a chocolate sheet cake, you don't have to worry about un-molding, stacking, or leveling multiple layers of cake. And since sheet cakes are thin, they cool quickly so you don't have to wait long to frost them. You can make this whole thing, start to finish, in less than an hour. It's also just really fun to look at such a vast expanse of cake!
This cake also has the best texture of any paleo-friendly chocolate cake I've ever made–it really tastes just like a regular cake! But, like a really good, homemade regular cake–not a store-bought one, of course. I looked to classic, gluten-laden Texas sheet cake recipes for guidance in developing this recipe, and discovered that they are usually made with buttermilk. Buttermilk works together with baking soda to help cakes rise, and also helps create a tender crumb. For this recipe, I made a super simple dairy-free buttermilk replacement using Dream Ultimate Almond Unsweetened Almond Beverage and a little bit of apple cider vinegar.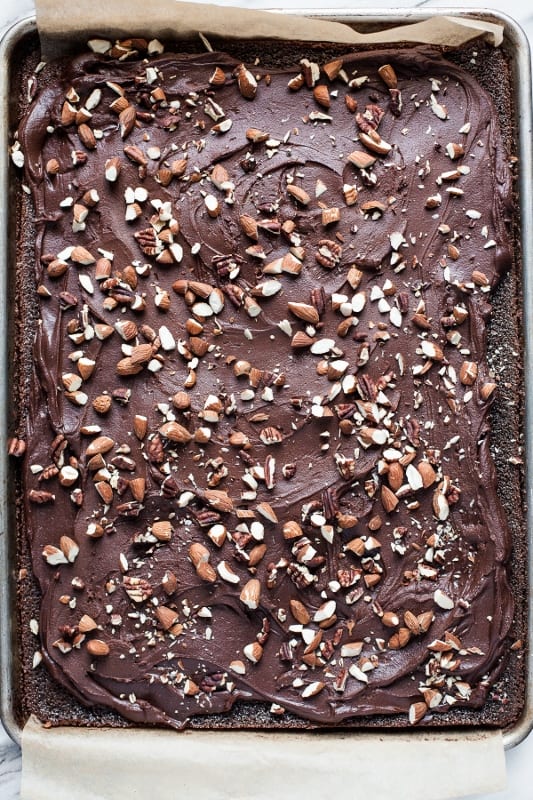 Dream Ultimate Almond is a new line of almond beverages made with four times more California almonds, and it shows. It's rich, creamy, and also packs five grams of plant-based protein per serving. I'm thrilled to discover Dream Ultimate Almond because it is delicious in my morning coffee and also perfect for baking. In addition to using Dream Ultimate Almond to make faux buttermilk for the cake itself, I use two cups of it in the easy and ridiculously tasty chocolate ganache that I use to frost the cake. That means there are ten grams of protein in that frosting! I won't say this is health food, but I feel pretty good about it as compared to a traditional frosting made with heavy cream.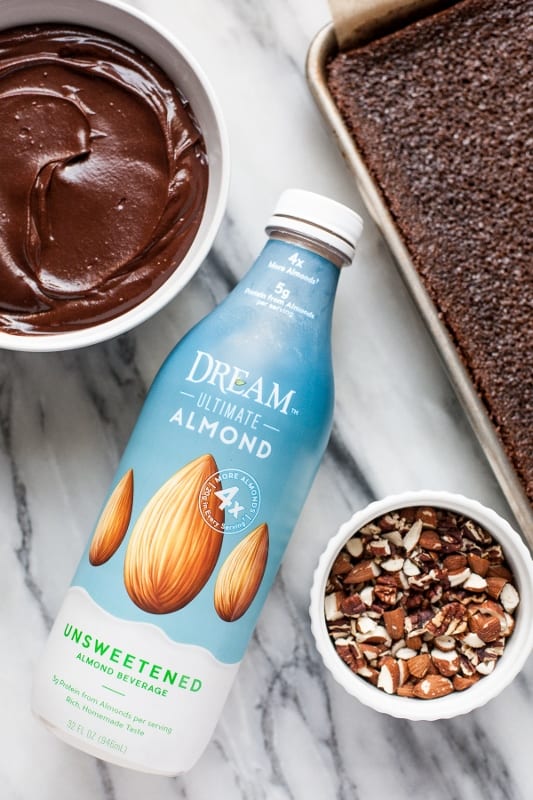 Like the cake, the frosting is super easy. You just pour a bunch of chocolate chips (or chopped dark chocolate, if you prefer) into a bowl and add a little vanilla and a tiny bit of salt. Then you heat up the Dream Ultimate almond, either stovetop or in the microwave, pour it over the chocolate, wait a beat for it to melt, and then stir. There's no mixer required (for the cake or the frosting!), and the results are so good. Just look at that bowl of silky, chocolaty perfection below. I'll admit to eating several spoonfuls of it before frosting the cake. I ALMOST ate a whole bowl of it like pudding, but the thought of a naked, ganache-less cake brought me back to my senses. This light, tender cake and rich, velvety ganache are made for each other. I added toasted almonds and pecans on top, which provide pops of crunch in almost every bite. The pecans are a nod to traditional Texas sheet cakes and the almonds are a nod to the Dream Ultimate Almond and almond flour used to make the cake, but you can use all almonds, all pecans, or no nuts at all on top if you prefer. And in case you're wondering, the cake and frosting don't taste like almond at all.
The new DREAM Ultimate Almond beverage can be found now at Whole Foods and soon at your local Sprouts. Click here for a coupon.
For more inspiration, check out this easy ice cream, no dairy or churning needed!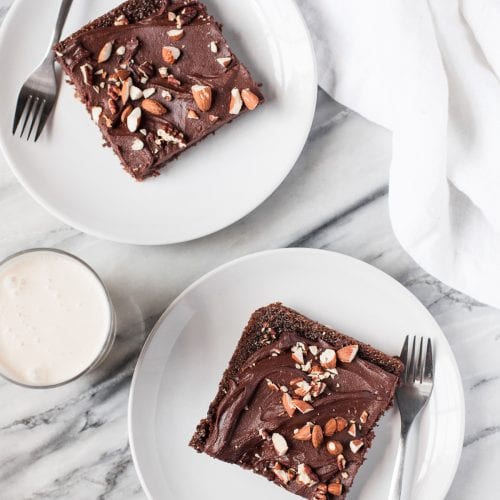 Becky Winkler
Course
Chocolate, Dessert
Ingredients
For the cake:
1¾

cup

almond flour

½

cup

tapioca flour

¼

teaspoon

sea salt

½

cup

Dream Ultimate Almond Unsweetened

1½

teaspoons

apple cider vinegar

1½

cups

maple syrup

¾

cup

avocado oil

plus more for greasing the pan

1/3

cup

cocoa powder

1

teaspoon

espresso powder

1

teaspoon

vanilla extract

2

large eggs

1

teaspoon

baking soda
For the chocolate ganache:
4

cups

dairy-free dark chocolate chips or chopped dark chocolate

about 24 ounces

¼

teaspoon

sea salt

1

teaspoon

vanilla extract

2

cups

Dream Ultimate Almond Unsweetened
For the topping:
1

cup

pecans halves and/or almonds

lightly toasted and chopped*
Instructions
Preheat the oven to 350°F. Line the bottom of a 13x18x1-inch sheet pan with parchment and grease the bottom and sides with a little avocado oil.

Measure out half a cup of Dream Ultimate Almond into a two-cup measure and stir in the apple cider vinegar. This is our dairy-free substitute for buttermilk. Let it sit while you prepare the other ingredients.

Whisk together the almond flour, tapioca flour, and salt in a large bowl.

Warm the maple syrup, avocado oil, cocoa powder, and espresso powder in a saucepan over medium heat, whisking occasionally, until quite hot to the touch but not simmering. Turn off the heat and stir in the vanilla extract. Pour into the bowl with the dry ingredients and stir until no lumps remain.

Add the eggs and baking soda to the two-cup measure with the almond "buttermilk" and beat with a fork. Pour the egg mixture into the bowl with the batter and stir until thoroughly combined.

Pour the batter into the prepared pan and bake for 20 minutes, or until set. Let cool in the pan.

To make the chocolate ganache, put the chocolate chips, sea salt, and vanilla extract in a very large heatproof bowl. Microwave the Dream Ultimate Almond or heat it in a saucepan until very hot but not yet simmering. Pour it over the chocolate, cover the bowl, and let it sit for a couple of minutes to give the chocolate time to melt. Stir the ganache until smooth.

You can frost the cake right away or refrigerate the frosting for twenty minutes or so if you'd like it a little firmer. Use a spatula to spread the frosting onto the cake and sprinkle the nuts on top. Slice into squares or rectangles and serve.
Notes
*Roast the nuts on a dry sheet pan in a 350°F oven until they're slightly darker and fragrant, 5-10 minutes. Transfer the nuts to a plate to cool before putting them on top of the cake.



d
Becky Winkler
Becky Winkler is an enthusiastic eater who shares paleo and gluten-free recipes on her blog, A Calculated Whisk. She enjoys chopping chocolate, salting dessert, searing short ribs, and taking pictures. In her other life, she's a grad student in Boston.