California Love – Chocolate Saltine Sandwiches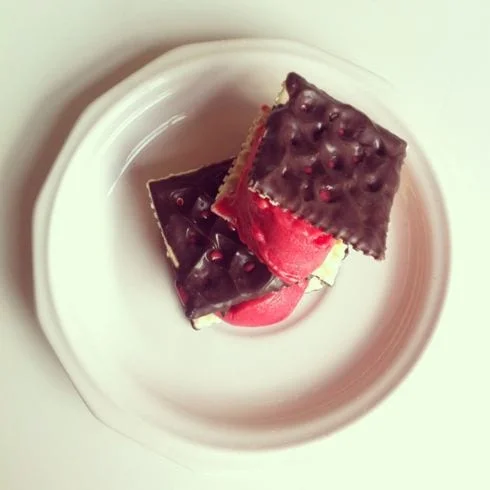 Switch out the Roman Raspberry for another fruity sorbet to go in this salty-sweet sandwich.
By Olivia Caminiti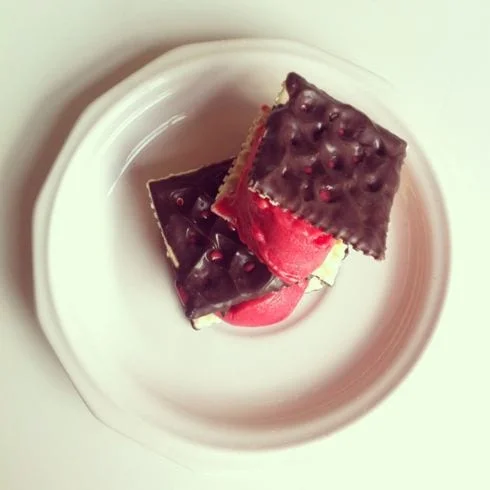 Talenti sorbetti and gelati are some of the best I have found. The flavors are full and the texture is spot on! Roman Raspberry sorbetto is my most recent favorite for the tartness that I crave on a hot summer's day. The salty bittersweet bite of the chocolate covered Saltines gives the typical ice cream sandwich cookie come competition. Once a complete chocolate Saltine sandwich is in my hand I like to crush it a bit before diving in to make sure it gets in my mouth before getting all over my lap. The recipe says it serves four but I know I have a hard time just eating one!

California Love- Chocolate Saltine Sandwiches
Switch out the Roman Raspberry for another fruity sorbet to go in this salty-sweet sandwich.
Ingredients
8 Saltine crackers
2 oz Ghirardelli dark chocolate, chopped into small pieces
Talenti Roman Raspberry sorbet
Instructions
Melt chocolate pieces over a double boiler.
Dip the top-side of the cracker in the chocolate, pressing down slightly, then place on cooling rack or wax paper covered baking sheet.
Place chocolate crackers in the freezer to harden for about 5 minutes then remove to add sorbet.
Scoop a tablespoon size scoop of sorbet on to 4 of the crackers and then top with the other four crackers.
Enjoy immediately & repeat!
Notes
Replace the Ghirardelli chocolate for your favorite dark chocolate.
Olivia Caminiti
Olivia's passion for food is rooted in California's Bay Area though now regrowing in Austin, Texas. She mixes with her travel experience, eye for beautiful food and intuition to find the next ingredient to keep a balance in life. See what she incorporates next and check-out her website at oliviacaminiti.com