Hard scoop gelateria-style ice cream tucked into crispy vanilla cones.
By Jehanne Ali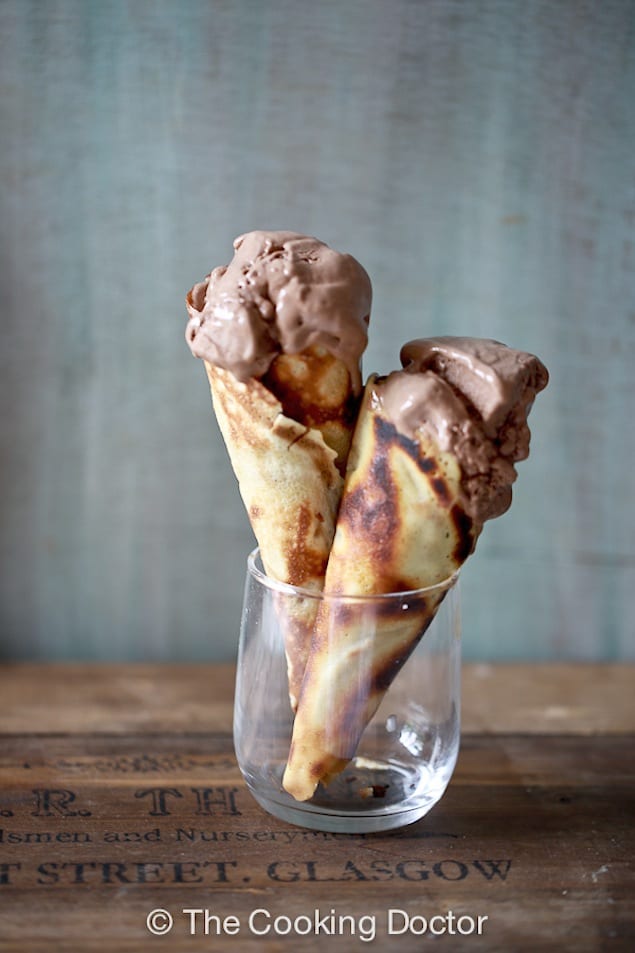 It is so much fun to see this cone become crispy and take shape upon cooling.

Chocolate Ganache Ice Cream in a Cone
I use semi skimmed milk to reduce on calories, but feel free to go back to whole milk.
Serves:
1.5 pints, 6 people
Ingredients
Ice Cream
4 large egg yolks
1 tsp vanilla extract
2 cups semi skimmed milk
½ cup sugar
2 cups heavy cream
1½ cups dark chocolate couverture
For the ice cream cone- recipe adapted from Allrecipes here
1 large egg
2 tbsp melted butter
3 tbsp milk
2 tbsp sugar
2 tbsp plain flour
1 tsp vanilla extract
a pinch of salt
Instructions
For the ice-cream, simmer 1 cup of cream in a pan until almost boiling.
Place the chocolate in a bowl and tip in the hot cream, whisk until ganache is formed ( thick and shiny).
Chill until ready to use.
In a bowl whisk the egg yolks with sugar and vanilla extract.
Simmer the milk in a pot over the stove until it reaches boiling point.
Tip into the egg yolks and continue whisking so the yolks do not curdle.
Place the whole custard mix back into the pot and simmer gently until it thickens, or until a thin film sticks on the wooden spoon.
Pour over the chocolate ganache and the remaining cold cream.
Whisk to combine and chill for 3 hours or preferably overnight.
The next day, churn in the ice-cream maker following manufacturer's instruction.
For hand churning, freeze the custard in a shallow pan for 2 hours, then bring out to churn using stand mixer, keep repeating every 3 hours for couple of times, to prevent crystal formation.
For the ice-cream cone, combine all the ingredients to form a batter.
Pour the batter on hot greased pan to form a small thin circle ( thin like crepe, thinner than pancakes).
Cook on low-medium heat and flip so both sides are browned.
Place it on a plate and quickly roll to form a cone, and pinch to seal the bottom of the cone.
The cones will be crispy as they are cooled.
Jehanne Ali
Jehanne is an enthusiastic baker, food blogger, mother and wife all in one. She swaps her scalpel from her day job as a doctor to kitchen utensils in the evening and creates magical treatment of healthy treats for her family, which she shares in her blog, The Cooking Doctor. She is a firm advocate of healthy eating and always believes that honest and healthy food will steer you clear from the doctors.