Vegan popsicles using whipped bananas and almond milk are an easy, cool treat to make. Plus, it is so easy to experiment with different toppings.
By Vicky Cohen and Ruth Fox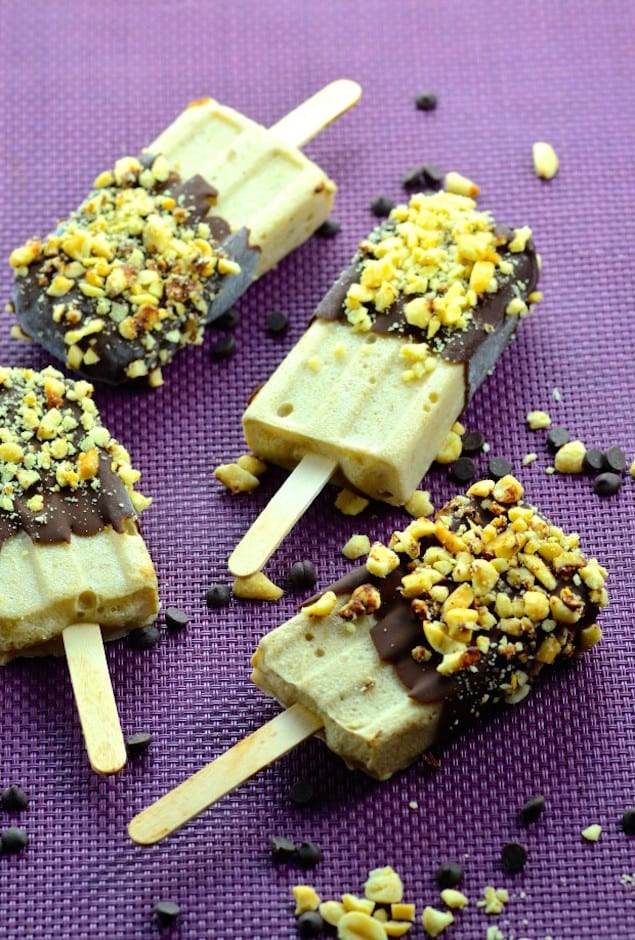 Last summer we introduced you to Strawberries and Cream vegan popsicles, and this year we have a new, delicious vegan treat in store for you.
Popsicles are fantastic recipes to try out in the summer. They are also a great opportunity to begin experimenting in the kitchen because there are so many ways to make them! It could be argued that it is harder to try to make a BAD blend for popsicles than it is to create something delicious! Whether you want something fruity, creamy, or chocolatey there is always a new recipe on the horizon, which means there is always something new to look forward to.
This time around our goal was to create a recipe which was all of the best parts of popsicle experimentation. We wanted something fruity, creamy, AND chocolatey in one simple recipe.
The greatest part of this recipe, outside of the flavor, is perhaps how simple it is to make. The banana portion of this popsicle is created by whipping frozen bananas and blending them with almond milk. Nothing else. The added chocolate and crushed peanuts, an alternative to the chocolate and pistachios from the Strawberries and Cream recipe, is added after the pops have frozen.

Chocolate-Dipped Banana Paletas
Vegan popsicles with whipped bananas and almond milk are a simple treat to make. Plus, it is easy to experiment with new toppings for these banana paletas.
Author:
Vicky Cohen and Ruth Fox
Ingredients
3 large bananas, chopped and frozen
½ to ⅔ cup unsweetened vanilla almond milk
1 cup vegan chocolate chips (we use Enjoy Life)
1½ tbsp coconut oil
⅔ cup salted peanuts, chopped
Instructions
Place frozen bananas and ½ cup almond milk in a food processor. Pulse until creamy (add extra milk if necessary, if the mixture isn't creamy enough). Pour into popsicle molds (makes about 10) and freeze for at least 4 hours
Once the popsicles are ready, melt the chocolate chips (you can do it in the microwave, at 20 second intervals, stirring often). Add the coconut oil and mix well.
Line a tray with wax or parchment paper. Dip each popsicle in chocolate half way, and sprinkle chopped peanuts on both sides. Carefully place then on the lined tray. Freeze until ready to serve
Vicky Cohen and Ruth Fox
We are two sisters born and raised in Barcelona, Spain, with Sephardic and Middle Eastern roots. We grew up eating the best, most flavorful, comforting home-cooked meals prepared by our mom, who taught us everything we know about cooking. When we moved here to the U.S. we felt it was really important to keep our traditions and background alive, and we've done so by sharing it with everyone we've met throughout the years. After all, what better way to make new friends and share our love and culture than through food, right? Our friends have come to enjoy our food and gatherings so much that are always asking us for our recipes. That inspired us to start a cooking blog called "May I have that recipe" where we share recipes we've created inspired by our multicultural background.