These cookies are no science. But they sure are delicious.
By Tamara Novacoviç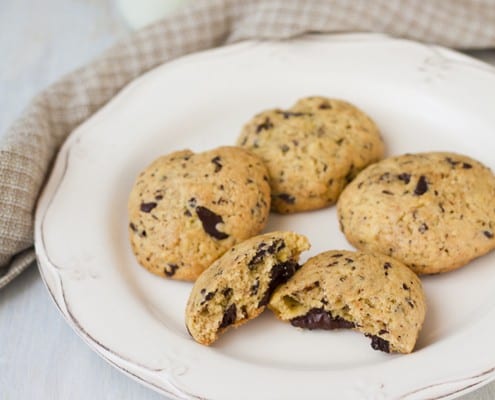 I've never been keen on making cookies, I usually bake batches for Christmas holidays and then forget about them for the rest of the year. But I've recently started a cute little project with my friend that involves making cookies. One of my favorite so far are classic chocolate chip.
These cookies are no science. The most important thing is to chill the dough for at least 24 hours, so that dry ingredients get to properly soak up all the wet ingredients and result in chewy and thick cookies, instead of flat ones with burned brown edges. Also, there's no need to beat butter with sugar until light and fluffy, it's enough to mix it for a minute, just to combine all ingredients. Vanilla extract is almost obligatory in this dough and I added some almond extract, gotta say the dough had wonderful flavor. I also like to combine milk and dark chocolate.
Ingredients
12.6 oz (360 g) all purpose flour
7 oz (200 g) butter
7 oz (200 g) brown sugar
1.7 oz (50 g) sugar
1 tsp salt
1½ tsp baking powder
1 tsp almond extract
1 tbsp vanilla extract
1 egg
1 egg yolk
3.5 oz (100 g) milk chocolate
7 oz (200 g) dark chocolate
Instructions
Beat butter with sugar and brown sugar, salt, almond and vanilla extract for 1 minute. Add egg and egg yolk. Then add flour combined with baking powder. In the end add chopped dark and milk chocolate, combine. Wrap in foil and refrigerate for at least 24 hours.
The next day, preheat oven to 356 F (180 C).
Spoon batches of dough, make balls and line them onto baking sheet lined with parchment paper. Slightly flatten them. Bake for 180 C.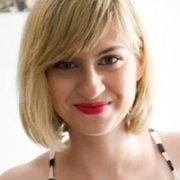 Tamara Novakoviç
Tamara Novakovic is a passionate self-taught cook, food blogger, freelance food writer and photographer behind bite-my-cake.blogspot.com. Her life journey has led her through Faculty of Humanities in Zagreb, Croatia to discovering passion for making cakes. She is currently a weekly food columnist for Croatian newspaper V magazine and food magazine Repete.