Every chocolate lover must have a chocolate cake recipe, that is tried and tasted, reliable and can be recommended. This is a keeper for sure.
By Sukanya Ghosh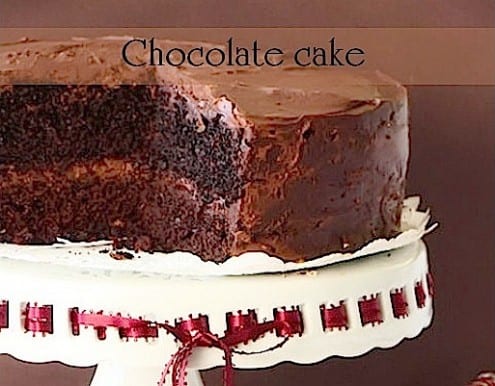 An old style chocolate cake, no fancy designs, no flowers and no fondant works and comes with no frills attached. This is for pure chocolate lovers!
Print
Chocolate Cake with Mousse Filling and Covered with Ganache
Every chocolate lover must have a chocolate cake recipe, that is tried and tasted, reliable and can be recommended. This is a keeper for sure.
Author:

Sukanya Ghosh, adapted from Ina Garten's Beatty's chocolate cake

Prep Time:

1 hour

Cook Time:

2 hours

Total Time:

3 hours

Yield:

4

Category:

Chocolate
Chocolate cake base (two 9 inch round cake)
Cake flour : 2 cup + 4tbsp
Light brown sugar : 1½ cup
Honey : ½ cup
Natural cocoa : ¾ cup + more for dusting
Baking powder : 2 tsp
Baking soda : 11/2 tsp
Salt : 1 tsp
Espresso powder : 2 tsp
Sourcream : 1 cup
Vegetable oil : ½ cup
Eggs (large) : 2
Orange extract : 2 tsp
Boiling water : 1 cup
Chocolate mousse with gelatin and without eggs
Heavy whipping cream : 1¾ cup
Semi sweet chocolate chips: 8 oz
Butter (unsalted) : 4 tbsp
Vanilla extract : 1 tbsp
Gelatin (unflavored) : 1 tsp
Sugar syrup : 1 cup
Chocolate ganache made with 6oz dark chocolate with 85% cacao content : 3 cup
Instructions
Chocolate cake base
Preheat the oven at 350 F.
Grease and dust the baking pans with cocoa. Dust the sides of the baking pan well.
In a bowl containing boiling water, add the cocoa powder and espresso and let it bloom for few minutes.
In a large bowl, sift the cake flour, salt, sugar, baking powder, baking soda and salt.
In a smaller bowl, beat the eggs, add the oil, honey, sourcream and the orange extract. Blend it well.
Now add the wet ingredients into the dry ingredient bowl slowly, blend it with hand mixer until just combined. Do not overmix the batter.
If you feel it is not combined yet, use silicone spatula and with cutting action blend the ingredients.
Divide the batter into two 9 inch round cake pans and bake in the preheated oven for 35-40 minutes or until the cake tester comes out clean.
Cool the cake in the pan for 20 minutes, finish cooling on a wire rack and after cooling it completely, if you are not procedding with the recipe, then wrap it with a cling film and refrigerate it until later use.
Chocolate mousse
Bloom the gealtin in ¼ cup of cold cream for 10 minutes.
In a double boiler, melt the chocolate with butter and vanilla extract. Cool and stir till it comes to the body temperature.
Warm the gelatin slowly by putting the gelatin and cream mixture in a hot water bowl.
Add this gelatin to chocolate mixture.
Beat rest of the cream until you get medium stiff peaks.
Add the gealtin – chocolate mixture and stir it.
Do not overwork on the mousse.
Cool it to room temperature and cover it with cling wrap and let it set in the fridge for 4 hours or overnight until set.
Assemble the cake
Bring the cake base to room temperature. While working on chocolate room should be sufficiently cold. So switch on th AC if it is too hot.
Spray or brush the chocolate cake with sugar syrup. I have used one part sugar to 2 part water ratio for the syrup.
Let the cake soaked in syrup for half an hour.
Put one layer of cake base on a cake board or plate you are using.
Take out the mousse from the fridge, dip the icing spatula in hot water and then scrape the mousse and generously apply over the base. Repeat the steps until you have used all the mousse. Spread the mousse evenly over the cake.
Now put another layer of the cake base over the mousse topped base. Press it gently so that the mousse oozes out of the corners.
Now take out the chocolate ganache from the fridge (it should be spreadable) and cover the cake with this.
Let the cake sit for 40 minute, before slicing it out.
Sukanya Ghosh
Sukanya writes the blog Saffronstreaks, a food and travel blog where she experiments in the kitchen spiced up with interesting food stories and gourmet travelogues. She loves to cook with fresh produce, enjoy both spicy and sweet and her many dining out experiences become cherished memories. Sukanya is from India but now lives in North Carolina, USA.