A creamy, rich chocolate mousse pie is hiding a green secret. You can't taste the avocados but along with coconut cream, they add a heavenly texture to this dessert.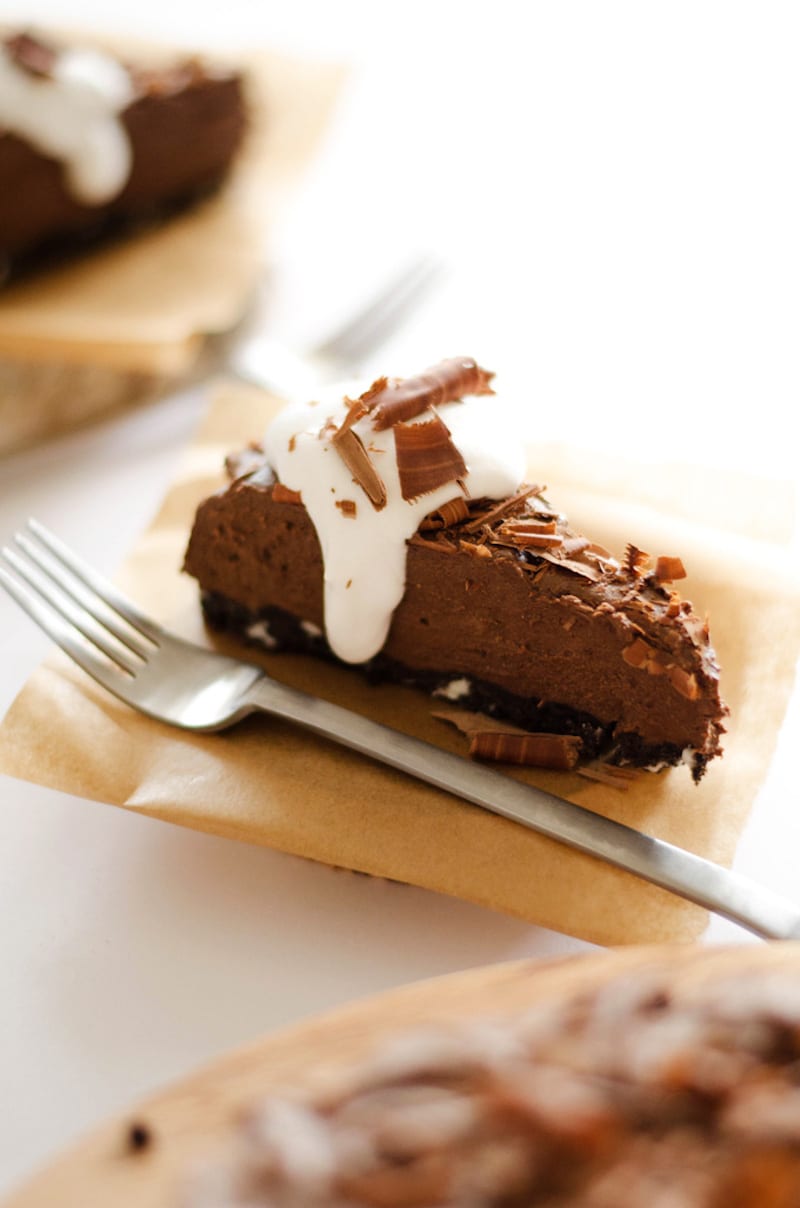 The Dutch like to plan things, which means rather than spontaneous dinners with family and friends, each day of the week has its pre-specified dinner date. And being a total Type A, I love this. But this is also great because it means I can plan out the days I cook to correlate with dinner date days, meaning I can try out my kitchen experiments on unsuspecting bystanders and get some honest opinions. So I served up this Avocado Chocolate Mousse Pie to the tulip-man and tulip-sister, mentioning nothing of the five avocados it contained, really putting this recipe to the test. It wasn't until I caved and admitted the secret ingredient was a green veggie that they could guess what it was! Mic drop.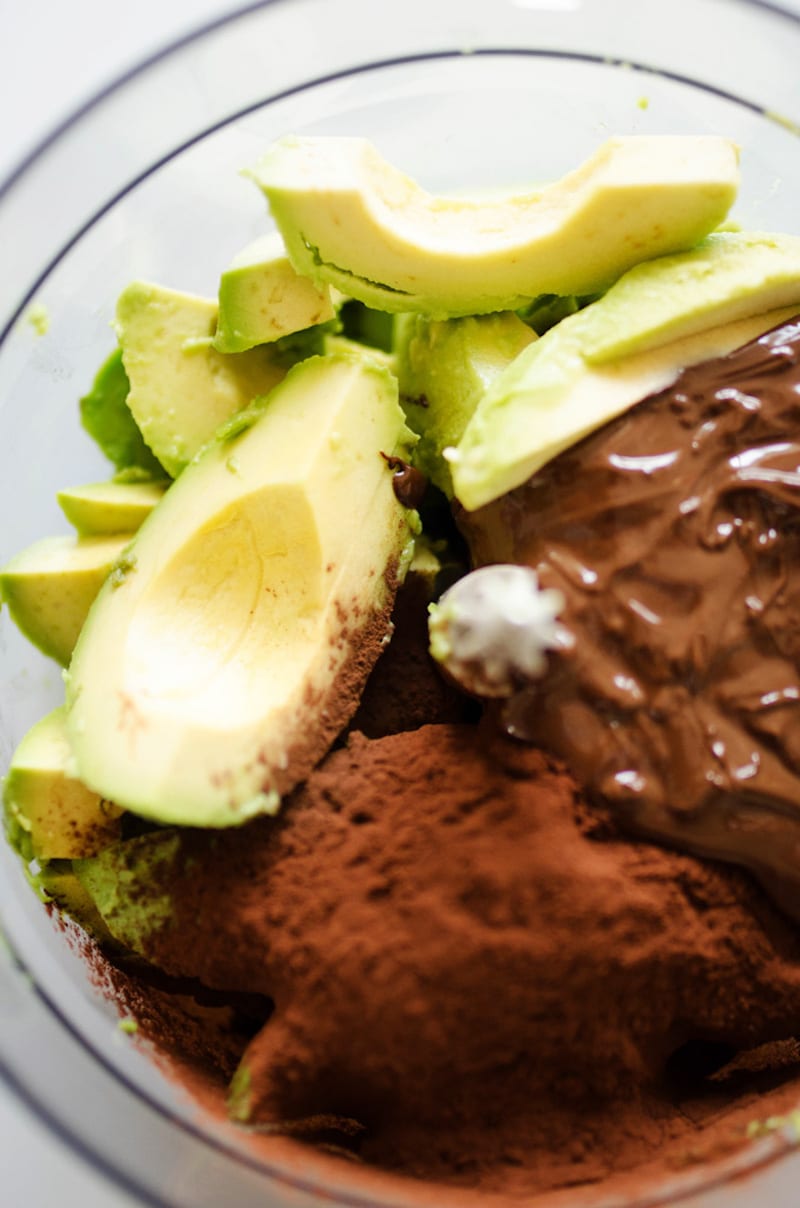 So how does this thing work? And can you really not taste the avocado? Answer: easy, and no! We're going to whip together avocados and chocolate to create an ultra-creamy sort of chocolate pudding. Now this pudding is delicious in itself, but we're not stopping there. Oh no. We want fluffy, heavenly mousse!
That's where the coconut cream comes in. We're going to get some good, full-fat coconut milk and let it separate into thick coconut cream and water. Whip the cream and fold it into the avocado chocolate, and there you have it, the makin's for a damn good Avocado Chocolate Mousse Cake.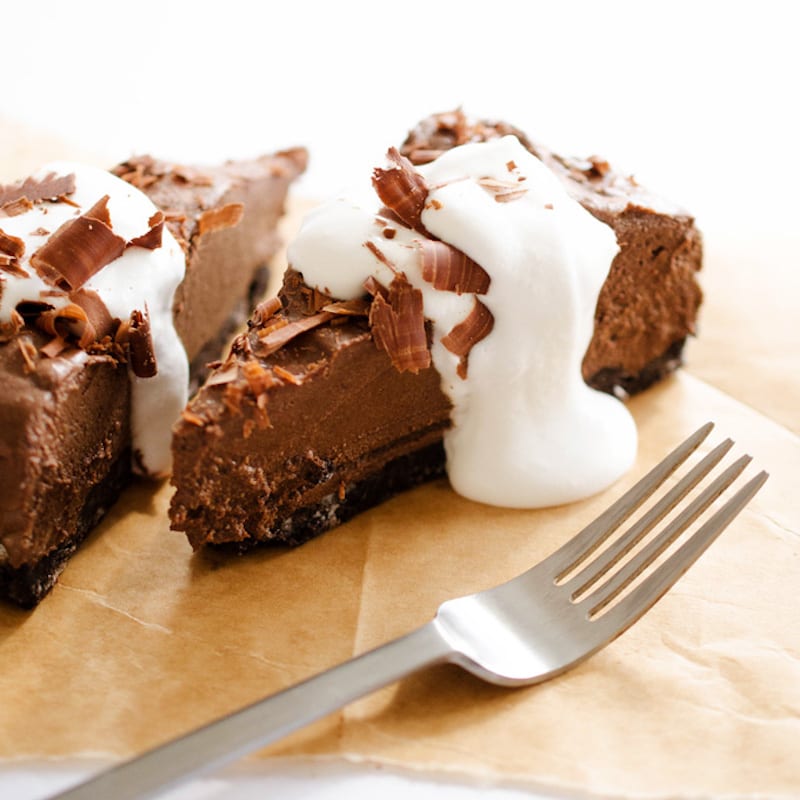 And for the base? Oreos. Because 1) I was missing some good ole American cookies and 2) They are surprisingly vegan (at least, the Oreos made in the U.S. are vegan). Top with more coconut cream, shaved chocolate (tutorial for the perfect chocolate shavings here), fresh berries…whatever you're feeling/have in your pantry!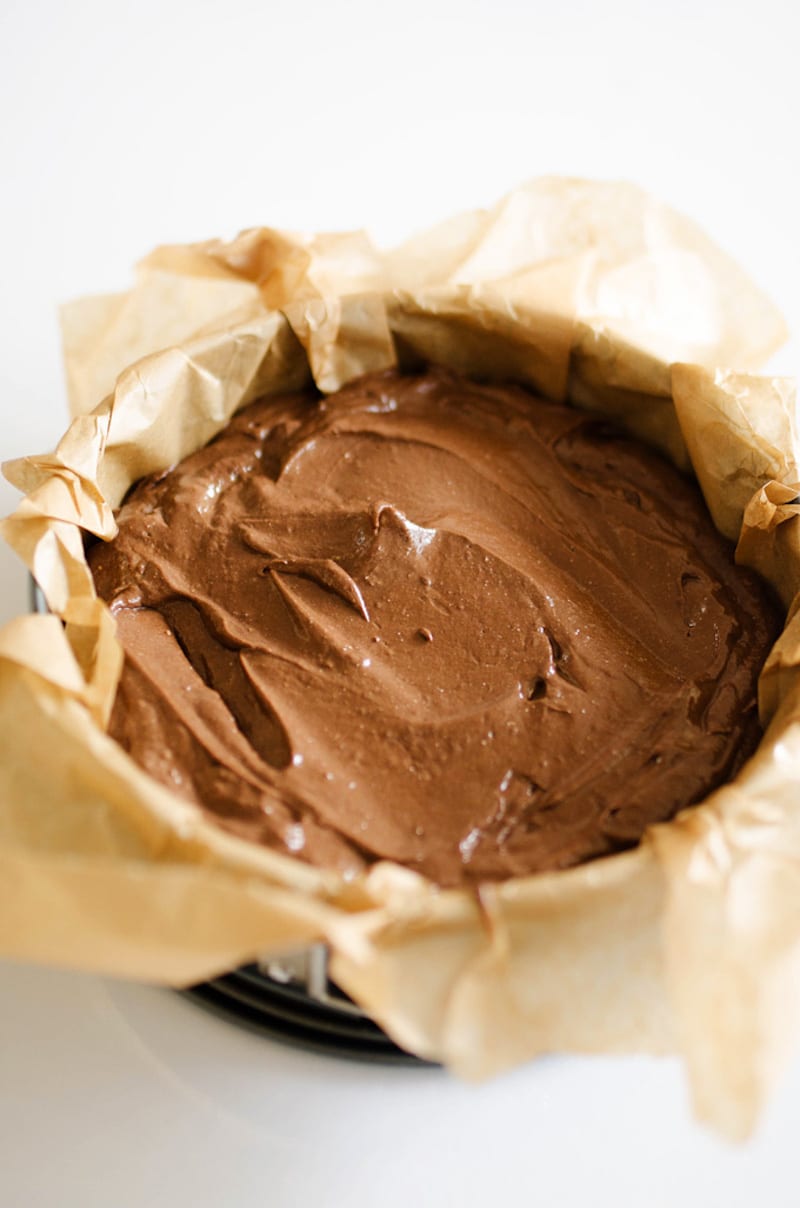 If you liked this pie, you may also like this Tofu Chocolate Mousse Pie!
Print
Author:

Sarah Bond

Yield:

8

-

12

servings

1

x
Category:

Dessert

Cuisine:

Vegan
20

oreo cookies

¼ cup

58 g butter, melted (or dairy-free alternative)

2

cans (13.5 oz, 400 mL full-fat coconut milk or cream, chilled overnight + 1 more can for topping (optional)*)

2 Tbsp

sugar

1

large bar (

7 oz

,

200 g

dark chocolate + more for topping (optional) (or dairy-free alternative))

5

avocados

½ cup

68 g cocoa powder

½ tsp

2.5 mL vanilla extract
Pinch of salt
Instructions
In a food processor, blitz the Oreos into coarse crumbs. Mix with melted butter and press into the bottom of a pie pan or parchment paper-lined springform pan. Set in fridge.
Being careful not to jostle your coconut milk cans, remove them from the fridge and open. The thick coconut cream should have separated to the top. Scoop out the dense cream, leaving the water**.
Whip the coconut cream with an electric mixer or food processor for a few seconds, until smooth and creamy. Gently fold in 2 Tbsp sugar and set in fridge.
Melt chocolate in microwave or with a double boiler. To a food processor add melted chocolate, avocados, cocoa powder, vanilla, and salt. Blend until smooth.
In a large bowl, gently fold together avocado chocolate and coconut whipped cream. Pour into your prepared pie crust, cover, and refrigerate for 3 hours to set (or freeze for 1 hour if you want to eat it right away). Store leftovers covered in the fridge.
Notes
*Look at the ingredients in the coconut milk, and aim for one that has ONLY coconut milk and water, or be sure to buy a good brand (Thai Kitchen is great). Emulsifiers and gums will prevent the fat from separating, which we need to make the whipped cream. And if you need, regular whipped cream can work instead of the coconut whipped cream.
**Save the coconut water for smoothies!
Sarah Bond
An Alaskan self-taught cook and nutritionist by trade, I love all things food and health. When I'm not exploring new ways to cook up healthy ingredients, I'm romping around the Netherlands, my new stomping grounds!