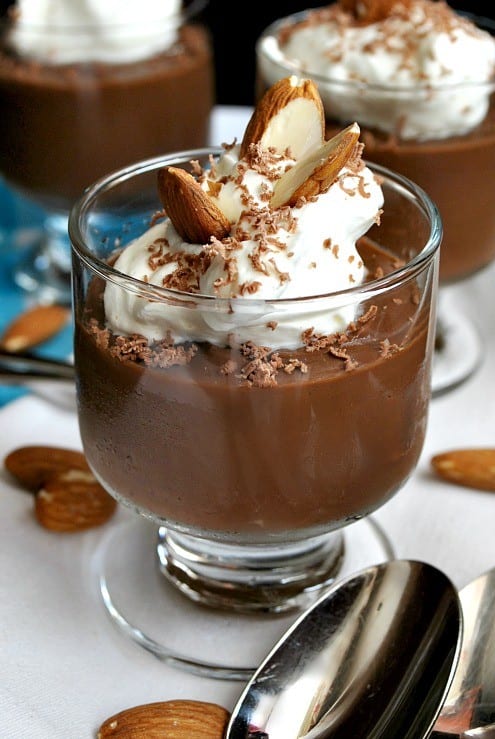 This gluten free, dairy free, rich and creamy chocolate almond pudding makes a healthier choice for dessert.
By Suzanne Platt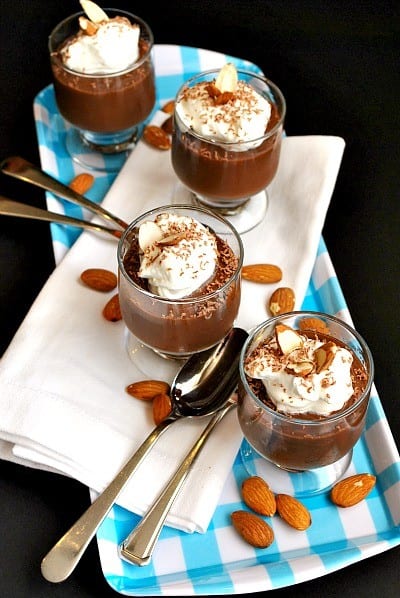 Chocolate pudding was one of my childhood favorite desserts or snacks should I say. One of my best girlfriends in elementary school lived right next to the school and I spent many afternoons after school at her home. Her mother bought store bought chocolate pudding that I absolutely coveted. We would come in the door from school and try to go straight to the pudding but her mother would catch us just in time to say "eat a piece of fruit first". I knew if I ate the fruit I wouldn't be able to eat the pudding, so did my friends' mother.
Somehow I managed to eat the fruit and then got to indulge in the chocolate pudding. I ate it slow, partly due to the fact I was full already, but also because I loved the velvety smooth texture. I would have licked the container clean but it was a pop top that had a sharp metal edge.
Many decades have passed since those carefree days and I've found myself saying the same thing to my kiddos as my friends' mom, "eat a piece of fruit first". Thankfully, I've graduated from the store bought pudding to homemade pudding. This pudding is different than most because it's lactose free, gluten free and vegan too since it has no eggs or dairy in it. Almond milk is a wonderful alternative for those who can't eat dairy, it has more calcium and less calories than cow's milk and it taste good.  I prefer the almond milk that has vanilla flavor added to it, but the regular almond milk is good as well.  The nutty flavor of almonds comes through in this chocolate pudding but not so strong that it over powers the chocolate. Try this smooth velvety pudding recipe the next time you need a healthier snack it's really easy to make and just takes about 15 minutes from start to finish. My recipe is slightly adapted from Silk Pure Almond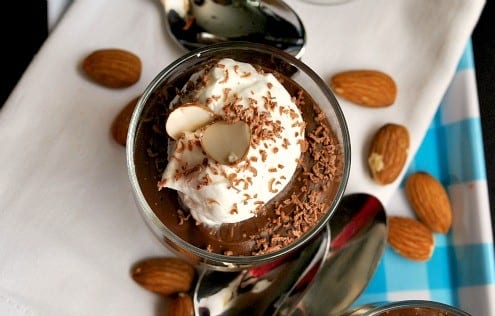 Chocolate Almond Pudding
Gluten free, dairy free, rich and creamy chocolate almond pudding makes a healthier choice for dessert.
Ingredients
⅓ cup sugar (70g)
⅓ cup unsweetened cocoa (35g)
¼ cup cornstarch (48g)
¼ tsp. salt
3 cups almond milk (24 oz.)
1 tsp. chocolate extract or vanilla
3 T. non-dairy butter substitute (44g)
Instructions
Whisk together the sugar, cornstarch, cocoa and salt in a medium saucepan.
Slowly whisk in the almond milk. Cook on medium heat stirring constantly until the pudding comes to a boil then turn down to simmer and simmer until thickened stirring occasionally.
When thickened take off the heat and add the chocolate extract or vanilla and the butter and stir well.
Pour into serving bowls or into one bowl and cover with plastic wrap on the surface of the pudding so it doesn't form a skin, refrigerate until cold.
Serve: Straight up or with non-dairy whipped topping and chocolate shavings and almonds.
Suzanne Platt
Suzanne is a self taught cook who cooks to eat, and bakes because she adores baked goods. Suzanne has a degree in Physical Education with an emphasis in Athletic Training. She loves to keep tract of her recipe on the blog You Made That? because she wants her children to have her legacy in recipes.