Chipotle Lime Potatoes and Chicken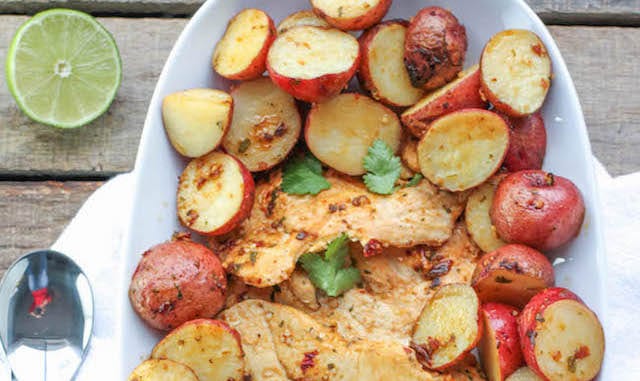 PARTNER POST: Reinvent potato recipes to be fresher and lighter in the new year. Make it your resolution to try these dishes for nutritious packed lunch ideas.
Chipotle lime potatoes and chicken is not only a fresh, flavorful meal that is perfect for a new year reset, but it can be easily packed as a lunch to go.
By Kate Donahue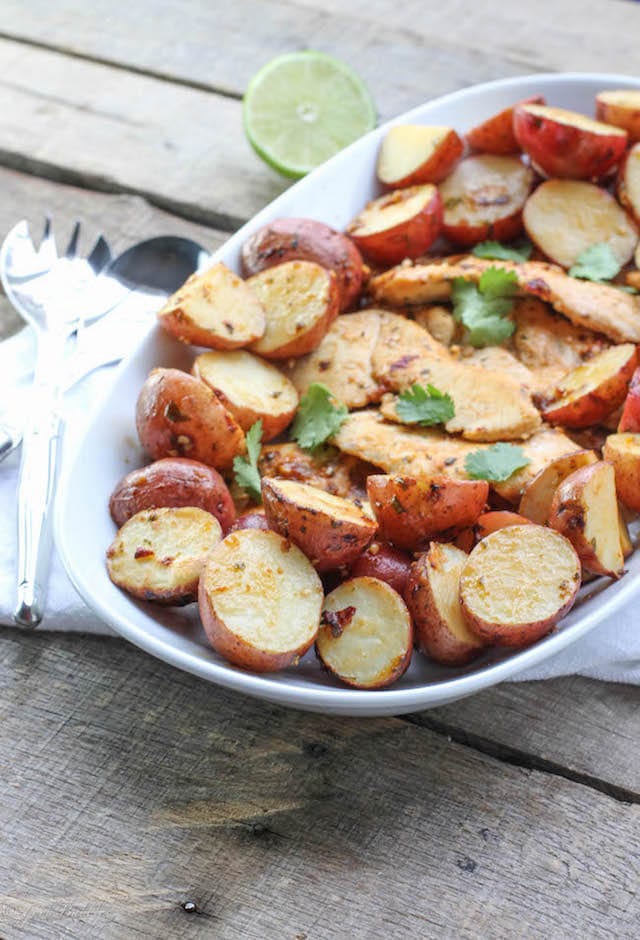 Happy new year! Where has the time gone? With the wonderful gluttony of the holidays behind us, I'm ready to take a much needed bread from all the indulgences. I ate my fair share sweets and decadent meals packed with butter and gravy. It's time to start the new year off right with healthier, lighter meals.
This Chipotle Lime Potatoes and Chicken recipe definitely fits the bill. Filled with fresh, natural ingredients, it's a healthy dinner recipe that's sure to satisfy you. Spicy chicken and potatoes with hints of lime and bright, fresh cilantro. This chicken recipe is packed full of flavor! If one of your goals is to achieve a healthier you for 2016, this meal will keep you on track too.
Did you know that one medium-size potato has just 110 calories and is fat-free, sodium-free and cholesterol-free? Potatoes are a great source of potassium (even more than a banana!) which can help maintain a healthy blood pressure. They're filled with Vitamin C, B6, fiber and iron. Potatoes are pretty powerful making this Chipotle Lime Chicken and Potatoes recipe a healthy start for your new year!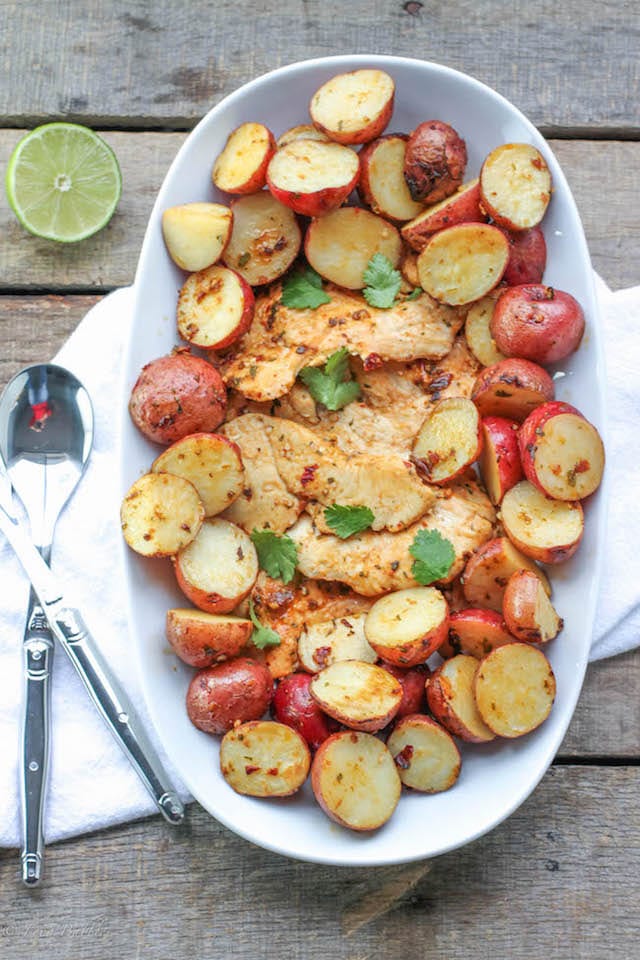 For another great dinner idea or even as an easy packed lunch, try this potato frittata.
Chipotle Lime Potatoes and Chicken
Chipotle lime potatoes and chicken is not only a fresh, flavorful meal that is perfect for a new year reset, but it can be easily packed as a lunch to go.
Ingredients
1 pound boneless, skinless chicken breasts
2 pounds fingerling potatoes or small new potatoes, halved
2 tablespoons olive oil
2 tablespoons fresh lime juice
2 garlic cloves, minced
2 canned chipotle peppers in adobo sauce, finely minced
1 tablespoon adobo sauce
1 tablespoon lime zest
1 tablespoon fresh chopped cilantro
1 teaspoon kosher salt
Instructions
Preheat oven to 400F degrees.
In a large bowl, whisk together olive oil, garlic, chipotle peppers, adobo sauce, lime zest, lime juice, cilantro and kosher salt.
In bowl, toss potatoes until evenly coated. Using a slotted spoon, transfer potatoes to a 9x13-inch glass baking dish, reserving remaining mixture in bowl.
Next, add chicken to bowl. Turn multiple times to coat chicken. Place in center of the baking dish and arrange the potatoes around the chicken breasts.
Bake in preheated oven for 30-45 minutes, stirring occasionally until potatoes are tender and chicken is cooked through and no longer pink.
Kate Donahue
Kate is the baker, dessert-maker, photographer, writer and recipe developer behind FoodBabbles.com, a place to find classic treats, savory eats and unique sweets. You'll also find freshly baked breads, savory tarts and more!